We searched for the button with the 37th label on it, and pressed. Zoom, the elevator, or I preferred to call it the express lift-off, shot up into the sky. Looking downwards as everything became miniature – we were so insignificant. I was actually quite scared when I took a peep. It shouldn't be, since I've been to higher ground before, but still. It always happened. Ding, we reached 37th level, welcome to Hai Tien Lo.
The Steamed shrimp dumpling ($4.80 for 3 pieces) was pretty with the chopped celery giving it a tinge of green.
It must be short-sightedness, but it often occurred with carrot cake. Somehow I always missed out the word steamed, when I ordered carrot cake. So instead of my favourite fried carrot cake, we were surprised when they served a steamed rendition; but it was good! I like how the sauce brings out the flavour of the soft and nice carrot cake. Okay, the full name, steamed carrot cake with preserved meats ($3.90 per portion).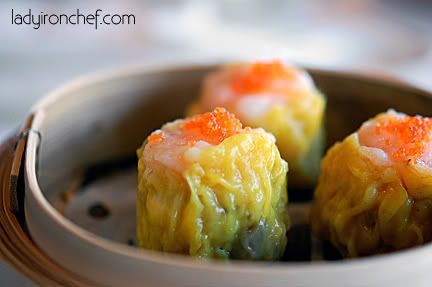 The Steamed pork dumpling with fish roe ($4.80 for 3 pieces) was a piece of art. The curvy lines, with her yellow outfit, topped with the pretty bright orange fish roe.
This was a special, they called it the dim-sum-of-the-week. Sophisticated yeah? It was essentially a shrimp with fish roe on top of a mushroom. An innovative way to do the overdone-to-death prawn in dim sum.
Surprise number two came in the form of pan-fried rice flour roll with crispy conpoy ($3.90 per portion). Well actually it's not much of a revelation since I asked about the fillings beforehand. Or rather, the lack of fillings. I like the slightly char pan-fried surface of the rice roll with all the crispy toppings. The rice roll on itself was rather bland, but drizzled with the gorgeous sauce; it was good, no, it was tasty!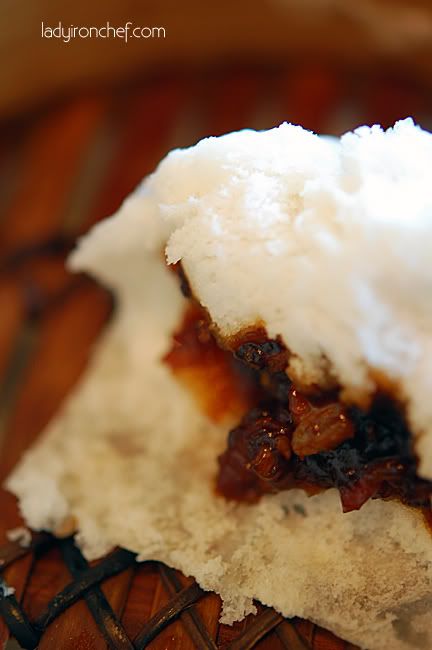 Since my favourite char siew sou wasn't available, I just had to make do with the Steamed barbecued pork buns ($2.80 for 2 pieces). White fluffy buns, with sweet char siew fillings, what's there not to like? I like it sweet, extra sweet please!
Instead of the usual prawn filling, Hai Tien Lo's rendition came across as the Deep-fried sea perch wrapped in vermicelli ($5.40 for 3 pieces).
* * *
With the to-die-for magnificent view of the marina area, dining at Hai Tien Lo was definitely something that evoked the visual senses together with the taste buds. We chatted, appreciated the skyline, nibbled at the dim sum, drank more tea, and I'm so in love with dim sum! xoxo
Hai Tien Lo
7 Raffles Boulevard
37F Pan Pacific hotel
Tel: 6826 8338
Featured in