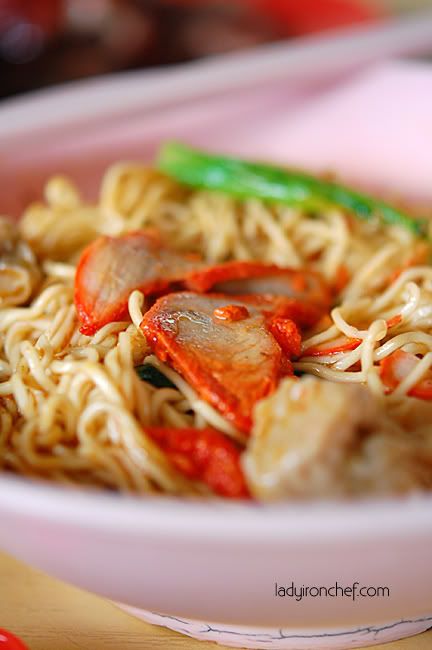 If you are to pick a random person from the street and ask, "where's the best wanton mee?", chances are Feifei wanton mee at Joo Chiat will be mentioned. The legendary wanton mee stall from Joo Chiat.
The bowl of wanton mee arrived, with chilli all over the noodles, and that's it. My friend gave me a nudge to stir the noodles from below and all the treasures were indeed hidden beaneath the noodles. The char siew wasn't fantastic, it was decent, and the wanton was not bad. But it was the noodles and the chilli which deserved the recognition; the noodles were Q and simply bounced on my tongue, while the chilli was fiery hot, although I was sweating all over, but it's worth the while!
Feifei doesn't served roasted duck, this was ordered from another stall in the kopitiam.
Crisping on the surface, the roasted duck skin was bursting red, with a layer of fats sticking under it, was sinful, but a delight to have. They looked good, they smelled even better. I wolf the whole thing down, nibbling everything from the skin, the meat and the fats, chewing any leftovers that I spotted on the bones. I love roasted duck!
Read about the other wanton mee posts here.
Feifei wanton mee
62 Joo Chiat place
Sin Wah coffeeshop
Tel: 9777 7988