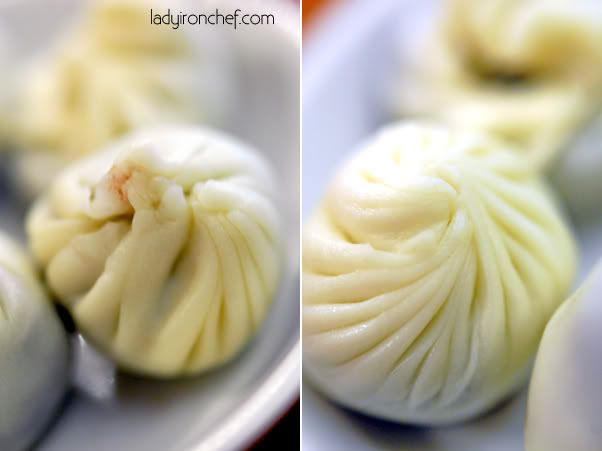 My love affair with XLB starts way back; I fall in love with her at first sight, every petite piece so delicate and exquisite, she, who has the ability to make my heart skip a beat when I place her on my lips, she, who makes me go crazy and think of her everytime.
The two different XLB was made by two different pairs of hands; the one on the left was by me (note: the uneven folds) and the one on the right was by the master of course.
At Din Tai Fung's media preview of their new mini steamed pork dumpling (xiao long tang bao), we were given a hands-on experience on making XLB. And that's why I like dim sum so much; it's easy to pop a piece inside our mouth, but to make each piece so delectable there's much hard work and effort involved.
The requirement for a standard XLB is 18 folds, and it's definitely not easy to do it, especially so when we only had half-an-hour of lesson beforehand, where the chefs actually train for a year to achieve the result. It's only when you experience how difficult it is, to make a XLB before you actually appreciate the hard work put in by the good people slogging it out in the hot kitchen everyday.
The new mini steamed pork dumpling (XLB), or xiao long tang bao, whatever you call it, is 50% smaller than the regular XLB. Just imagine doing 18 folds on a normal size XLB, and now you do it on half the size of XLB; the xiao long tang baos are notoriously difficult to make!
I love to eat eggs; scrambled, poached, fried, sunny side up, steamed, over-easy, salted egg, quail egg, but with just the exception to century eggs. There's no reason, but the black glossy appearance never appealed to me. Century eggs with fermented soya ($3.50)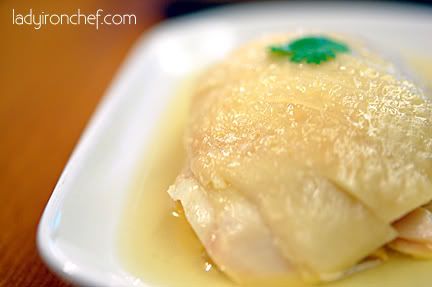 As to the origin of drunken chicken, I do not know the story of it, but I do know that the Original Shanghainese drunken chicken ($6.80) had a strong alcohol taste infused in the smooth chicken meat.
Taking up a piece of the mini cucumber, crunch crunch; the inherited sweetness of the green plate had an addition spicy twist to it. Crunchy Mini Cucumber in Spicy Sauce ($3.80). Just for bites.
Much as I love my veggies, I was never a fan of vegetables in dim sum; somehow the steamed vegetables inside dumplings didn't work for me. Neither did the Steamed vegetable & pork dumpling here.
This was a make-over of our regular siewmai, done the XLB-style. It was quintessentially an open-faced XLB with a shrimp sitting pretty on top. Shrimp & pork shao mai ($13.50 for 10)
I love to drink soup that is thick and tangy in flavour, with lots of ingredients that bear a close reminiscence to Shark's fin soup. The Hot & sour soup ($6.80) was not bad, but the excessive pepper overwhelmed my taste buds.
Springy noodles that bounced off your tongue, that might sounds exaggerating, but I like my noodles done that way. The Noodle with minced pork in bean sauce ($7) was delightful with the generous toppings of bean sauce; it was a simple bowl of noodles, but I like it!
The Crispy golden prawn pancakes ($8.50) were nice as appetisers too, fried till golden brown, the crispy pancakes crusts were addictive to bite on.
I wasn't too impressed with the Stir-fried nai bai with garlic. I'm not sure whether the chilli was supposed to be there as a decoration, or was it to enhanced the taste, but personally I felt that nai bai and chilli didn't work. Plus the garlic wasn't fried enough to infused the vegetables with the fragrance.
And now the star that we've been waiting for. Introducing, the Mini steamed pork dumpling with superior chicken broth ($10.80 for 10 pieces). As you all know, XLB itself has lots of soup stocks within the skin, but we were given a bowl of chicken broth to go along with the Mini Xiao Long Tang Baos (XLTB) this time round.
Filling the spoon with the chicken broth, we placed a piece of the mini XLB into it, add some ginger and vinegar and put everything into our mouth; the chicken broth was subtle, bordering on bland, and it was the stock within the XLB that gushed out that stole the show. Taste-wise there wasn't much to differentiate the XLB and the XLTB , but it was a novelty and certainly less-filling to eat the mini.
* * *
It was indeed fun to have hands-on experience on making XLB, my appreciation to Clement & Andrew from ICON for the food tasting invitation, miss Patsy from Breadtalk, and the chefs who taught and made our XLB. The Xiao Long Tang Baos are available exclusively at Din Tai Fung Paragon from 1 June 2009, 3-5pm for weekdays, and 10am-12 noon for weekends.
Din Tai Fung
290 Orchard road
#B1-03 Paragon
Tel: 6836 8336