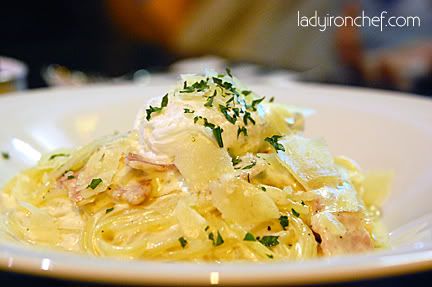 The four of us, will meet up four times a year, you guessed right, for four of our birthday celebrations. After the initial awkwardness go away, we chat like old friends (we are anyway).
Here are some of the things we always do:
(1) I always choose the place
Being the guy that is deemed to eat good food, my friends always ask me for nice places to dine, naturally, I get to decide where to meet up, which also indirectly makes me the organizer for all my friends gathering.
With a poached egg sitting pretty on top of the pastas, the Carbonara ($13.50) looks great and tasty when it first arrived. But when I finally got to try it, the cream base pasta was a tad too strong; it was great for the initial few bites, but the cream was way too overwhelming.
(2) I take a lot of shots for every dish
It was almost like a magazine photoshoot; in place of the skinny models we have food instead, and the restaurant became the studio for the shoot. I took a lot of shots, a lot, especially so since the lighting didn't exactly helped by being dim and romantic.
Spaghetti tossed in a classic rich tomato meat sauce and aged Parmesan cheese, the classic Bolognaise ($14.50).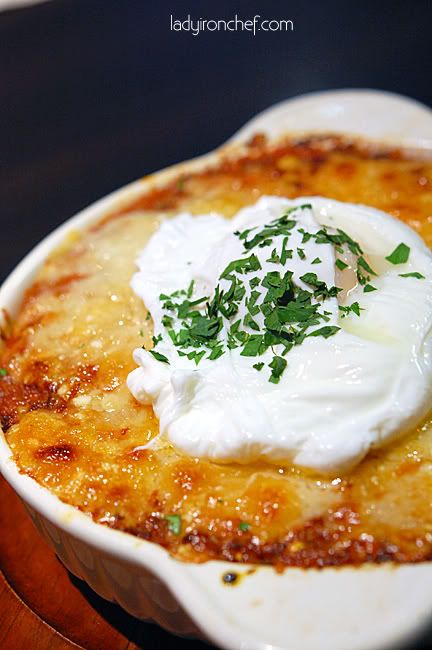 (3) My friends are always very impatient
In the midst of getting engrossed in taking the perfect shot of my "models", they would hold their utensils and sent eye-signals of 'we-are-hungry' to me. This was the moment, I knew it's time to stop, much to the delight of everybody.
Bolognaise and poached eggs doria ($16), the traditional baked rice covered with cheese, and did you saw that? Poached eggs!
(4) We start to gossip, about everybody.
Croque Madame ($13.50) Homemade pain de mie (white toast bread) baked with ham, Swiss Gruyere cheese, sunny side up and side salad with house dressing.
"Sandwich for dinner?" You raised your eyebrow. "Why not?" Don't look down on this Madame, she can sure hold her weight with the others; the thick slice of bread, the heavy cheese, the egg, ham, and salad – everything you need for a filling meal.
(5) Something sweet, to end the meal, before we continue elsewhere
One of us had the Earl Grey ice cream ($8) from Canele before, and she was bend on having it, wish acceded, it's her birthday that we're celebrating after all. The very distinctive earl grey flavour, the seemingly-smaller-scoop-than-my-previous-visit, and the milk chocolate shards.
(6) We laugh, fight, make merry and have fun
We almost fought over this, the madagascar ($8) was way too, common (read:plain), to worth the money. But I was proved wrong; open your eyes wide, that's vanilla beans you're looking at! Ooh, ah! That, alone, made me felt better about paying eight dollars for a scoop of ice cream. Fresh strawberries that were not very sweet, and almond crumble at the bottom to provide a crunchy texture to the smooth and soft ice cream.
(7) It is time to say bye-bye
I looked around the adjacent tables, throwing envious glances to the mont blanc, the tiramisu, the macarons, that the others were having. Unfortunately, the rest (on my table) did not have the same feeling as me, they never like cakes you see.
Even though we hardly see each other, well four times a year to be exact; the divergence of different routes in life that it may seems like we are strangers and drifting apart, but, we always had a good time when we met, again.
* * *
I wasn't really impressed with the main course that Canele offered, but, to be fair, I think they are priced reasonably. And if I may, I'll also like to think that the ice cream here are under-recognised; people always rave about the cakes available, but I don't think much people know that they serve good ice cream too.
After three visits, I haven't try enough of their beautiful creations yet. And I preferred the raffles city outlet, for better lighting.
(8) I want to eat cake.
Read my previous visits to Canele here, and here.
Canele Patisserie
1 Scotts road
#01-01A Shaw Centre
Tel: 6738 9020