It's Sunday, the seventh day of the week; when lazy people wake up with the sun shining at their bum, to go for a hearty, big brunch.The idea of having eggs, pancakes, waffles for breakfast while watching the world slipped away; it was too irresistible.
The sun was high up in the sky, getting sweaty and sticky wasn't really what we had in mind for a lazy Sunday brunch; which left us with only one mode of transport – taxi.
We soon arrived, at Wild rocket, Mount Emily. The day is ahead of us, all day long.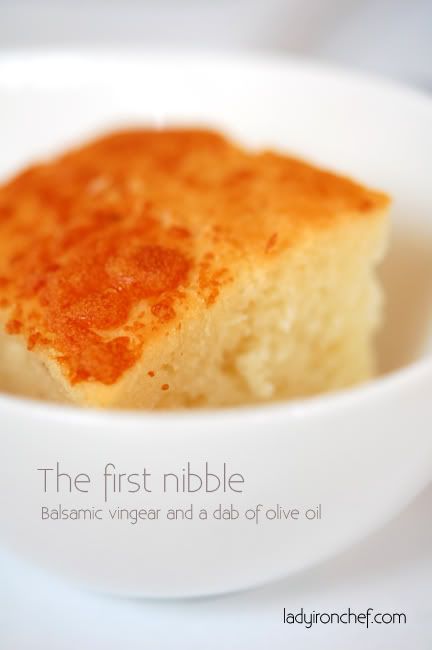 The first nibble
I was horrified by the mere thought of dipping the bread into vinegar, not vinegar, balsamic vinegar you corrected. And a dab of olive oil, what a 'nice' way to eat your bread.
Unfortunately, it was not as rosy like what we had in mind. In place of the old ala carte brunch menu, there's the set brunch instead; and sadly there wasn't any pancakes, waffles or eggs Benedict. We flipped the pages of the menu and finally decided on one set brunch, and one additional main course.
Pan-seared tuna Wild rocket salad
Light ginger dressing, lovely. The bitter-cold rockets, was not what I wanted for a hearty meal. But at least the pan-seared tuna weight in for the carnivore in me. And oh, there was mandarin orange too, what a pleasant surprise.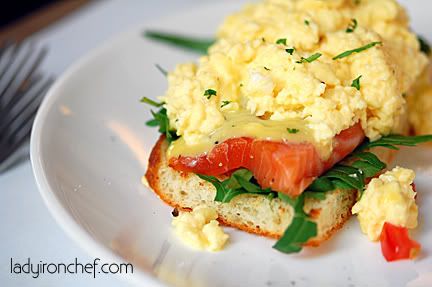 Scrambled eggs home-smoked salmon foccacia
Scrambled eggs. I adore (read: love) eggs. Over easy eggs, or scrambled eggs were hardly what you considered a value choice when there's the famous wild rocket burger, or their signature laksa pesto linguini available on the same menu; but we wanted eggs, and eggs we got.
Believed it or not, the scrambled eggs were most excellent with the hollandaise sauce, tossed in some rockets, with some smoked salmon on a foccacia; this, was what I meant by B-r-u-n-c-h.
Black squid ink risotto
And then it appeared. Rising out from the ocean, the most hideous, gruesome, and black thing you ever see, it arrived on our shores. We stared at it for a second, okay, who's first? Our eyes connected again, sending signals 'you-try-first' across.
I carefully placed a spoonful of the black thing into my mouth, if I may, O-M-G! We threw away any pretenses, facade that we've before, and tucked in. I sniggered at you, pointing to the black stain by your mouth, you snorted at me, for the black blot on my teeth; there wasn't any need for us to behave like a gentleman and lady any further. Boy, the risotto was good, and filling too.
This, ought to be, the most, unglamorous meal we ever had. But we love it!
Kueh buloh Tiramisu
The end. The arrival of the dessert symbolised to us that its time to go. But before that, let us try the tiramisu. Strangely, I couldn't recall how it tasted like. I vaguely remembered having a dig at it, and both of us kept quiet, and dug more, and then, it's gone.
* * *
Note:
(1) The 3 course Weekend set brunches is available at $26
(2) Black squid ink risotto is from the ala carte menu, $23.80
(3) Taxi up to Wild rocket from Cathay was $3.50, walking down took us just 10 minutes
Wild Rocket at Mount Emily
10A Upper Wilkie road
GF Hangout @ Mount Emily
Tel: 6339 9448