60. The number could refer to almost anything; age, weight, people, money, time – Si Chuan Dou Hua restaurant on the sixty level of UOB plaza. 100 – a century figure of dishes at weekend lunch, offering dim sum, tea and Szechuan cuisine. 38.8 – the unbeatable price of under forty dollars. Numbers are magic: they tell a thousand things too.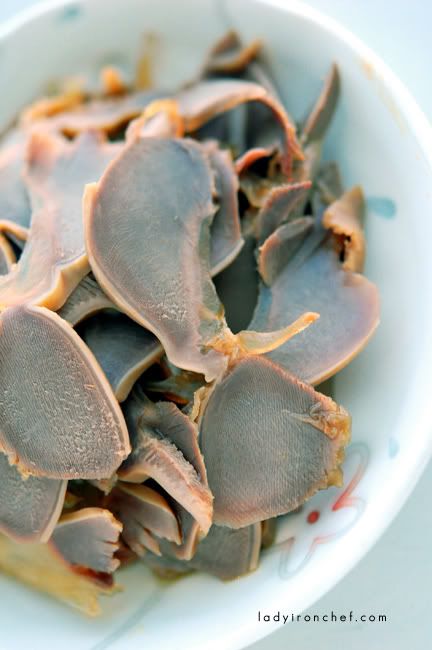 Salted Duck Gizzard
The kidney, I have to say, was lovely: chewy and pinkish-coloured, swelled-looking, with the clever use of spices covered the porky smell which made so many people avoided the delicious pig kidney.
The question of authenticity popped up during the tasting session, and Linda the director of SCDH was quick to point out although there were some minor tweaks of the dishes to suit local palates, the Chilled chicken in spicy bean paste was done exactly like the Szechuan favourite. The spicy bean paste caused a storm; hot, fiery, and simply so Szechuan!
SCDH served us many cold dishes for starters, and the Sliced beef and tripe in chilli sauce was one of them.
Chilled preserved cucumber with garlic and peppercorn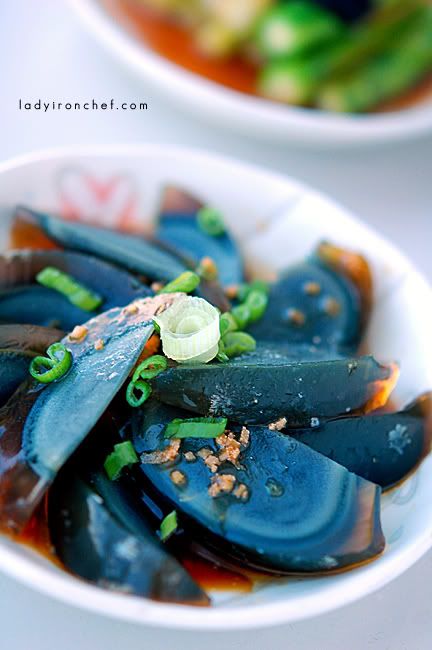 Century egg and mushroom in ginger sauce
Asparagus with sea moss
Abalone mushroom in sesame oil
At first glance, it was not difficult to mistaken the Sliced duck in Teow chew style for the more commonly seen drunken chicken. Thinly sliced, I could never resist duck meat!
This one caught me by surprise – the crispy chicken puff. I wasn't expecting something so, small and tiny, to be so good. The crispy fried skin had chicken within: it was a reminiscent of cream puff, except the pastry was fried instead of baked, and the fillings were chicken instead of cream.
Perfect. One of the best carrot cake I've had; every bite was flavourful with radish. The only correct thing to make a good carrot cake is to just add more radish, it's so simple, yet many fail to get the gist of it.
The purist would protest at the sight of the Steamed siew mai with quill egg. The additional of quill egg was an innovation, and credits had to be given to the chefs for experimenting with different ingredients.
Glutinous rice roll with pork floss wrapped in banana leaf
No, it definitely wasn't St Valentine's the last time I checked. Nonetheless, the heart shape was pretty enough to gorge at -  Pan-fried shredded yam pancake with waxed meat.
I ain't a big fan of mince meat balls, but the Steamed beef balls with seasonal vegetables won me over with the chewy and bouncy texture.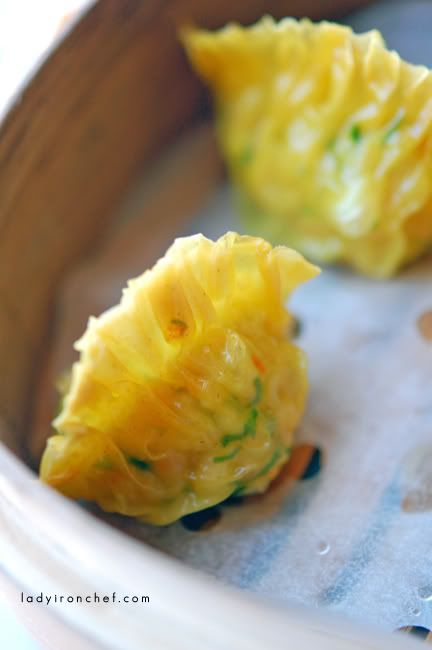 I eyed the golden dumpling, not knowing what to do. Should I, or should I not? I took up my pair of chopsticks, and dove right in, secretly praying in my heart: Sharky, rest in peace, you'd not die in vain. Steamed shark's fin and chicken dumpling.
Steamed onion roll with butter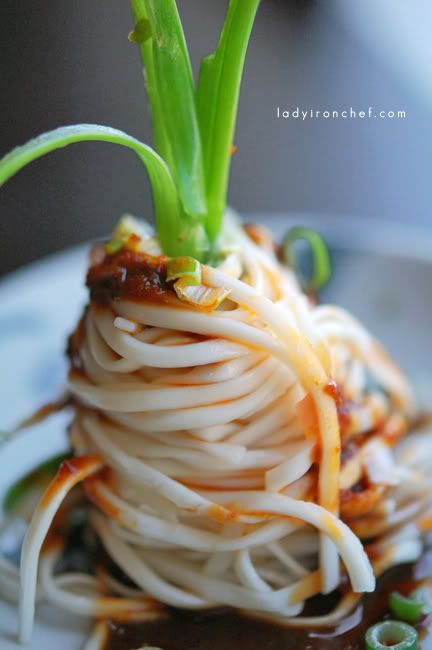 Si Chuan chilled noodles: hot & spicy
Despite the scary-looking-thick-oily-layer of chilli, the Dumpling with chilli oil was surprisingly, not that spicy. I had called the fire brigade to be prepared to put out any fire, and after one tiny nibble of the dumpling, it was safe. And I ate some more, of the thick and generous filling, which almost busted out of the dumpling skin.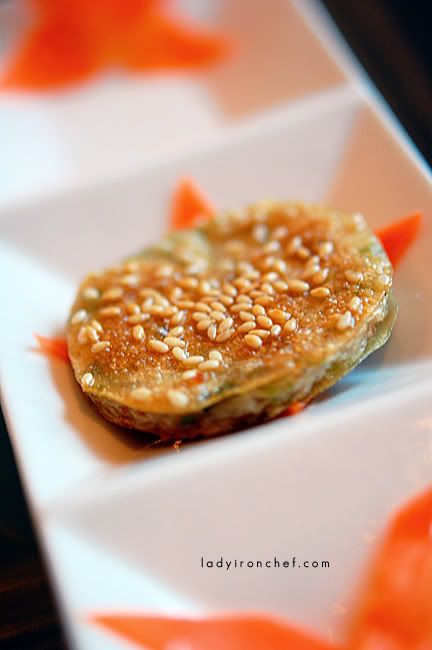 This one was interesting. The Pan-fried fish pancake with parsley, the crispy firm pastry-like texture was evident, but I couldn't quite make out what actually constituted in the fish pancake.
For the best creative award, I presented to you the, Pan-fried sweet corn pancake. The inclusion of sweet corn in a dim sum was a first for me: needless to say, it worked. The sweet corn, like its name, enhanced the sweetness of the pancake.
Steamed mushroom and vegetable bun
Pan-fried minced prawns roll with seaweed
The Steamed prawn dumpling, or Har gau, had fresh succulent prawns, but I found the skin slightly too thick from what I had in mind.
Instead of the streetfood in Szechuan, SCDH decided to upmarket the Fried pumpkin cake by scoring on presentation and refining it. The delicate-lovely-looking miniature pumpkin; it was too pretty to eat.
Sour and spicy Beancurd
If there was one memorable dish I had to choose from SCDH, it had to be the Steamed lotus paste bun with egg yolk.  The egg yolk within the lotus bun, oh my. It was indescribable. The combination of lotus paste and egg yolk, was akin to mooncake, with a bun skin.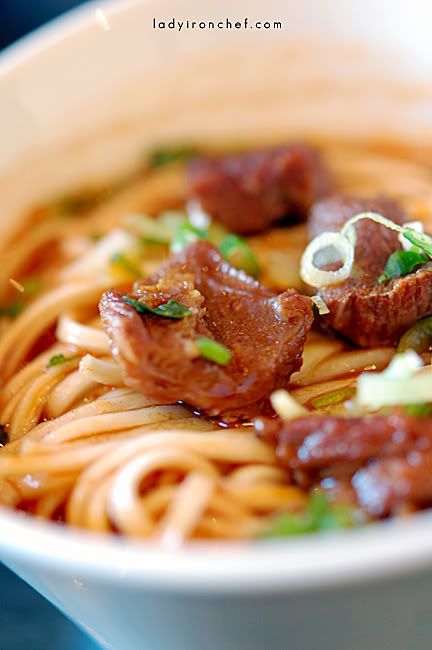 Braised beef noodle soup
There was the omnipresent fish roe on the Siew mai, the dim sum staple.
Fish balls porridge
Balancing my chopsticks, I took a glance at the noodles. This should be easy, I thought. I grabbed some noodles using my less-than-perfect chopstick skills, and slurped the tan tan noodle. The world seemed to froze in time; I took another mouthful of noodles, putting in as much as my mouth would fit. The noodles, how should I put it: bouncy, springy, smooth, well it seems my vocabulary would be exhausted soon. It was good!
Homemade beancurd with wolfberries
We had the following desserts: herbal jelly, mango & pamelo cream, glutinous rice with coconut milk, almond cream with fungus, chilled strawberry jelly, chilled coconut & jackfruit cream, red bean paste with lotus seed, and yam paste with ginko nuts.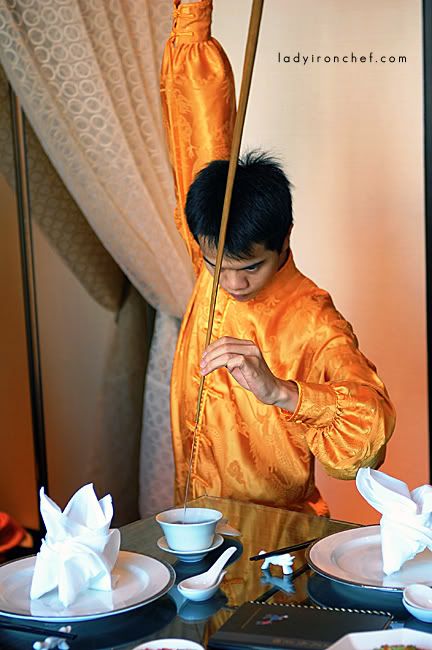 The special pairing of different tea and exquisite dim sum has long been a forte of Si Chuan Dou Hua.
Si Chuan Dou Hua has certainly opened up my narrow view of Szechuan cuisine; the impression of only hot and spicy food is wrong, there are many more variety available. Linda, the director of SCDH, who hosted us for the tasting session. And I have to conclude that Linda was the best host among the 4 restaurants which we had went to; her passion for food, and her warm & friendly smile, made our meal more enjoyable.
The 40 items which we tried for the tasting session were part of their weekend lunch which had a mind-blowing 100 items, priced at another unbelievable figure $38.8. My appreciation to Linda for hosting us, and Cuisine & Wine Asia for the invitation.
Read my fellow food blogger review:
Catherine @ Camemberu here
Leslie @ ieatishootipost here
Julia @ Aromacookery here
Si Chuan Dou Hua restaurant
80 Raffles place
#60-01 UOB Plaza
Tel: 65356006
ps: I think this is one of my longest post ever, can anyone tell me which other post is longer than this?
Featured in