I would have never imagine this; I froze at the mention of it, the sacred foie gras. And hold on a second, what were they saying, I thought I heard something like Juicy dumpling with foie gras. Wasn't this supposed to be XLB, now where did the foie gras came into the picture?
Believe it or not, they actually contain the French delicacy within our XLB, well maybe just a morsel of it since there wasn't any trace of the foie gras.
Fresh, is one of the word which has been over-used to describe food. How else would you use to depict the prawn within the crisp vermicelli, well maybe I would say juicy, succulent, and I ran out of vocabulary. Oh well. Deep-fried filo dough.
It was wet, a little moist inside, so I stuck my finger in, and poked it in a little further. I took a bite, beneath the crispy exterior, was duck shreds. Deep-fried yam croquette with minced duck.
Pan-fried radish cake
I was caught by surprise when they told me this was called the Deep-fried scallops with sugar cane. I was happily biting it off the sugar cane (read: I use it), thinking it was very prawny, and there they were, telling me it was deep-fried scallop!
Naturally I was amused, how could scallop taste like prawn? Ignoring that, the slightly-sweet-slightly-sour sauce was most excellent – it was refreshing. And the sugar cane added some brownie points to the whole artistic value.
May I introduced to you, ladies and gentleman, the scarce Harm Soei Gok, or Deep-friend traditional chicken dumpling. Honestly, I did not know about its existence before this, since many places didn't served it due to the complexity and effort needed to produce it.
The whole, Shark's fin within the soup, it was so big! With an equally flavourful stock, all of us agreed that the Double-boiled dumpling with Shark's fin was a delight, well maybe not for the sharks lovers.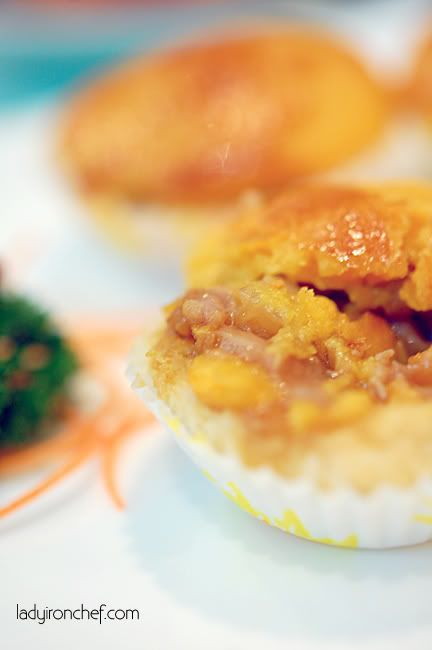 I liked this. I'm a char siew sou man. And I was disappointed when there was no sight of it on the menu. And then the baked fluffy skin pie with chicken and mango came. Having the same (or almost) crispy, buttery pastry skin, the interior of the usual char siew was replaced by chicken and mango instead. And the marriage of chicken and mango was a good one, those two totally complimented each other well.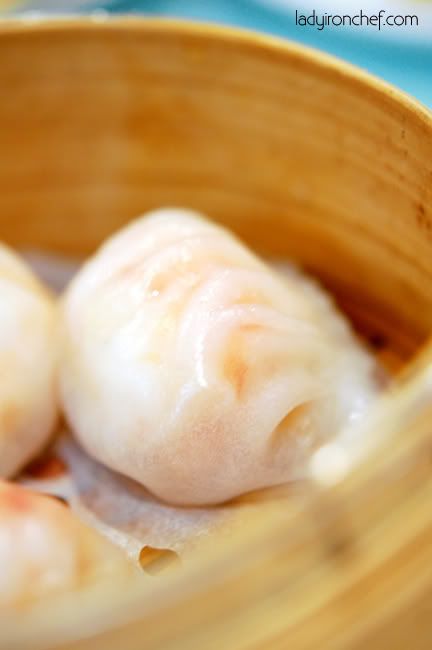 Steamed prawn dumpling
How can one reinvent a dish already done to death and found everywhere? Well, they either provide premium stuffing or reinvent the skin used to wrap the stuffing. For the steamed pork dumpling, they did neither but it was still a cut above the rest. The prawn was sweet and there wasn't an overly-porky after-taste.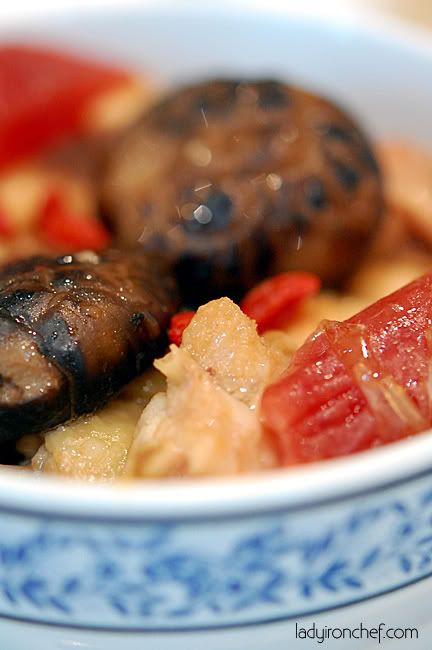 My, my. It was interesting to note, a mini version of claypot rice appearing in a restaurant. Call it a classic, the Mini pot rice with chicken was nothing mini in taste; the tasty Chinese sausages, the succulent mushrooms, and the tender chicken chunks. I had it a taste without any sauce initially, then I added some of the superior sauce that came along with it, and it did wonders – it literally enhanced the taste of the whole mini pot.
Phoenix eye dumpling
There was three different types of steamed rice roll served, but I just showed one photo since all rice rolls looked the same less the fillings. It was the standard-trio, scallops, char siew and prawn. And needless to say, most Chinese restaurants definitely uses fresh ingredients, so it was really down to the rice roll to determine the winner.
And I must say, Man Fu Yuan had silky smooth rice roll, and most importantly, they were not overly-thick.
Vegetarian dumpling
Scallop dumpling with pea shoot
I never liked beef balls, or for that matter, any type of meat balls. Just the sight of it made me full, I took a bite of the beef balls with bamboo pith, and unexpectedly, it wasn't as heavy as I thought it would be. And there's tripes at the bottom of the beef balls too.
It is a fine line between tradition and new, and I feel Man Fu Yuan balanced it very well. There are the traditional dim sum available for the purist who want their fix regularly, and not neglecting those who craved for innovation and excitement in their dining experience, the chefs played around with some other ingredients that are not commonly used in Chinese cuisine.
This marks the end of the dim sum marathon, and I must say I've enjoyed myself very much together with the rest; chatting and enjoying the good food.  My appreciation to Sharon, the PR manager for hosting us, and Cuisine & Wine Asia for the invitation.
Read my fellow food blogger review:
Catherine @ Camemberu here
Leroy @ Hungrycow here
Man Fu Yuan
80 Middle road
2F Intercontinental Hotel
Tel: 6825 1062
Featured in