I have a friend, his name is Jones. He is a grocer, and he ain't a normal grocer. Gourmet products, that's right.  All the customers would drop by and waved, "Hello Jones!". And the kids would peeked around curiously, and oh yes, they had a song which goes something like this;
Jones the grocer, Can we eat it?
Jones the grocer, Yes we can!
Jones the grocer, I want some food!
Jones the grocer, Come and get it!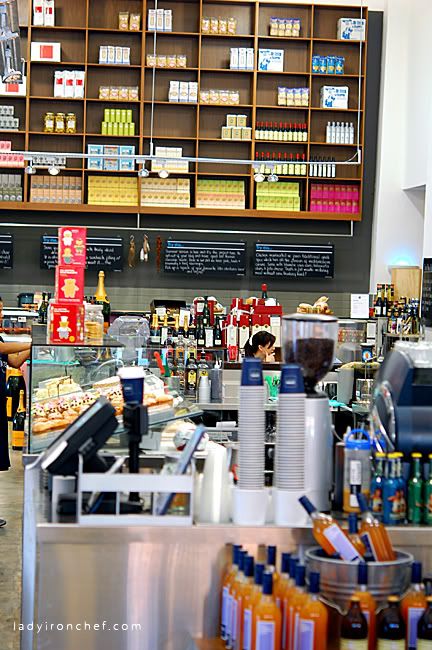 My latest breakfast-brunch crave brought me to Jones the grocer, because they are one of the few that serves brunch during weekdays (the other few being Prive, Rider's, and Casa Verde).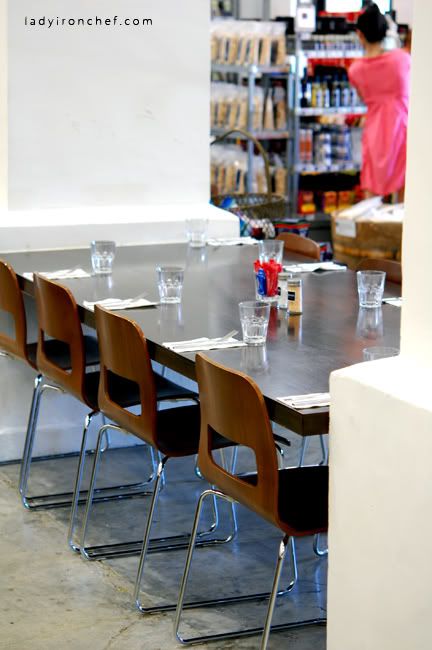 Much as I liked having brunch on a lazy Sunday morning, but the idea of having it during a WEEKDAY enthralls me even more! Well the rest of the world rushed off to work, I'm slowly sipping a cup of coffee, having my favourite eggs, and reading the newspaper. You get the idea?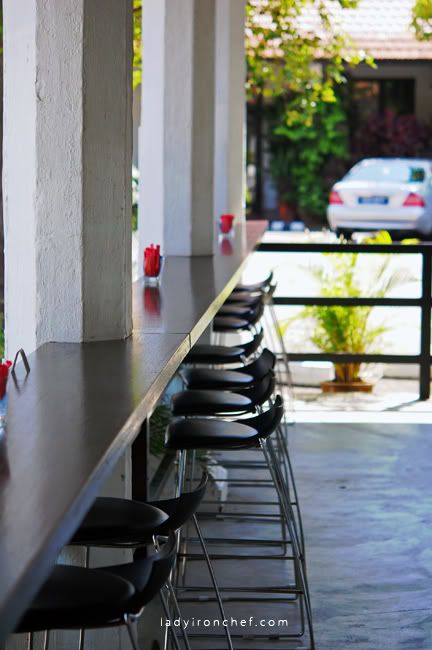 I want breakfast. I want eggs. I want pancakes.
Pancakes we wanted, and Coconut pancakes ($12.5) we got! Sour mango wasn't exactly what we expected, but it presented a contrast with the syrup, well they called it the palm sugar syrup here. Whatever, all the syrup tasted the same to me, sweet and sweet!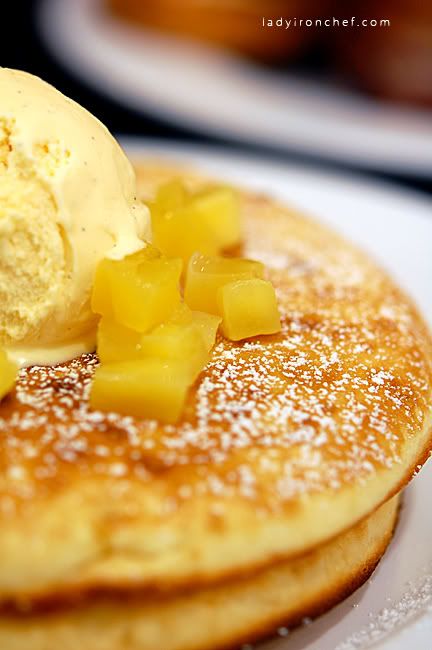 And did you see what I saw? Vanilla beans! Tiny speaks of vanilla beans! I'm not going to go into the story of how excited I'll become when I saw the beans, but, I'm excited! It was nice having vanilla beans with pancakes, but we did felt that it would be better to have it with butter and syrup for breakfast at least. And oh ya, the pancakes here are one of the thickest-I-ever-came-across.
Jones english breakfast ($20). I'll like to call it the best-of-everything. Poached eggs, grilled bacon, pork sausages, sautéed mushroom, and even slow roasted tomato for some nutritional balance! What is there not to like?
I can never resist the golden-yellow egg yolk flowing out of the pure egg white: striptease – stop playing with me or I'll eat you up! I put the poached eggs, bacon, and mushroom on top of the sourdough (the sausage was too huge to fit in on top), and I tried to put everything in one bite.
Well I failed of course, but that's obviously what I intended to; in this way I could repeat and repeat the same full-mouth-process until I finished the whole thing, and wanting more.
Total bill was $35.75 for the brunch, they had 10% service charge but the 7% GST was already included in the bill. Was it expensive? No, for the mere thought that I was having my breakfast while the rest of the world were busy slogging it out in the office, that's something priceless.
But for weekday brunch, I'll prefer Rider's and Prive if you have your own transport, not that it is easy to get to dempsey either.
Jones the grocer
9 Dempsey road
#01-12 Tanglin Village
Tel: 6476 1512