Twenty four of us descended to Gunther's in a foodgraphy-frenzy. Hells hath no fury like a flogger hunger. The long discussion of food, followed by the occasional exclaims of 'ooh', and 'ah'. Welcome to the world of the food lovers.
Japanese tomato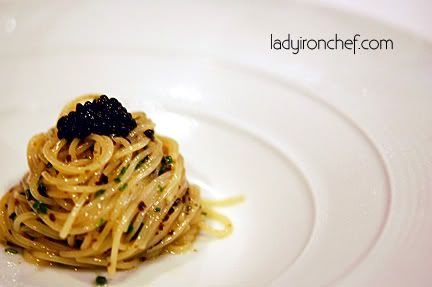 It was smooth, and silky, strands of it sticking out; yet in the dim light setting against the white background, it looked angelic, yes, this must be it: Cold Angel-hair pasta. I enjoyed every slurp, and I'll gladly have it again.
This, is the In-thing for this season, like the latest fashion trends for each year; rejoiced people, it is this time of the year for the sacred white asaparagus, not green, not red, but white. And then, I spotted the yellowish sauce over the the Poached white asparagus with Bouchot mussels.
I stopped, and slowly took a bit of it with my spoon; "it couldn't be, Oh yes it is!" I dipped everything on the plate with the hollandaise sauce, and made sure not a single drop of it was left.
"Have you had white asaparagus before?"
"No, I don't see whats the craze over them.."
A surprise always had the biggest impact when you least expected it, and it came pleasantly of course.
There was pata negra, and salted baked seabass for the folks who couldn't have beef; and damn, the roasted black pig from spain sounded so good, I should have claimed to have allergies against cows!
My piece was very well balanced in the portions of the fats and meat (read: too much fats). I took a bite of the meat, and chewed down some fats. And it's not that the Grilled Cote de Boeuf wasn't good. In fact it was more than excellent; the slightly tinge of pink fully captured my imagination.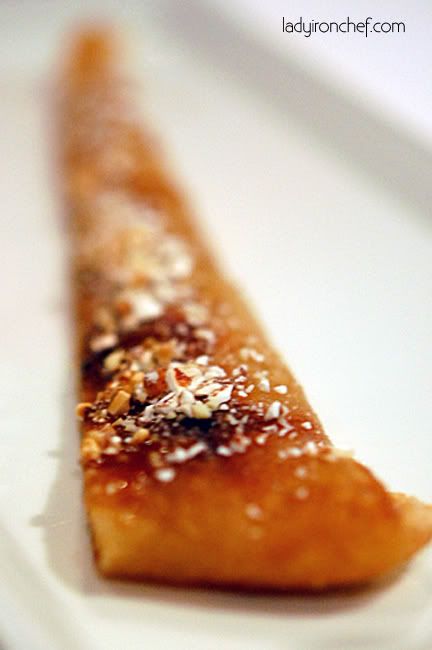 My eyes tweaked to see what was coming. It was supposed to be desserts next, but they were serving us, pizzas. You know, the elongated slice of thin-crust bread with toppings all over. Ah no, I was clearly mistaken, this was no pizza, it's the Fine apple tart a la dragees, with rum & raisin ice-cream.
Once we had our desserts, once we paid off the bill, it would be bye-bye until a year later. Or at least that's what the script wrote. A year, is far too long a time for us to meet up. We should meet up regularly my friends, and hunt down all the good food around our island.
I'll like to thank my fellow floggers for attending the food bloggers' luncheon, Gunther's for hosting the event, our various sponsors and not to forget my lovely partner Yixiao for flooding my mailbox and phone constantly during the preparation stages.
Gunther's
36 Purvis street
#01-03 Talib centre
Tel: 6338 8955
Meet my fellow food bloggers:
Yixiao @ hautestaff
Catherine @ Camemberu
Nic @ Black tie white lie
Fen & Yuan @ sgdessert
Dave @ Importance of salt
Cheryl @ thebakerwhocooks
June @ joonelovesfood
Mia @ skinny-epicurean
Jiaxin @ foodiesqueen
Jeremy @ eggtoast
Antonio @ foodieah
Phil & serene @ keropokman
Karen @ superfinefeline
Leroy @ thehungrycow
Elaine @ divine essentials
Kelvin @ timelessfacade
Maureen @ jaime-la-nourriture
Ryan @ caramelcorn
Evan @ bossacafez
Ivan @ food.recentrunes
Claudine @ claudzratznblabz