If 7atenine was the best meal I had so far, then Au Petit Salut would be its equal.
I was the passerby in your colourful life, we never seem to meet, until now. Our encounter is but an absence and a providence: now that we've met, I hold you dear. The place of eternal memories; Au Petit Salut.
Lush, lush, lush and green. It seems so near, yet so far. Right in the middle, but not in the middle; I had to admit – I was wrong. Overrated, you are not, there's just something special about you. I wished we've met earlier, but like they say, it's better to be late than never.
It was all we need to get started with, a piece of bread, and a stick of butter. We threw envious glares at the seemingly-softer white-looking bread at the table adjacent to us; it was just, human nature.
When in Rome, do as the Romans do – and in a French restaurant, eat snails as the French does. This was my second time eating the slimy-looking creature, and as much as I thought it looked similar to cockle; I love the strong butter and garlic smell. Half dozen baked Burgundy snails with tomato and garlic butter, way to go!
I'm-a-carnivore! And the only appetiser on the menu which seemed to satisfy the meat-eater in me was the Pork terrine and mesclun salad, shallots, gherkins and capers vinaigrette. I took a bite, chew-chew-swallow-swallow, and I took another bite. A piece of pork with really extraordinary subtlety and texture. And my dear, this was where the meal just began.
Words are powerful stuff, they can make you happy, sad, angry or nervous. In this case, I was excited by the mere-presence of the word, beef cheeks.
What part, you asked again?
Beef cheeks. Pardon me, but I have never eaten somebody's cheek before.
Red wine braised beef cheeks, carrots, mushrooms and parsley potatoes. I realised I couldn't really tell the difference between the different parts of the cow, but did it really mattered? The braised beef cheeks were tenderly-done, and there was the potatoes which were a-part-of-it.
I had to agree that braised beef tasted better than lamb shank, or maybe I haven't tried one that is worthy, yet.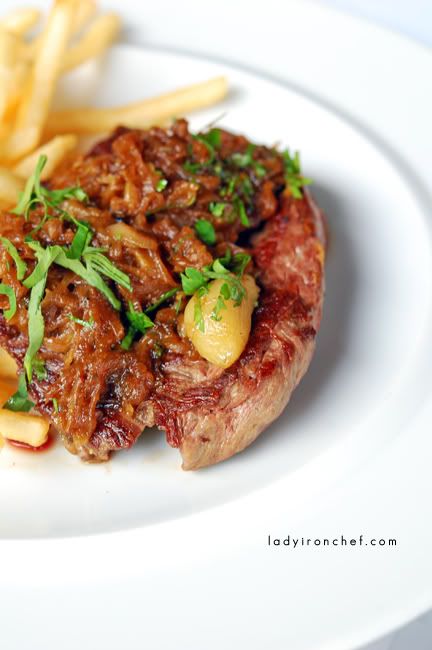 If the beef cheek were tenderly-done, then the Pan seared onglet beef was done exactly the way I love it! And just exactly what was Onglet, I know it's a prime cut of beef, but past that I'm beyond caring. Don't talk to me about the different grade, the marbling of the meat, there ain't no need to discuss the cooking technique, I-just-liked-this!
With a tinge of pink, the medium-rare meat was per-fect! And I love the confit shallots which spreaded over the top of the beef, like the sky covered over the land. The presence of the French fries were puzzling, I decided I was going to ignore its guest appearance on the plate and focused on the beef instead.
The lemon tart was fabulous – how can something so simple. be so, absolutely wonderful. The texture of the lemon curd was done just right, and paired with the subtle ice cream with a hint of lavender-honey, I'm a happy boy.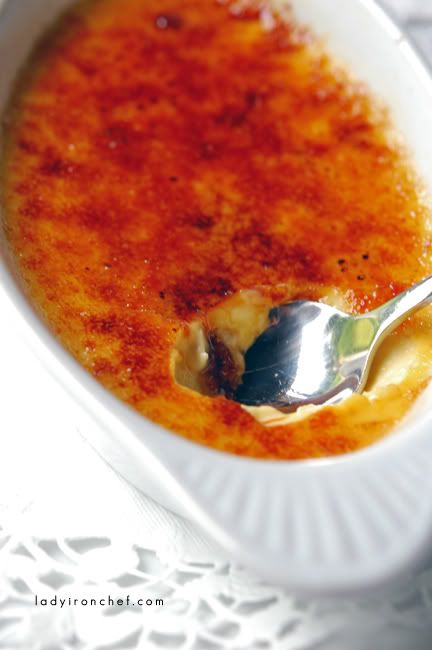 I had a quickie with the Crème brulée; I took the first taste, stunned for a moment, and took my second. This continued until I finished the whole dessert. Beneath the nicely-touched caramelised sugar, was the smoothest yet firm, custard, infused with vanilla beans.
Till we meet again, my love
* * *
Total bill was $70 for two set lunches. I, had an awesome time! Which left me with this question, why didn't I go there earlier! Au petit Salut has one of the most reasonable set lunches at $30++, comparing with most of the restaurants which are doing theirs at $38++, I thought it is a steal. Of course, there are certainly better restaurants out there, but I love the place as a whole. See you there!
---
For more recommendations, read my list of the Best French Restaurants in Singapore
---
Au Petite Salut
40c Harding road
Tanglin Village (Dempsey)
Tel: 6475 1976
Au Petite Salut is listed as one of ladyironchef's favorite restaurants in Singapore
Featured in