I am never a good cook, I can fry eggs, I can handle some simple home-cook dishes; that's about it. And I'm always hungry, always. And the folks at Les Amis has come up with a solution – Lazy Gourmet.
Lazy Gourmet is created by the chefs from the Les Amis group of restaurant. Delicious, fuss-free range of frozen gourmet dishes. It was really a no-brainer and easy job to prepare a simple dinner using the Lazy Gourmet products.
There are three options to heat up the food, one by direct heating; defrost the pack first and pour the content into a pan. Stir frequently at low to medium heat. Two by microwaving; defrost first and empty contents into a microwaveable dish with a fitted cover. Microwave at medium heat for five minutes. And three by boiling (which I did for mine), place frozen or defrosted bag into boiling water and heat for 10-15 minutes.
Beef Bourguignon comes with tomatoes and smoky bacon. I had it with white rice; big, big bowl of rice. And I eat, and eat. The rice was gone – and so was the beef brisket.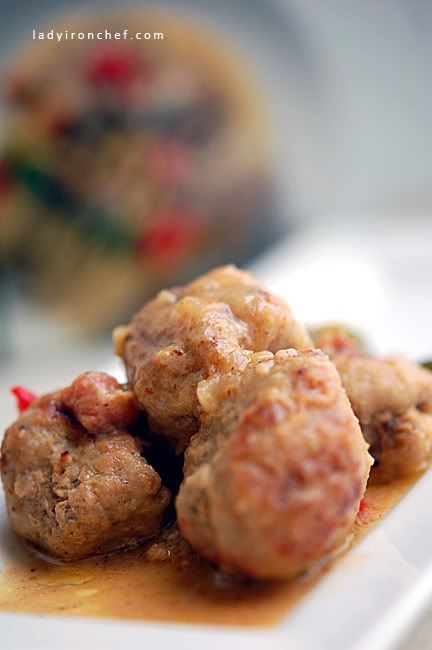 Now I'm not the biggest fan of meatballs, but my brother is. So he dutifully finished up everything for me. The Home-made meatball in cream sauce was supposed to be served with pastas, but since we did not have any at home, we ate the meatballs, on its own. The cream sauce was good, but I found it a tad too oily.
From the photo of the box, I wasn't expecting the pork medallions to be so huge! With the lovely potatoes, one on my left, and one on my right. There was a subtle sweetness in the cream sauce, which was extracted from the prunes.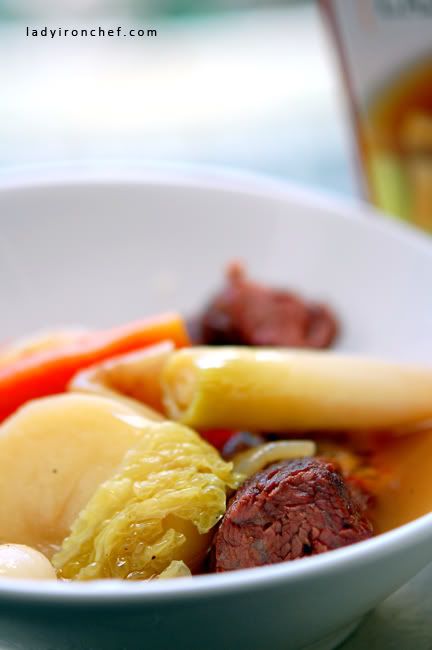 In French they call it Pot au feu, the Vietnamese has their own rendition in the form of Pho. And so does the Germans, Eintopf, although I have neither try or hear of it before. But I do know our very own Chinese hot pot. There was beef, and there was chicken; it tasted more like roasted pork to me. Although there's the broth of vegetables like cabbage, fennel, leek and carrot, it will be great if there are more vegetables!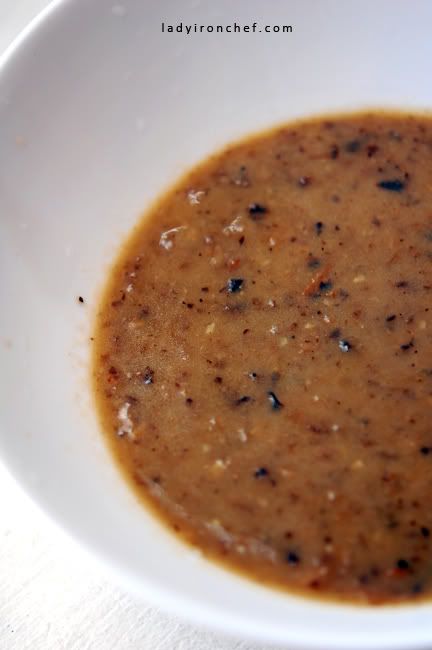 This is no Campbell soup. This is country-style mushroom soup! Unlike the fanciful name, the soup was in fact very down-to-earth, nothing pretentious. There were hints of butter and onions with each mouthful of soup.
***
I will like to thank Jasmine from Lazy Gourmet for sending me the sample products, and my apologies for delaying the post because i tried one pack at one time. From what I understand, Lazy Gourmet is currently available only on their website, and selected supermarkets at Meidi-ya and Isetan Shaw & Scotts.
For more information please visit Lazy Gourmet website here.