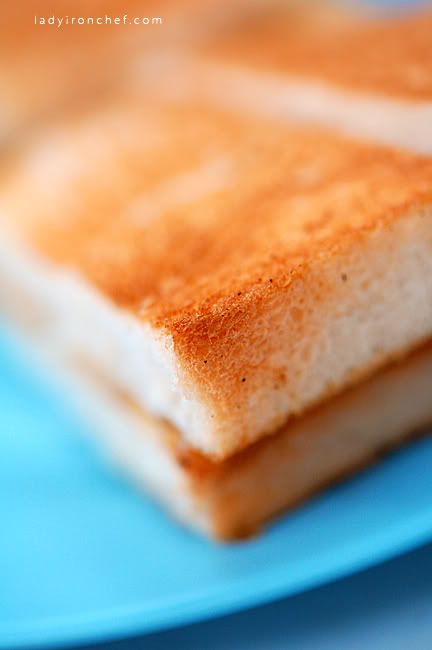 Hands up if you don't like kaya toast! From the freshly baked white bread toasted to perfection, the sweet and fragrant home-made kaya and the slightly melted butter, it was a combination of everything so simple.  The truth to be told, this was one my first time trying Killiney's toast, and I have not tried Ya Kun's one yet. I know, i know.
Logically speaking, we can just buy their bread, the kaya, and the butter to make ourselves at home. But, somehow it is impossible to replicate the same slice of toast when we d-i-y. So I will like to think that it is their skills and the toaster that makes the difference. Killiney's famous bread toast ($0.80 per piece).
For those who prefer to have more substantial portion for breakfast, the French loaf toast ($1.80) might be a better option. More kaya, more kaya!
I was surprised by the revelation of eating French toast with kaya ($1.60 per piece). I have never, ever tried eating French toast with kaya before, and I did not even harboured the thought that it could be done. Oh-my! This is one which you either love it, or hate it.
Unfortunately both of us do not drink coffee, and we chose the ice barley over hot tea due to the weather conditions. All along I thought that Killiney is famous for their kaya toast and kopi. But they also served food like curry chicken, mee siam, and mee rubus.
Killiney Kopitiam
67 Killiney road
Tel: 67349648