We are all old friends, yet we never met before. We visit each other on the web, that is how we "meet" everybody. Food brings us together, finally we can put a face to each other instead of just a nickname. From online, to offline, our food blogger outing.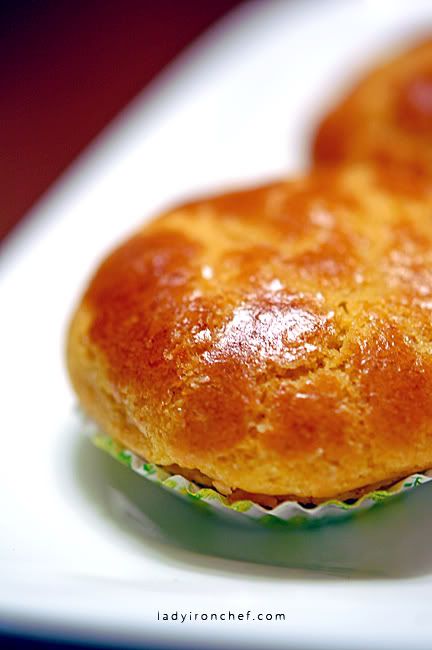 While waiting for everybody to arrive, we ordered some fried dim sum for the photo shoot first. Hua Ting have more steamed items than fried ones, and the baked chicken & mango tart ($3.90) headed the list. This reminded me of the one that I had at Man Fu Yuan, and personally I felt it was well executed with the sweet mango zing and crust pastry.
I am not a big fan of bean skin roll dim sum, but since this was one of the few fried item and came highly recommended by the staff, we ordered the Deep-fried bean skin with prawn ($4.80).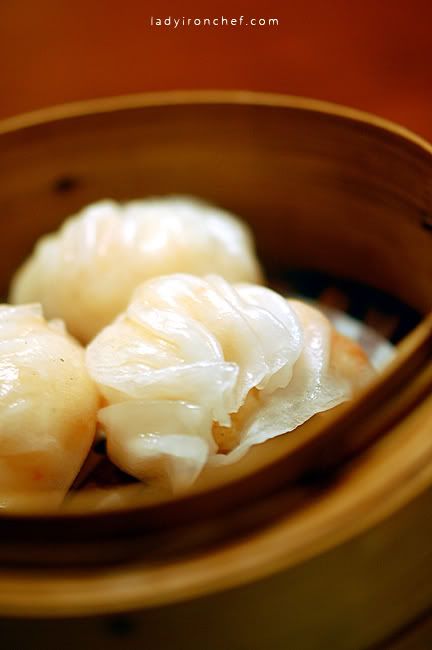 Oh, the prawns were fresh. Yes they were. But, but the skin was too thick, and well they are not the best Steamed crystal prawn dumpling ($4.80) I had before.
There was the option of doing it steamed or pan-fried. But who could resist yummy-sinful fried food? Not us, we went for the pan-fried carrot cake with canopy ($3.90). Eat first, worry later! For some unknown reasons that continue to evade us, we are seeing restaurants not frying their carrot cake enough. Is it for the health conscious customers, or is it because it requires more oil? I wished they will just pan-fried it longer.
The first page of the menu comprises of the signature dim sum Hua ting serves, yet i was surprised not to find the Steamed siew mai with shrimp roe ($4.80) there. I felt that it was better than their har gau. And oh yes, there was also mushroom mixed within the siew mai.
There was nothing to fault for their Steamed BBQ pork bun ($3.90). I love my char siew bun, and when there was no char siew sou, I comforted myself by indulging in every moment of this.
Drum roll! Announcing the award for the best performer for the meal, I presented to you, Deep fried scallop pastry with onion and garlic ($4.50). My personal favourite out of the 12 dim sum that we tried that day. The pastry literally melted in my month when I took a bite. And I simple love the strong garlic taste within.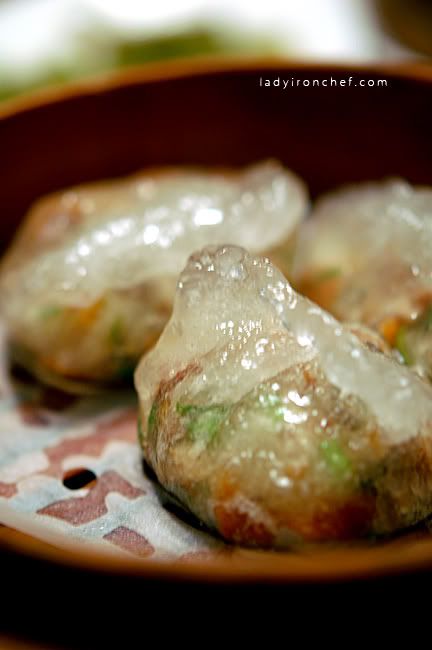 I will also like to mention the good service of the staffs at Hua Ting. While I was causally asking my friend what was inside the Steamed dumpling in Teow Chew style ($3.90), one waitress who was walking by overheard us and stopped to explain. While she couldn't get all the ingredients in it, she went to the kitchen to ask and came back to tell us. So here it is, peanut, turnip, mushroom & celery.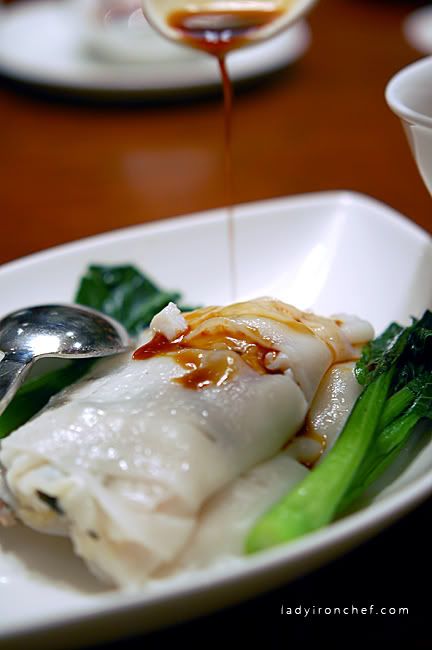 You definitely will have tried char siew and prawn cheong fun before. Okay, how about scallop? Aye most restaurants have that too! All right, I give you Steamed cheong fun with sliced fish ($4.80). Now that's something new isn't it? It was a unique and bold creation, and while personally I still preferred char siew and prawn for my cheong fun, you need to give credits to the chef for trying something new.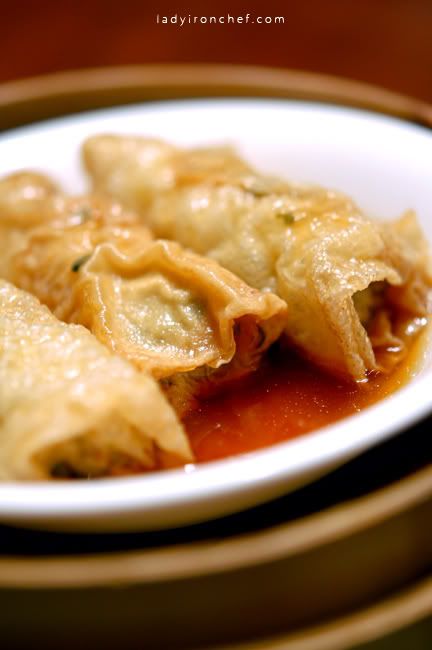 Steamed soya bean skin rolls with chicken and mushroom in superior oyster sauce ($4.20). With such a long name, I was caught dumbfound and the staff had to kindly explained a few times what it was. It was actually the same as the deep fried bean skin we had earlier. But somehow I like this one more, the oozing out of the oyster sauce when I took a bite into the bean skin rolls. Oh my.
The others wanted lo mai gai, but there was none. We just have to make do with the Steamed glutinous rice with abalone ($5.20) and it was competent enough. There was the grimicky tiny abalone on top to up the prestige level, but I felt it would be better to give me Taiwanese sausages instead of that.
Not many restaurants use duck for their dim sum, it is always like what I mentioned, char siew, prawn & scallop. Therefore we chose the Pan fried shredded duck rolls ($4.20) out of curiosity.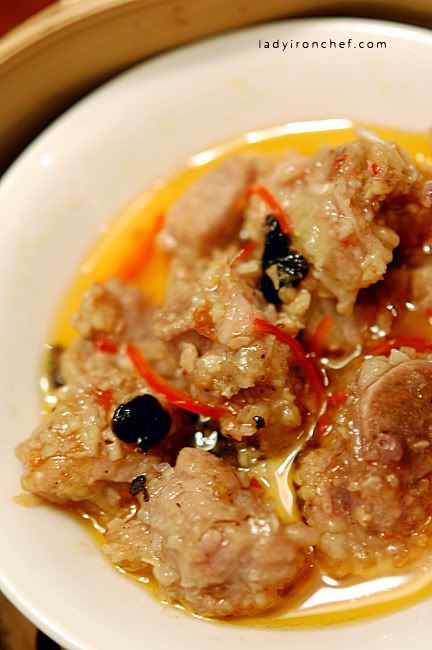 I never like ordering Steamed pork ribs ($3.90) in dim sum restaurants. I felt they were overpriced, and under-portion. Honestly I will rather order another steamed char siew bun to give me more meat. I'm a carnivore!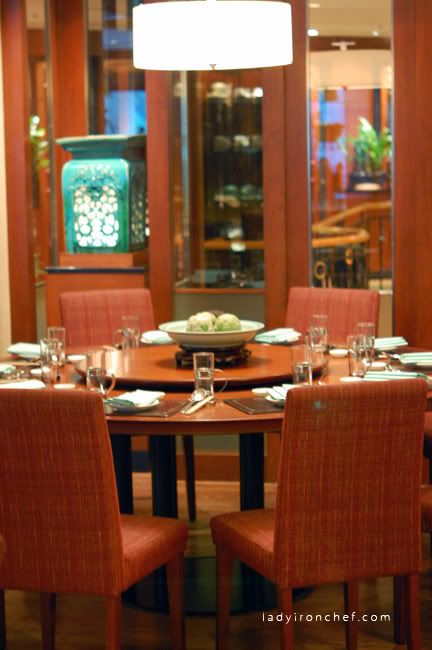 Total bill was $120 after a 15% credit card discount for 6 person. We tried 14 out of the 20 dim sum available, and that's quite a lot! I was confused between Orchard hotel with Orchard Parade hotel, so do check your maps before going down.  In my personal opinion, the staffs at Hua Ting merit the good service tag, all of them were friendly and knowledgeable. Thank you!
The six of us ended up somewhere for more desserts after this filling dim sum lunch. When floggers come out to eat, there is always food, fun, joy and laughter. Oh yes, Dslr, snap snap! Look out for my next post on the after-desserts that we had!
Hua Ting Restaurant
442 Orchard Road
Orchard Hotel
Tel: 6739 6666
Read about my dining companion post:
Catherine @ Camemberu
Evan @ Bossacafez
Julia @ AromaCookery
Leroy @ The Hungry Cow
Nic @ Black Tie, White Lie
Featured in