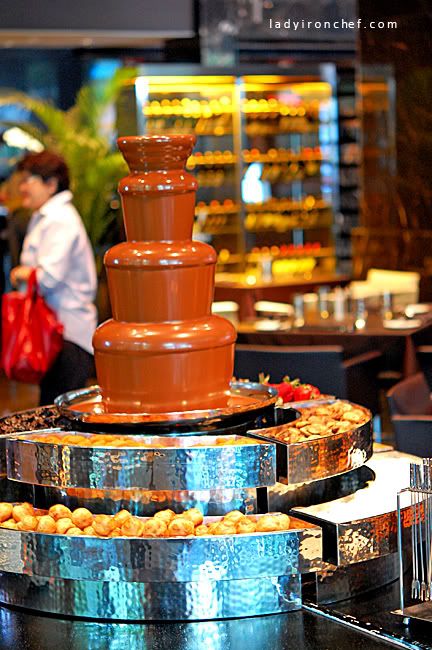 The-sight-of-it is enough to excite me. The flowing chocolate – like water plunging down from a magnificent waterfall: wonderful, sweet. The cute white marshmallows beckon to me. The puffs – baked for the sole reunion with the delicious chocolate. The big juicy strawberries, oh my. What's there not to like about a chocolate fondue? I love it!
Now, I don't really like buffets. When I see food laying out, exposed, I think they are not exactly very tasteful. The food left out in the open air becomes unprotected from the passing fancies of everybody. BUT, but, the current Citibank credit card 50% promotion for 10 @ Claymore is simply too good a deal to miss, so I decided to go for it after all.
How does $29++ for buffet lunch sounds? On top of it with a 1-for-1 promotion, and we are talking about Pan Pacific Hotel, not some dubious twenties-odd range buffet (you-know-where-I-am-referring-to). Given, the variety here cannot compare with other international buffets who have more spread, but what I like about 10 @ Claymore is the focus.
Instead of giving a lot items to choose from, they decided to give just enough. For those who inherited our Singapore-kiasu-genes, my apologies. But this is one buffet where I actually don't feel guilty trying to gorge myself silly. I ate a bit of everything, and rushed to have my desserts.
Chicken & Seabass in lemon sauce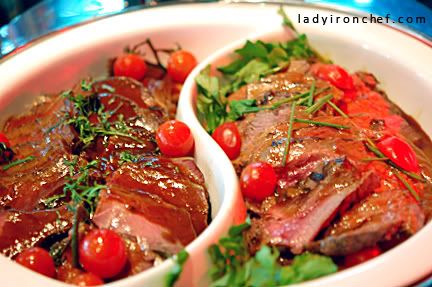 Lamb & Beef
Seafood Saffron
The chocolate truffle was terrific – sweet, smooth, refined, yet unbelievably simple. I had mutiple helpings of it, until my stomach decided to do a red-shirt-alike-protest to me.
I love the chocolate tarts too; each nicely craft and so delicate. One bite, it's gone.
Total bill was $34 for 2 person after the citibank credit card promotion. The current good deal last until 30 April, 2 person are entitled to a 50% discount. For $17 bucks per person, buffet lunch at a classy environment, enough said! And oh yes, I forgot to mention that the service was top-notch; the staffs were attentive and always happy to help out when you need anything.
10 @ Claymore
10 Claymore road
2F Pan Pacfic Orchard
Tel: 6831 6686