Alighting at EW XV, red dot was at the rear, and I passed by amoy. Stanley, Stanley where were you? I looked high, I searched far. Lo & behold, there you are. I hold you dear in my heart, Sweet Indulgence a year ago.
Gone were the white, in came the yellow. With a touch of blue, everything lingers fondly deep inside. Memories. This is the stuff that life is made of. I want to hold onto this moment forever.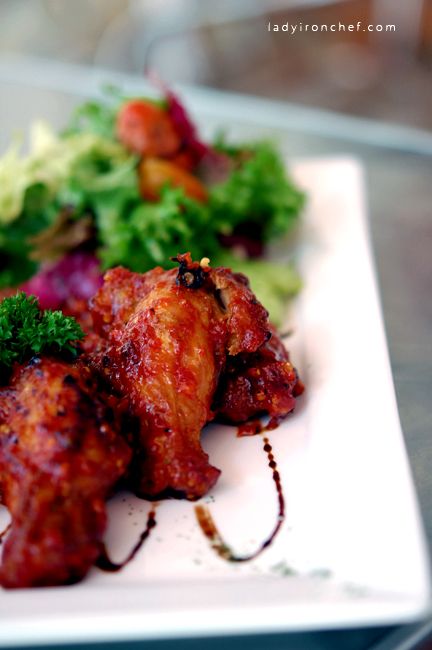 The hot and the fury. What was supposed to be a routine simple appetiser ended up in the fast lane instead. We were too ambitious, and nodded when the manager smiled at us and asked innocently, extra spicy? Boy. This, was one hot chick. Only for the daredevil, Chicken wing in spicy sauce ($9.50).
A bit of everything from Nature's best, garlic, basil, pesto with a variety of mushrooms. The result, a delicious comfort food. Sauté mushrooms ($9.50)
The Seafood platter ($19.50) was an assembly of seafood sauté in a white wine herb reduction, which came on the recommendation of the manager.
The problem, with not reading the fine print of the menu, meant that we were surprised when the platter arrived, completely opposite of the usual Fish & Co style. Overcoming our initial reaction, we dug in and found ourselves with mussel, scallop, clam, fish, squid and prawns.
Skinny seems to be the In-thing at the moment. 10 inch thin crust Siciliana pizza ($22). Home-made with a spicy element. With bratwurst sausages, roasted capsicum, onions and semi-dried tomatoes. Personally I felt that it wasn't cheesy enough, but it garnered enough support from my mates to overrule me.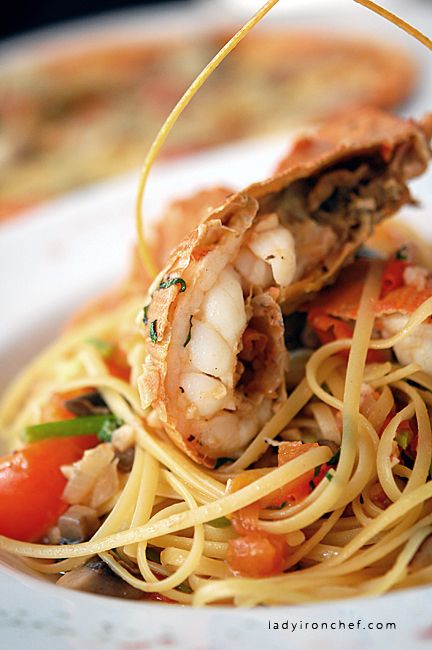 Call me ignorant, but I did not remember seeing crayfish served with pasta very often. It was usually the limelight of its more popular cousin, lobster instead. Much as I was tempted to go with the salmon pasta which I always have, a adventure was on the cards. And hence the pick, Crayfish linguine ($25) I liked the fact that everything was executed very nicely. The flavours were delicate and did not overwhelm.
We did not want to have everything from the land, so it was a tough fight between the baked salmon fillet, and the Pan-fried seabass ($26.50). The latter won of course. On paper, a pan-fried seabass served with mashed potato, daily vegetables was as safe as anything could be. But it was not to be. The fish was slightly over-aged, and I wouldn't exactly use fresh to describe it. It wasn't all over, the unique taste of orange based salsa was the saving grace.
The most expensive item on the menu, the lamb rack ($40.50). With portobello mushroom, daily vegetables, mashed potatoes and the beautifully grilled rack of lamb certainly looked enticing. But there was a snag. The proportion of fats to meat was equally balanced, which did not go well with the ladies.
The portobello mushroom made its second appearance with the Beef Tenderloin ($37.50). It was another tough decision to choose between the pork rack or the steak, but we were glad to have this. The roasted baby potatoes were snapped up in two seconds, the steak was the best among the three mains we had.
Desserts were done in-house by the chef, and we had the New York Cheesecake ($11). For such a hefty price tag, we were expecting a lot more, but sad to say it wasn't good enough. The dessert lacked the dense and creamy aspect and somehow was sticky and crumbled easily.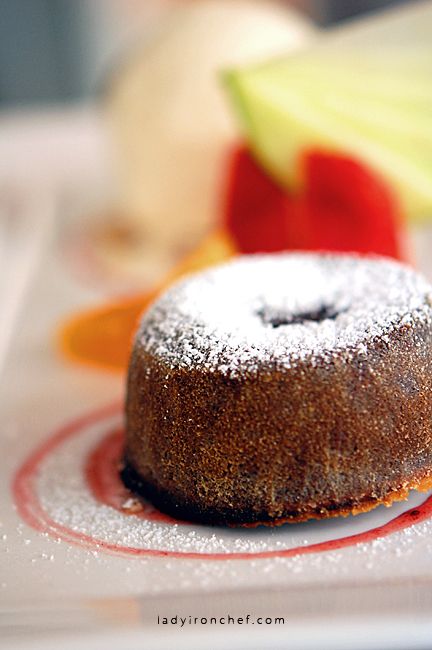 The Warm Chocolate Lava Indulgence ($13) made up for the previous mistake.  Like all warm chocolate pudding, the melted dark chocolate oozed out and this sight never fails to excite me. Also impressive was the use of vanilla bean ice cream. My dining mates found it too light, but anything with warm chocolate and cold ice cream couldn't possibly go wrong with my sweet tooth. We agreed it was slightly better than Bakerzin's rendition.
I had a sweet memory of the tiramisu I had a year ago. At this very place, Sweet Indulgence's tiramisu ($13). The coffee and liquer taste was very subtle, but that was exactly what I liked about you. The dessert was very smoothing to the palate, and if you do not think of it as a tiramisu, it is actually very good. But if you are expecting a typical strong coffee & liquer rendition, then you are just not that into her.
***
Photographs are the best memories keepers, and I have added more sweet memories with this. I'll like to thank Chris for inviting me for this food-tasting session. There was some hits and misses, but Sweet Indulgence remains a nice place for couples to have a romantic dinner without any disturbance. I did find the prices to be rather steep, there is a current promotion of 1 free dessert with any 2 main courses or pastas.
Read my previous visit here
Sweet Indulgence
2 Stanley Street
Tel: 6223 7707