Four. I wasted three opportunities before I got to know you. On our brief initial encounter, we brushed past each other as I was going somewhere else. On the subsequent two occasions, I wasn't fully prepared, not when I'm in running attire. Despite all that, I'm glad we finally met, this time prim and proper, Hello Riders, my name is Brad.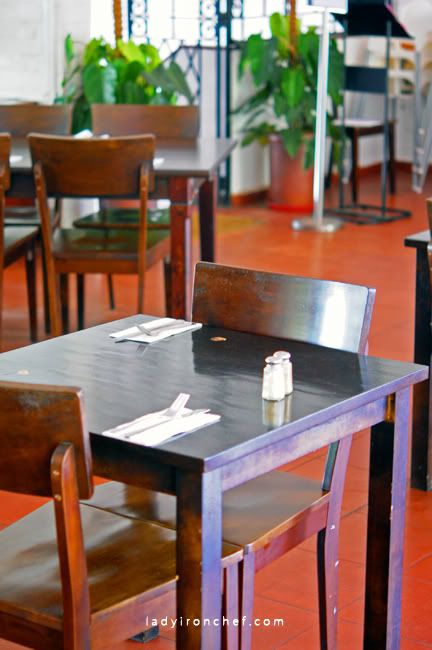 Here is the place where you can look at horsies galloping freely on the greens. Here is the place where you can escape from the hectic city life. Here is the place where you can have brunch at a tranquil and serene environment amidst the lush greeneries. Riders Cafe.
This seat is for us, for horse-grazing.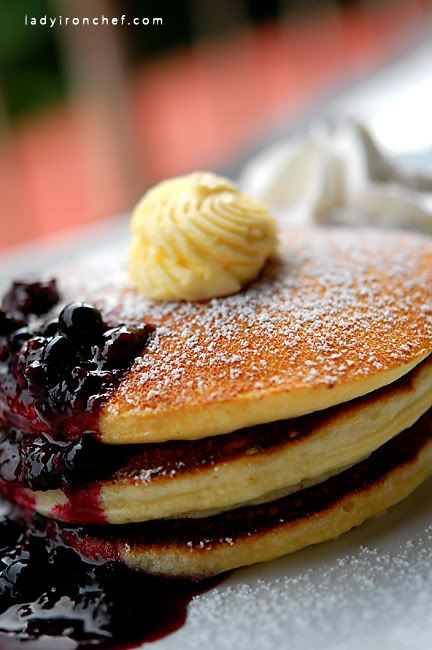 Nothing beats having morning pancakes ($10) to start off your day. There was berries compote, there was whipped cream, and there was maple syrup on the pancakes of course. Who can resist the smiley pancakes, certainly not me. Well, we should have asked for more butter!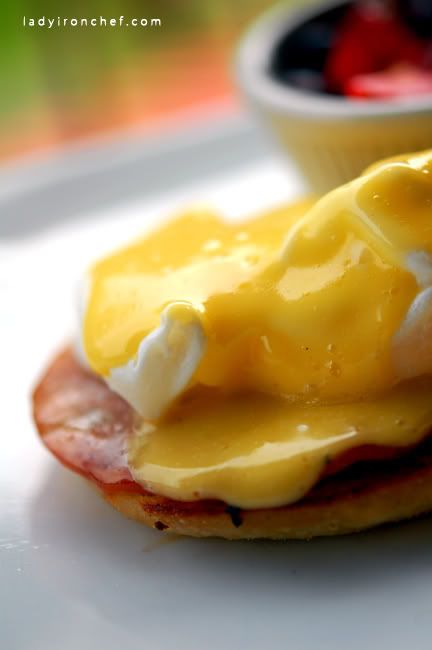 In my dictionary, eggs and brunch are synonymous with each other. A hearty brunch won't be completed without any Egg Benedicts ($12). Instead of the smoked salmon, we decided to have ham with eggs. And personally, I felt that hams complimented eggs better. I still loved the latter though. Poached eggs, with hams on a toasted muffins, and breakfast potatoes to go along with. This is brunch.
I succumbed to temptation, I love to show pictures of egg ben.
The Riders Breakfast ($13) was supposed to be very reasonable. But we heard the waitress wrongly, so we said we wanted smoked ham, bacon and sausage. All three of them, instead of just choosing one. The damage was $8 more for the two additional sides. Well it's quite a heartache getting the bill in the aftermaths, to pay the money for 2 tiny sausages and 2 strip of bacons. The money would be more well-spend if we got another dish instead. But this was solely our own mistake, and there's no denying the breakfast was excellent, all of my favourite. Scrambled eggs, ham, bacon, sausages, beans, potatoes and toast.
Total bill was $56 for three breakfast items, and 1 drink. Well it would be around ten bucks lesser if we had not added the extra sides, so I say brunch at Rider's is really value and excellent for the superb ambience of the place. But, fairways drive is hardly a place where you will call accessible unless you got transport, or cab.
I will definitely come back again, for brunch, or even for lunch. Their lunch and diner menu looks very affordable too! But another thing to note, I went on a weekday morning, so it was relatively peaceful. If you were to go on a weekend for brunch, the result might not be the same. See you there!
ps: if you had noticed, I had also included my signature See you there! tag for my previous two post on Graze and Patisserie Glace as well. It just so happened I went to four fabulous place within this two weeks!
Riders Cafe
51 Fairways Drive
Bukit Timah Saddle Club
Tel: 6466 9819
Riders Cafe is listed as one of ladyironchef's favorite restaurants in Singapore
Featured in