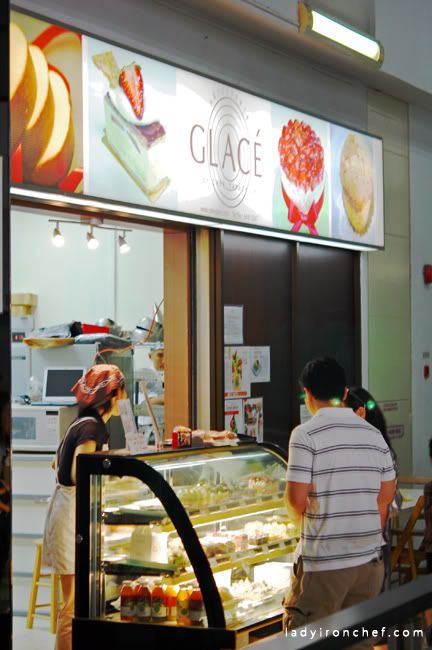 The simple pleasure of life. People always chase after complicated stuff all their life, but if you would just slow down your steps, you will notice some of the simple things are the nicest things around. What I'm going to introduce to you for this post, is anything but simple. The location is inaccessible, there are practically no nice decorations, the seats are merely a few tables, but the service are so friendly, and the desserts are amazing!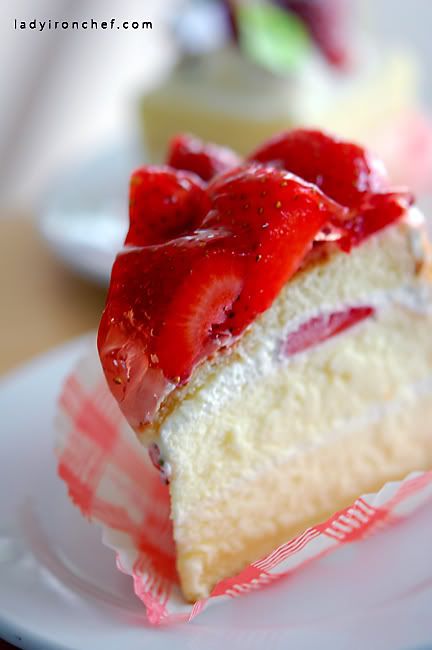 This cake, they called it the Strawberry Souffle ($5.0). Patisserie Glace's rendition of the Japanese cheesecake. The texture of the cake was so smooth that it was quite unlike of what I've eaten before. My friend and I took our first bite, and there was silence till we finished the cake. It was so good that we didn't know why they were able to make the cake in this way, that we kept on eating it. And the puff pastry layer at the side of the cake brought back nostalgic memories for me. Well, cliché as it sounds, you got to try out for yourself to find out. Amazing stuff.
It was my third shortcake only after trying the ones from Canelé and Bakerzin. I was determined to find something better, so we picked the Strawberry shortcake ($4.80). The cream wasn't fluffy enough and did not hold its shape after a while. But what I liked was the fact that it was sweeter than the ones that I've tasted before. Not the best yet.
Two layer of mango cheese mousse with two layer of sponge. The rare cheese mango ($4.20) was a offer for this month only. Dense yet not heavy. It may seem easy to use this four words, but it is definitely not simple at all to create the taste. The mango taste was very subtle, with the focus on the cheesecake.
Total bill was $14 for three cakes. Patisserie Glace has remarkable cakes at very reasonable pricing due to their lower rental which allows them to pass on the savings to customers. Even at the ulu Chinatown plaza, customers be it Japanese expats or locals, just keep coming in. I went back twice in the short span of four days, for that they already merited "See you there!"
My simple pleasure. Life's sweet.
Patisserie Glace by Yamashita
34 Craig road
#01-10 Chinatown Plaza
Tel: 6400 0247
Website here