The Angel on my right says she is innocent and pure. The Devil on the left rebuts, she is gullible and inexperience. A simple play of words, show the different perception of people. The same word could mean two totally different thing. Naive, is all about the absence of artificiality, in a good way.
Rather than a vegetarian restaurant, the owners of Naive know exactly how human perception is, most people tend to associate vegetarian with distasteful food, so lets just call them the first meatless restaurant.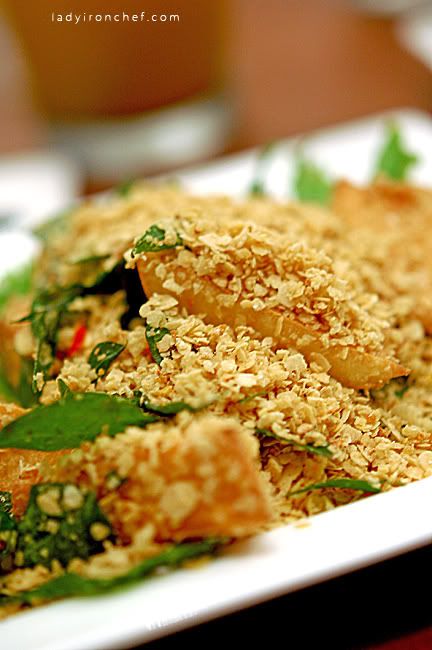 Tofu is always a staple in the meatless cateogry, and it was no surprise we had it for the Golden Oats ($8.80). Essentially crispy deep fried soft golden tofu with oats and fragrant leaves. I didn't get to try much of this, but it was a good rendition of the cereal prawn. The tofu was a fitting replacement with its crispy texture and soft interior going well with the oats.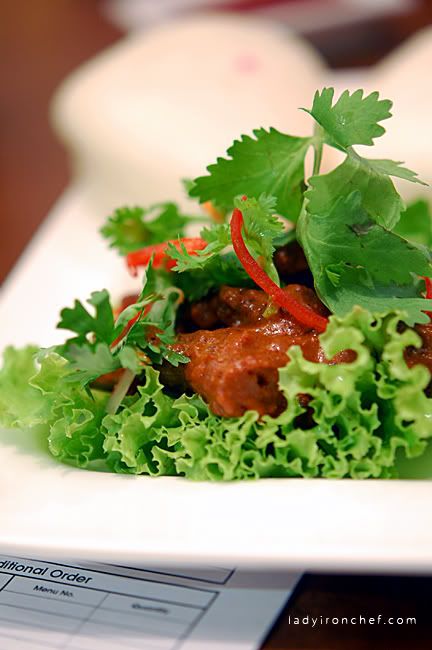 Not the best in terms of the looks department, but the Penang Rendang ($9.80) was better than expected. Pan-fried mushroom on bed of greens. Red, hot, and spicy.
When red riding hood ($7.80) meets the big bad wolf. How apt. It was almost like the real deal. Imagine sweet and crispy,and instead of pork you get beancurd. Sweet & sour pork wannabe? This is even better than some of the ones I had before.
The ladies man. He have all sorts of tricks in his bag, and can please all of you. Battered organic oyster mushroom ($9.80). If you have been avoiding fried food for a while now, because of the double damage; unhealthy fried food and too much meat. This is the one for you.
Tangy and refreshing. The mango tofu cake ($12.80) was all about that. Slightly sweet, slightly sour. Crispy skin, soft body. Talk about contrast.
With a cheesy tag line like mega in taste, and mini in size, the Mega mini mushroom ($10.80). While I ain't a big fan of Sze Chuan cuisine, one bite was enough to tell me the flavourful spicy szechuan sauce.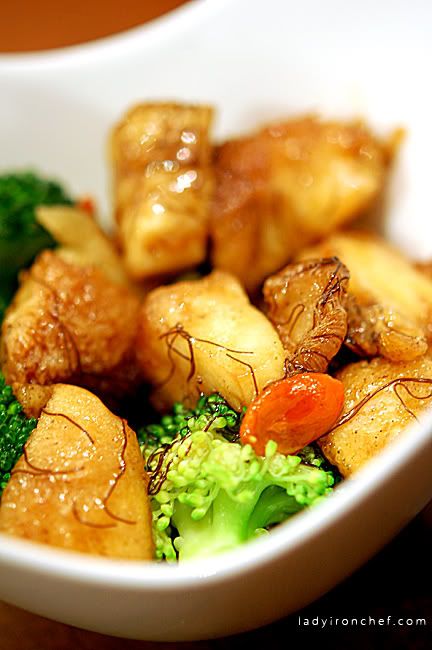 Enchanted forest ($12.80). Indeed, I was smitten by her charming ways, her strong perfume smell of wolfberry, her strong and wilful texture.
From the braise, you would certainly associate it with cooking for many hours. Yes, but somehow for monkeyhead mushrooms, it does not turn soft. We were expecting the meat-lookalike to be tender, but instead it was still rather tough in texture. Heartwarmer ($13.80)
I always love to order garlic rice when I frequent Japanese restaurants. They are so oh-so good! And I think the same could be for Naive, their Oliver twist ($3.80). Instead of the Japanese pearl rice, we have the fragrant Thai rice, with a olive twist. And I agreed, so good it can be eaten on its own.
Naive promises to offer healthy food without compromising on taste. And I will like to say they did it. I never knew vegetarian, or rather, meatless could taste so good. However, prices are rather steep given the small portions. And their main courses are all monkeyhead mushrooms.
I'll like to thank Hungrygowhere.com for inviting me to the food tasting session. And to Naive's owner Phyllis for hosting and educating us for the healthy yet delicious food.
Naive
99 East Coast Road
Tel: 6348 0668
Website here