You know in life, there's usually only one opportunity, and like they say, if you missed the train, it's gonna be gone forever. That is why, gracious and forgiving, as cliché as it may sound, is important. Second chance.
Making the wrong choices once is bad enough, this time, we are going for the safe option. What better than their signature Le Royale ($7). If I'm to be a scientist, all the cures and breakthrough will never occur. But call me a mathematician, the cake had 64% of dark chocolate mousse. Of hazelnut feullitine and praline, I could never differentiate them apart. But I love them both, yes I do. So it doesn't matter, anything with hazelnut & feullitine works for me. You know I love you, xoxo Le Royale.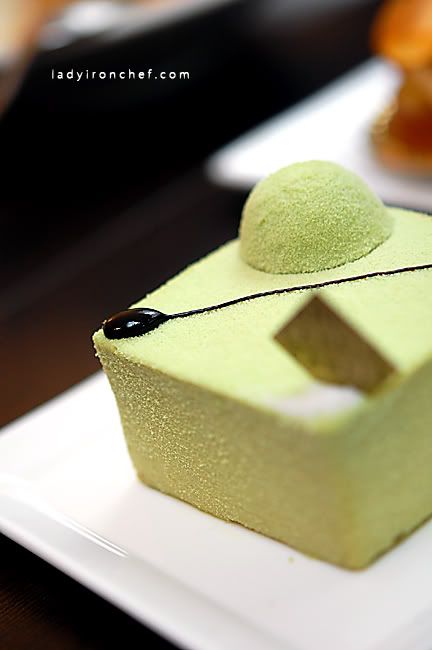 Some of the female companions that I know, does not like to drink coffee. Yet they always frequent Starbucks, well just for their green tea frapp. Yes, call it irresistible, healthy, or whatever, our ladies love their macha. The lovely light shade of green tea mascarpone mousse was appealing. I'm no expert when it comes to green tea, but what I do know, the macha was very subtle. And the chestnut cremeuex was an interesting choice for the middle layer. Not that i'm a fan of chestnut. Oh yes, simply named,  the macha ($7)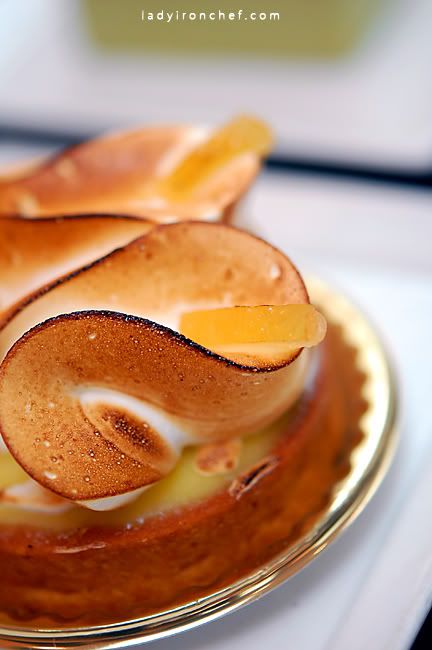 Oh dear, if looks can kill, so can Tarte Citron ($5.50). The beautifully burnt effects from the blow torch was a sight to behold. Italian meringue with lemon cream on almond tart. My, my. This really is a beauty. And if you think she is a bimbo, the taste was as good as the looks too.
I never know Canelé has good ice cream. Well, they are known for their cakes, and chocolates, but ice cream! I love surprises. And Nougatine ($8) is all about that. Praline ice cream with hazelnut nougatine was always my beloved. But it was the salty caramel dripped alongside the ice cream, which really made it so good.
Total bill was $33 for three cakes and one ice cream. Well I thought that the ice cream was pretty decent even at eight dollars per pop since it was more than the size of two scoops elsewhere. The raffles city branch is canelé restaurant instead of patisserie, since they offered main course as well. But I resisted putting the word restaurant on my title since we didn't try any of their main course. That will be another time of course.
Usually opportunities only come knocking once, but I'm gonna knock on the door a few more times.
Canelé Restaurant
252 North Bridge Road
#B1-81 Raffles City shopping centre
tel: 63347377
Featured in