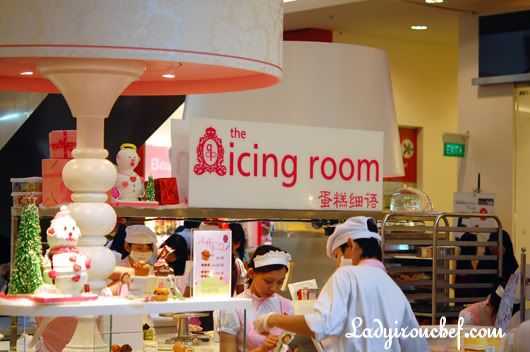 My heart skipped a beat when i saw it from afar. Deep down, I thought "no way man!", it couldn't be. As i approached it nearer and nearer, the sight of the two pure white kitchenaid further excited me. And the name was just the perfect icing on the cake, The icing room! The pinkish-white colour domination which so reminded me of Twelve + one, with the adorable ornament, everything was perfect, until i spotted the name Breadtalk on one of the cake box.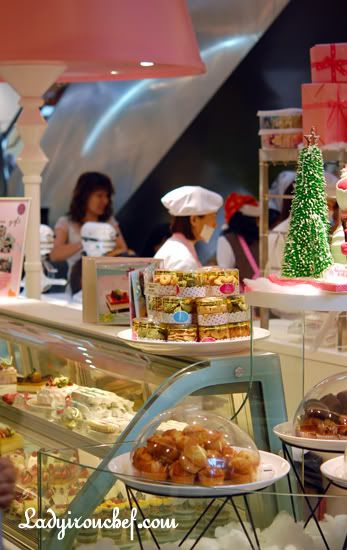 Boy, the coup de grâce was performed when i then noticed the Chinese name, Dan gao si yu, which was so Breadtalk (mian bao wu yu), and a branch of Breadtalk and toastbox just beside it. Now don't get me wrong, I have totally nothing against Breadtalk. It's just that i wasn't expecting Breadtalk to behind the icing room concept.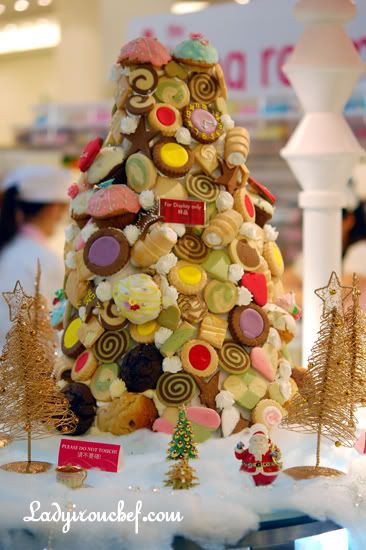 When i thought the stagnant Breadtalk is down and out, they managed to turn the table around and pulled a rabbit from the hat. Voila! You've to give credit to Mr. George Quek and his team for coming out with this, although the icing room has yet to prove itself, they managed to capture me on the first impression, and that's all it mattered.
The idea which i always had in mind, a place to do-it-yourself cakes. This, is one very good idea. The crowd surrounding the store gave a very good indicator, for just $11.90, they provided you with a small cream cake, and you get the pleasure to decorate your very own cake on the spot. Its that simple, no need to buy ingredients, no need to get your hands dirty, and no need to wash up.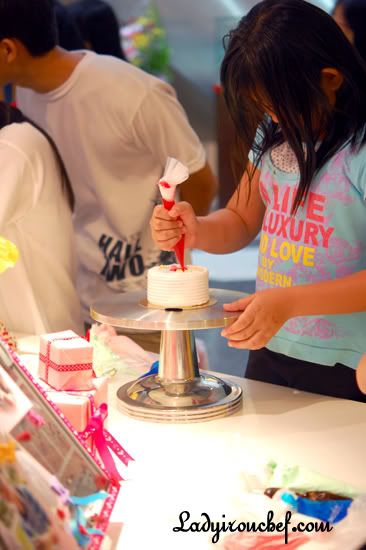 Like what the chef there mentioned, "It's like fulfilling a child's dream". I'll like to add something to that, i bet adults would also love to play with the cake, a very nice gift for your loved ones.
Now to put everything to test, i picked the Apricotte ($3.80). A layer of caramel on top, with apricot mousse in between  the cake. I couldn't get the taste on my first try, so i took another bite. And this was followed by eating the different layers separately. Everything, just tasted so, ordinary! I must admit i'm fairly disappointed with the cake, not that i was expecting much though. And the berry was sour.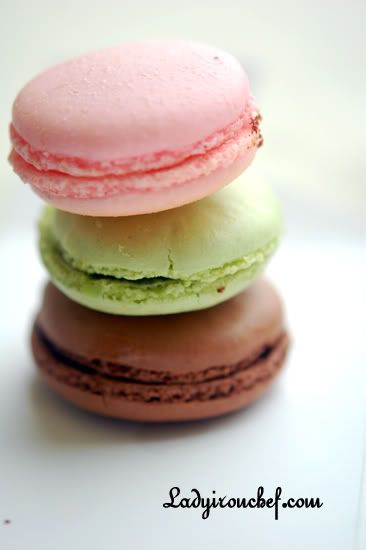 If you thought that everything was a surprise so far, wait until you see this. Lo & behold, Macarons! And this is Breadtalk which we are talking about. Bread alright, but macarons?
I couldn't resist buying a few to try out, not when they are only $1.50 each. There's five different flavours available, matcha, strawberry, chocolate, passion fruit, and yam. However, i wasn't adventurous enough to try out the yam option. Play safe, think baby steps.
And when it was time to try them out, my first bite went to the strawberry macaron ($1.50). The opening nibble was still alright. But as time goes on as it surely will, the whole taste becomes overly sweet. Well I'm not exactly a macaron expert, the brittle shell wasn't chewy enough, and the slightly sour strawberry fillings wasn't to my liking.
Well if I'm not wrong, macaron does not involve the use of milk in the process. But for some strange reasons, there's a strong milk taste which covered the matcha, or maybe it's just my taste bud). Needless to say, the matcha flavour was weak, and this one was out as well. Their macarons are all small (not as tiny as Carousel though), and everything was just too sweet.
So when everything fails, you go to your comfort zone, the safe option yes? The chocolate macaron was what i've in mind just in case everything else don't work out. And the results were played out in a totally unfashionable manner, somebody forgot to tell the jam within the macaron to follow the script. It gave a sour-sweet contrast with the chocolate macaron, but it wasn't what i was looking for.
Now, the conclusion. Interesting concept, with a fascinating set-up, and i was surprised they didn't incorporate a dine-in area, which would provide some competition in this Canele-dominated area. Well, Breadtalk clearly has the financial muscles to provide some fight, but first, they need to improve, make changes to their bakes. Otherwise, everything is just talk. And my dear, talk is cheap.
Oh yes, in my excitement, i forgot to mention the icing room is located at the new building of Jurong Point (JP2). Lots of new stores, plenty of boring old faces, but there are some concepts which caught my attention. So do check it out for yourself!
the icing room
1 Jurong west central 2
#B1-05 Jurong Point
313 Orchard Road
#B2-52 313 @ Somerset
Tel: +65 6884 8189
Compass Point #B1-13
Tampines 1 shopping mall
#B1-K1B