On the stretch of road right in the middle of town, at Singapore's very own Fifth Avenue. Our shopping paradise. Before the new contender Ion takes over, the crown belongs to Paragon. Standing at the cross junction, we found ourselves lost, clearly it seems the journey to finding the spice wasn't as easy as we thought. Heading up towards Mount E, we scaled on, in search of our final destination, Blue Basil.
Addiction for salmon. We ordered the Norwegian Salmon ($19.90) almost spilt seconds after seeing it on the menu. With the choice of sauce being their signature blue basil pesto, bonquet of vegetables and roasted baby potatoes as companions. The Norwegian salmon was fresh, the sweetness of the fish twittered on our tongue. The blue basil pesto did not completely brought out the freshness of the salmon, something was amiss, I couldn't make out what.
Addiction for pasta. My cravings for the Italian staple saw us ordering the Linguini Ragout Pollo ($15.90). While there wasn't any exotic ingredients, a good home-made chicken Bolognese was always a welcome. The taste of fresh tomatoes, not those cans type was a relief. The pasta section at Blue basil isn't very comprehensive, but this one, have done enough.
Addiction for ice cream & baileys. A close fight between the raspberry cream bruleé and the Baileys gelato served on crushed ice & baileys liqueur ($9.90), with the latter winning of course. The baileys and ice-cream expert gave her verdict that this was good stuff, so it was. The baileys gelato, were pure, and the baileys used were generous, unlike some places which served diluted versions. And eating crushed ice with gelato brought the novelty to another level.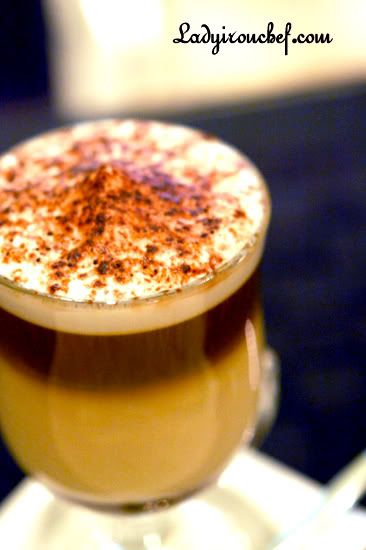 The complimentary cappucino ($4.50) was on the house.
Total bill was $48.90 for the food with a 7% GST, and no service charge. Blue basil met my expectations, with its use of the spice in almost all their dishes. Prices are affordable for the range of variety it provided, and being right in the middle of town, they offered you with a very good option, albeit you must take a 10minutes walk from Paragon. Actually i like their location because although it's in town, but not many people know about the place, and it eludes the your-own-place-feel. Well, it's certainly not a bad place for an romantic dinner, but for taking photo-wise, it isn't very friendly. I'll probably make a perennial visit for lunch instead. See you there!
Blue Basil
56 Cairnhill road
Tel: 6737 8770
Blue Basil is listed as one of ladyironchef's favorite restaurants in Singapore