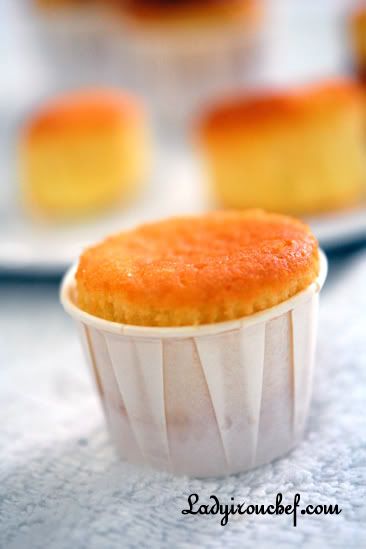 The grand dame of cupcakes. I decided to return to the basic after making a batch of nutella cupcakes which turned out to be a disaster. While mixing the batter for the nutella cupcakes, i could feel something amiss, but couldn't quite make out what was wrong. When the cupcakes finished baking, the whole cake was too wet.
The recipe i used for this vanilla cupcake was simple enough. The all-in-one mixture technique, putting all the ingredients into a bowl and beat until smooth. Quite unlike the one i tried before, that is add in the egg one by one, followed by the flour separately.
Vanilla cupcakes (make 18)
225g unsalted butter
225g caster sugar
225g self-raising flour
1 tsp baking powder
4 eggs
1 tsp vanilla essence
1. Preheat the oven to 175c. Place 18 paper baking cases in muffin tins.
2. Place all the ingredients in a medium bowl and beat with an electric whisk until smooth and pale, about 2 to 3 minutes.
3. Spoon the mixture into the cases. Bake for 20 minutes.
4. Remove the tins from the oven and cool for 5 minutes. Then remove the cupcakes and cool on a rack.