The official term is potluck, some called it an outing. You can also see it as a pre-xmas celebration. Whatever, it is just a bloody excuse for the dessert enthusiast to get together, have fun and eat! Everybody brought something along, for those experts in baking, a chance to showcase their amazing skills, while the rest of us brought it from elsewhere.
Macarons, the speciality of Evan. She made hazelnut praline, rose, and pistachio flavours this time round. You might be think that i'm biased, but her macarons are one the best i tried so far. And we got some of the strictest dessert authorities who tasted them. Her macarons are available for sale on her site, do order some and give it a try!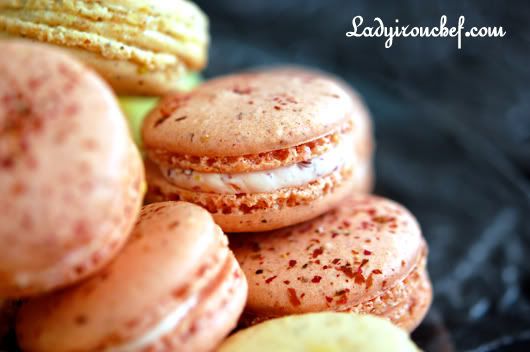 Well, i tried rose flavour macarons from Canéle before, and i must say i wasn't too impress with the rather artificial rose flavouring. While Canéle's one was subtle in flavour, Evan's rendition was fulsome in rose flavour. The shell was crispy, not the brittle type. The innard cream fillings were moist and light, and the aroma of the rose spread through, and was contagious like happiness.
Bright green in colour, the pistachio macaron was easy to spot among the desserts. I ain't a big fan of pistachio, but this one was good enough, with the use of pistachio and almond. Personally, I felt that the almond taste was a tad strong though, and sort of covered the pistachio nut.
The hazelnut praline macaron, was clearly the best among the three. Everybody love hazelnut, who doesn't like nutella? The strong hazelnut flavour was very nice, with the shells chewy and the whole taste simply blew me away. Everybody had one, while i couldn't help myself and secretly took two! And do you believe this is actually Evan's first time trying out with hazelnut for her macaron?
Next up, Vicki's Swedish cinnamon rolls. Warmed up in the oven, sprinkled with icing sugar, the pretty cinnamon roll wasn't as soft as i thought, but i enjoyed eating them round and round. Only the mountain of desserts behind stopped me from taking second helpings.
If we were to give out the best actress award for the event, it'll definitely be the marshmallows. Her sweet looks deceived us completely, as she didn't turn out to be as sweet as we thought it would. And that's a good thing, most marshmallows are usually too sweet, but this one was just nice, and there was the hint of peppermint within. Another of Vicki's creation. Her first time.
The Macha sponge cake ($20) was brought from Minamoto Kitchoan in the basement of Takashimaya. Some felt that the macha flavour wasn't strong enough, and the sponge cake tasted more like our Chinese Fa kueh. Quite a disappointment actually.
There was rum, and there was nutmeg. The eggnog cheesecake was all about the liquor, and a hint of cinnamon. With the decoration of the pretty strawberries, the cheesecake was simple, and pretty enough. But i ain't a big fan of liquor desserts, so this one didn't make it for me. While others thought the liquor level was still acceptable and enjoyed it. Brought to you by caicancook.
Being the novice baker i am, it'll be very embarrassing to bring my amateur bakes along for potluck. Therefore, i shared the Goodwood Park Hotel traditional Christmas chocolate log cake ($53 before 15% discount) with Fen.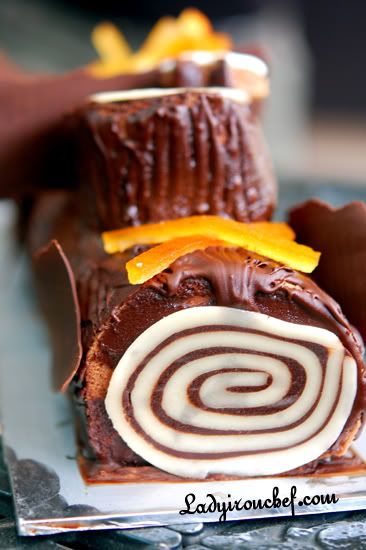 How can Christmas be without the iconic log cakes? Goodwood Park's one was very chocolatey, with rich layers of chocolate mousse, in between the home-made chocolate sponge. I haven't had a proper log cakes for years, and to share it with friends who appreciate desserts, it was even more significant.
I wasn't sure what the cake was initially. With some explanation from Sinny, who made the dessert. I googled the term, and here's what i got. The bundt cake identity attributed from its ringed shape, it is pronounced "bunt" with the 'd' being silent. And guess what again? This was Sinny's first time making this cake. The bakers were all like, "oh this was my first time making this and that", when all of us were enjoying their desserts thoroughly!
We ended off our meal with some awesome pepper crabs by Claire's father. There was also chicken wings, prawn rolls too! What are you thinking? We didn't just ate desserts for the whole day!
Claire's dog come out to play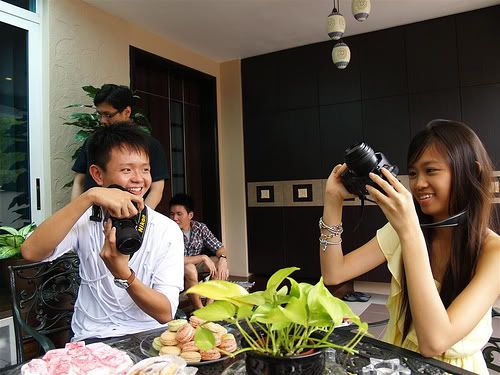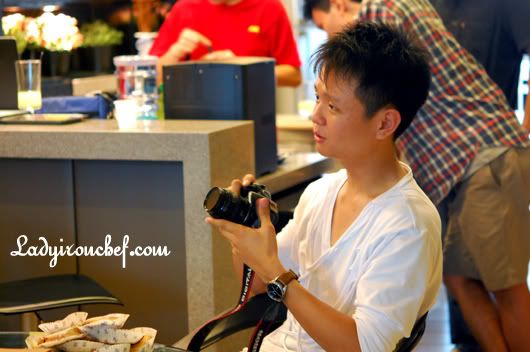 Our first-ever potluck outing was a blast, and i believed everybody thoroughly enjoyed themselves. We spent like two hours taking photos of the food, and there was laughter the whole day. Thanks claire for hosting us at her house, and there's definitely gonna be more potluck outings in the future!
Check out the rest of the dessert enthusiast entries:
Fen @ sgcake.com
Evan @ bossacafez
Sinny @ Fundamentally-flawed
Vicki @ herlittleblackdress
Until our next dessert enthusiast outing then! Happy Christmas everybody!