Television often play an important part in our life, and definitely have great influence on many people. But the debates on whether it is a good thing or not continues to rage on. Many certainly thinks that Television's one of the greatest inventions, while some in the other camp believe that it is a bad influence on children, especially so when they get addicted to watching TV programmes. Did you ever hear a parent telling her kid to watch more TV shows?
Recently, we have a television show on Channel 8, "Buffet Buffet" which has garnered much interest among the young and the old. And its hard not to see why, food-related programmes have always been a hit with the audience, not to mention this one introduce all kinds of buffets in Singapore. I saw Penang place restaurant on one of the episodes, and since the price is reasonably cheap and near to my place, why not?
If you just watch the crowd in the place without knowing where is it, you'll never guess its located within the International Business park (IBP) at Jurong. Perhaps that's exactly the reason why the owner set up shop there, since there's so many hungry white collar workers in all the offices around. The atrium building is just beside Creative, so its pretty easy to find, and there's shutter bus from Jurong East mrt station.
Penang place oozes a sense of tranquil with its simple furnitures, and the water settings just beside the restaurant. It was fully packed when we visited on a weekday lunch, Singaporeans do love their buffets!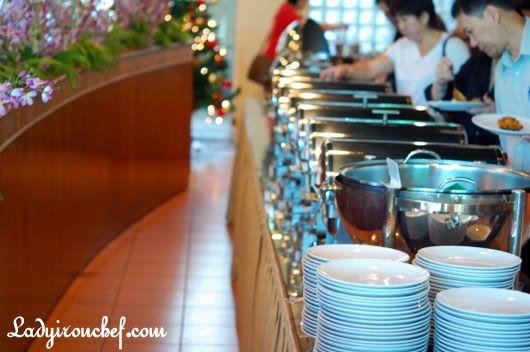 The selections actually is pretty decent given its reasonable pricing of $19.80++ for weekday buffet lunch.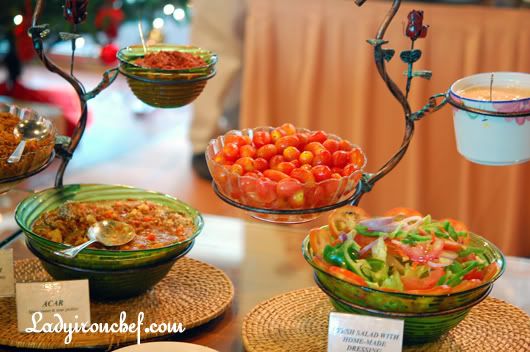 Well, the intention was to make it an ice kachang, but we somehow added toppings which we like, so it didn't look exactly the bit like ice kachang.
The Penang laksa actually comes in the form of Assam laksa, sour and spicy in taste, which differed greatly from our local version. The katong-laksa purist might not take quite well to this, which is more like a mix between tom-yam soup and laksa, with the sourish taste dominating the taste bud. But that's the authetic Penang laksa for you.
I was rather impressed with the seafood soup, well for one it tasted like shark fin soup (even though there's no shark fin of course), and secondly, i felt that it was similar to my mom's home-made soup, and that's a compliment!
What do you think of when I mentioned Penang? The name synonymous with the city is definitely Char Koay Teow. And if you didn't notice, even the spelling differs slightly from ours. Well, there's also Assam laksa, wonton mee and hokkien mee too, but Char Koay Teow certainly is the one which leave most people with memorable memories of Penang. Their rendition comes slightly spicy, not too oily and with a generous serving of ingredients. And the best part? Penang Place actually replenished their char koay teow in small portions very often, since it's like the most popular dish there. While Char koay teow has a reputation for being unhealthy, and even though i had eaten it twice that week, i couldn't help myself to second helpings. My sinful food.
The Nasi Lemak is served simple and nice with the fragnant rice, crunchy ikan billies, crispy peanut with cooling cucumbers. There are some other common dishes like curry chicken, fried food, but one dish which i found it good was the Batu Uban Ayam Panggang, which was seasoned grilled chicken with peanut sauce. A pity it was gone when i wanted to take a shot of it.
Glutinous rice is often use in the Asian context, and its no surprise to see the Kueh Salat here. Basically steamed glutinous rice topped with a layer of pandan flavoured custard. Well, i didn't know if it's just me or what, but i didn't really enjoy glutinous rice done this way. The taste was rather weird for my liking, and i guessed i still prefer the Chinese dim sum glutinous rice in lotus leaf.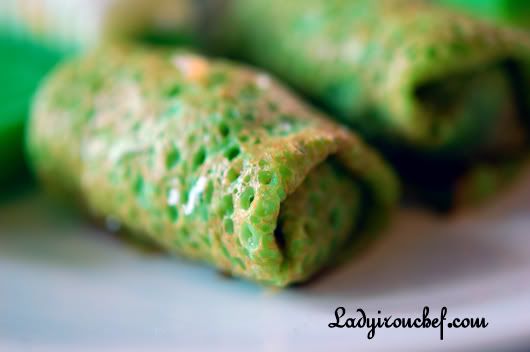 One of my personal favourites, the Kueh Dardan was actually pandan flavoured pancakes filled with sweetened coconut shavings. The pancakes were very soft and nice, with the coconut shavings coming not too heavy. Easily finished a few of them even thought we were full from the buffet.
Another glutinous rice, the Pulut tatai, steamed glutinous rice eaten with kaya.
Kueh Kosei, palm sugar roll with coconut shravings.
Another dessert, or rather kueh that i enjoyed was the Kueh Talam. Essentially a pandan flavoured cake topped with a savoury coconut milk layer, the pandan cake was very fragnant indeed.
Total bill was $69.90 for 3 person at their weekday lunch buffet. I must say, for $23 per head after taxes and service charges, its rather reasonable for the amount of food served. Note, i didn't say its excellent, but for the price, its rather acceptable since i find it hard to name another place serving buffet in the 20 dollar range which is good. I guess the money will be worth it if you eat more of their Char Koay teow which will cost $8.90 if you order a plate a la carte.
The location might be a tad difficult, since its within the International Business Park, people wouldn't travel all the way there just for their buffet, but i did. Well for the rest of you lucky souls who are working in the area, i'll say this is one place to check out for lunch when you are in the mood for a longer lunch.
Penang place restaurant
6 International Business Park
#01-05 Atrium
Tel: 6899 9446
Lunch: 1130-2pm