I was pleasantly surprised when i knew that Jia Wei also served Chinese dim sum, so my companion and i couldn't stop helping ourselves to some dim sum even though we were full having the oriental Christmas feast. A quick glance at their dim sum menu shows that almost all of them are priced at $4 per basket, a very reasonable price for a good Chinese restaurant.
The first to arrive on the dim sum platter, the siew mai ($4 for 3) was exactly what you'll expect, fresh prawns with lean pork. The bigger-than-normal size also added brownie points to the overall taste. A staple.
While some will come across being overly dry and too oily, Jia Wei's rendition of the fried prawn dumpling was well done. Fresh crunchy prawns wrapped in the midst of the crispy dumpling skin.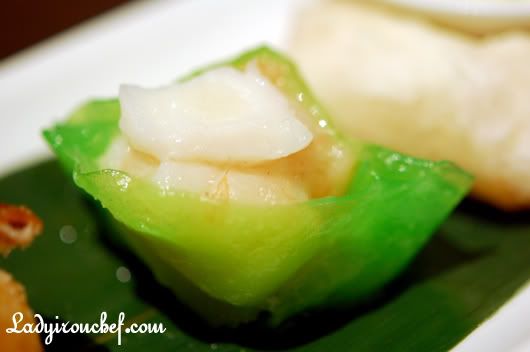 With dim sum mostly fried and steamed, it is common to see them coming in golden brown colour. But how about green colour? That definitely caught our attention and made our imagination ran wild! We were guessing the ingredient used to produce the green, was it pandan? Nope! The skin was actually naturally infused with spinach. No artificial colouring used! There was fresh prawns as usual, topped with a piece of scallop. I presented to you, the steamed spinach prawn dumpling with scallop!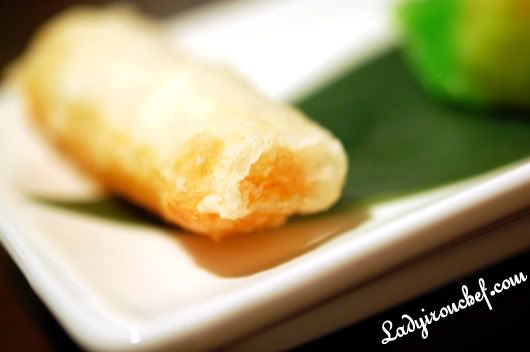 Somehow or rather, mango and prawns always go well together, perhaps it's the combination that brought out the unique taste. So the chef sticked to the winning recipe, and created this fried prawn & mango roll. The only hitch, the mango fruit was too sour!
For my regular readers, you'll definitely know that i love my char siew sou ($4 for 3). Ever since i had my best char siew sou, i've been on the lookout for worthy rivals, and sadly, this one couldn't match what i had before. While the char siew within was very sweet, the pastry could be more flaky.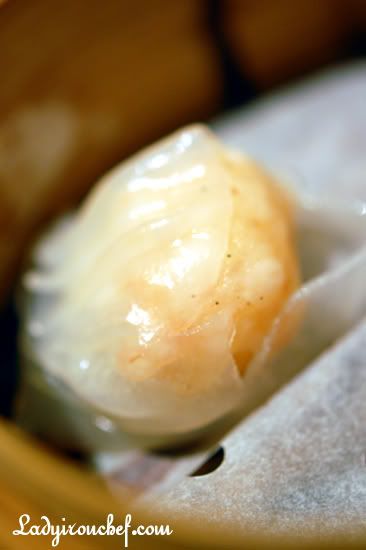 As with most steamed prawn dumpling ($4 for 3), the main problem would usually be on the skin, since most places definitely used fresh prawns (well if the prawns aren't even fresh, then simply get out of there!). Again, we see the continuation of crunchy prawns, enveloped within overly thick skins. You could even see the tearing of the translucent skin from the picture.
The Chinese restaurants always seemed fascinated by XO fried carrot cake ($12 for one portion). I mean what's so special using XO to fry your carrot cake, when we couldn't even taste the XO? Right, the one here, was very eggy, done exactly how i love it. If i were to see this as a normal plate of carrot cake, i'll certainly rate it very high. Unfortunately, this was a serving of XO fried carrot cake, which meant that it had a high price tag of $12! Speaking from this new revelation, it was totally not worth the price, and i'll rather order another three basket of dim sum instead.
When i tell you about BBQ platter, naturally you would assume there's definitely char siew and roast pork, or even roast duck right? We thought so too, but it turned out that Jia Wei defined BBQ platter ($26) differently. It came in the form of char siew and soy sauce chicken. The char siew was fine, tasted sweet and it'll be better if was slightly more charred. The soy sauce chicken was decent, but i still preferred roast chicken. And i didn't get to eat roast pork, which was what i originally wanted to eat!
Towards the end, my companion and i were very full from all the food. But we couldn't missed Jia Wei's signature Peking duck, so we had a sampling portion of it instead. With the crispy skin, the duck meat was good, but not there yet. It's only when you ate it together with the layer of fats which made the whole taste divine. Oh yes, with the slightly sweet sauce too!
Jia Wei's dim sum is above average given the ones that we tried. While its not a whole picture of the dim sum served, we covered the basics, and the rest should be not too far away. For the price it's rather reasonable since its a 4 star hotel restaurant, and i'll go back to try the rest of the dim sum next time.
Read about the Oriental Christmas menu at Jia Wei here.
Jia Wei Chinese restaurant
Level 2 Grand Mercure Roxy Hotel
50 East Coast road, Roxy Square
(Opp parkway parade)
Tel: 6340 5678
Note: This was an invited food tasting session