We walked along the narrow street, wondering where was our destination. The road seems so distant, the future so vague. Just like the route we took, there's much hurdle to be clear. At long last, we arrived, Dim joy.
Culture of all walks of life, our very own roots. Dim Joy offers a perspective much more than just eating dim sum. Its about the art of appreciating dim sum, the approach in understanding our culture. I like the small details they look into, like how they have tiny notes on the teapot to teach people about the correct method of teapot refill, like how they print their own manuals on the chopstick cover to educate about chopstick etiquette. Small little things like these, make a whole lot of differences.
Nestled in a shop house on neil road, the restaurant quaint and tranquil environment made me feel at home upon entering. There wasn't much people on a weekday lunch, we had the whole lovely place to ourselves. This is just a place where you can seat down and chill for the whole day.
The simplistic approach to the chief, King shrimp har gao ($4). The whole taste was very subtle, the prawns were fresh, but the skin was again, too thick. While it wasn't fantastic, dim sum just isn't dim sum without har gao.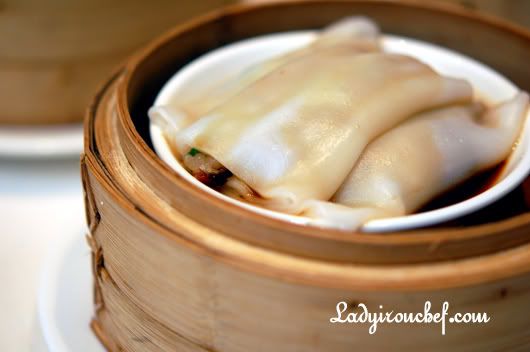 There wasn't much difference with the Barbecued pork & celery in rice rolls ($5) too. It was way too short if i were to compare it with elsewhere. There was also the option of having the rice rolls in claypot, but i dismissed it as gimmick. I wanted a good steamed and savoury rice roll in light sauce.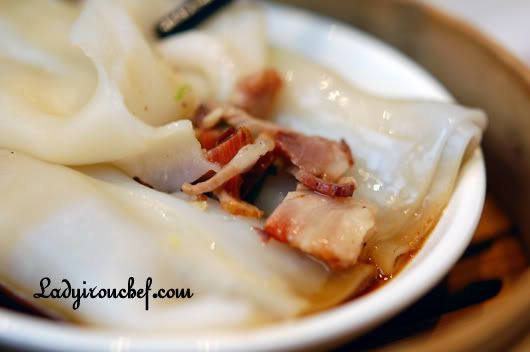 There were bits of char siew which could passed off as bacon strips. And we were wondering how cool it'll be if there's bacon rice rolls. Nonetheless, the taste was again, very subtle and tame if i may just use the word. I didn't quite enjoy the celery within too.
I was eagerly anticipating the Honey-syrup char siew bun ($3). With such a sweet name, we were like bees attracted to the beauty of the honey pot. The white pillowry bun was soft and fluffy, very good! But the char siew fillings could be better. While its sweet with honey-syrup infused, the fillings were too little, and i'll prefered it to be more moist, like their char siew sou.
There is also Siew mai ($3.50 for 4), another dim sum staple. Chewy, shrimpy and not too oily. Value for money definitely, and its the only one that comes two by two. The ratio of shrimp to pork outnumbers greatly, with only a small portion of lean pork meat.
I always choose Pan-fried radish cake ($3) over its steamed cousins. I love the slightly charred surface of the carrot cake, but this one wasn't charred enough. Well unlike most carrot cakes which are very filling, this one wasn't very starchy, and had a different taste from the ones which i tried before. The jury's out on this, you need to make your judgement.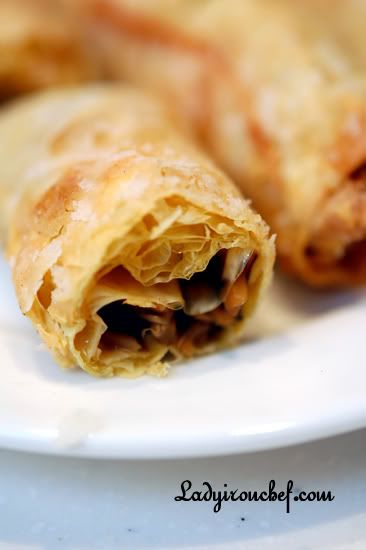 Personally, i ain't a big fan of the beancurd skin roll ($4.50) but my companion wanted to try this, so here we go. Instead of the typical prawn fillings, this one was all about mushrooms. The skin was a bit raw, and taste almost like beancurd, well it's made from beancurd after all. The wholesome, vegetarian fillings within the beancurd skin roll didn't work for me. But my companion rather enjoyed her helpings.
Now, my choice. The char siew so ($3.50) bears a great resemblance to our festive pineapple tarts. Golden brown in colour, with the buttery egg-graze taste on the pastry. While it didn't come in the form of my favourite flaky skin, Dim Joy's rendition was unique in its own right.
This time, the sweet honey infuse char siew fillings were more generous, and it was very moist within the pastry. But the char siew did lacked certain texture, and given time to improve, it'll be better.
We were half-decided on ordering the Custard bun ($3) since we heard it wasn't that good. But we decided to try for ourselves, taste after all is a very subjective thing. The vital factor for a good custard bun, the oozing out of the golden custard fillings. This one did, the molten custards flowed out of the bun, just like the lava erupted from a volcano. The salty egg yolk taste wasn't strong enough, the bun was soft but, there's some fine particles which we guessed was course sugar not dissolved properly. I had the best, and the worst before, this one would be good given some minor tweaks.
While i know Lingnan is an area in China, i couldn't see the link what the place got to do with the Lingnan egg tart ($3.50 for 4). The best part about Dim Joy during weekend was there wasn't much people around, so everything was made freshly, rather than pre-made. We waited 25 minutes just for the egg tarts to come out freshly baked. The egg fillings were nice and wet, but the pastry lacked the buttery undertone.
Total bill was $42.35 for 2 person. I must say, with 9 dim sum between us, the prices are fairly reasonable given the standards of the dim sum. I'll definitely make a perennial visit again, and for that, See you there! And just for some background information, Michelle Saram's the partner behind Dim Joy.
It also helped that Dim Joy served dim sum throughout the day, even during dinner. Most places don't serve dim sum at night, so it's a nice place if you are craving for dim sum after the sun set. I heard they are packed during weekend, so avoid the crowd come on the weekdays instead.
Dim Joy
80 Neil Road
Tel: 6220 6986
Dim Joy is listed as one of ladyironchef's favorite restaurants in Singapore
Featured in