Sometimes it is a hassle to cook up a meal, and especially so if you are talking about a three or four course meal. But all of us can't live without desserts, well at least i can't. So when i saw this simple and "instant" recipe by Nigella Lawson, i immediately wanted to try it out. Chocolate mousse is a great dessert to serve to your guests since it is pretty, everybody gets their individual serving, and you can prepared it in advance in one two hours (if you do it correctly).
But it isn't easy to make chocolate mousse, that is at least for the "normal" recipe, which needs to incoporate egg yolk into the chocolate. Therefore, her recipe solved this tricky problem, since it didn't use any eggs at all. Instead, we used marshmallows, to provide the texture. Well, my first attempt didn't exactly went according to plan, the chocolate mousse was a tad watery as a result of adding too much water. So as a last resort, i put it into the fridge, and after chilling, it was not too much, just not fluffy enough. Other than that, i thought it was acceptable for the first try.
Since i wasn't preparing for many people, and after my first attempt, i decided to half the recipe instead. But still, there was too much chocolate mousse leftover, since it was extremely sweet and we couldn't finish everything.
Ingredient (the original amount)
Mini marshmallow 150g
50g Butter
250g choc chips
4 tbsp water
284ml cream
1 tsp vanilla
Small slad of white choc
Directions
1. Put in the mini marshmallows, butter and chocolate chip into a pan, added in 4 tbsp of water, stir and let it melt under fire.
2. The marshmallow will take longer to melt, but after everything melt, leave it to cool for a few minutes.
3. Meanwhile, Add in a tsp of vanilla to the cream and whisk. Fold the melted chocolate into the cream, and mixed.
4. Served in a glass, and grate white chocolate on the mousse for decoration.
I made some extra butter pastry skin while doing the pineapple tarts, and the chocolate mousse taste great together with the tart too!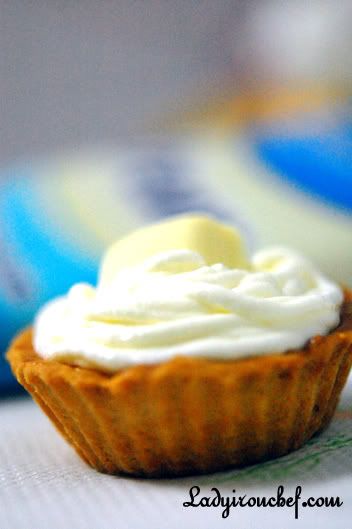 While it took Nigella Lawson very fast to make the chocolate mousse, i'm a slow baker and it took me quite a while to prepare this fuss-free dessert. I've made try making some cupcakes last night too, will be posting it soon. Stay tune!
Cheers,
Brad