Everyday, with the newspaper headline screams the unspeakable "R" word, or some country's government scrambling to put together a package to rescue their too-big-to-fall banks, times are indeed bad, and no doubt we'll need to cut down on our spendings to prepare for the storm ahead. But that is not to say that we can't enjoy good food without spending big money.
My predilection for dim sum has brought me to the attention of Peony Jade restaurant. And since we are on the topic of economics, Peony Jade certainly attracted me with the prices for their dim sum, which i saw from their online menu. There's two different branch, one at Clark Quay, and the other, Keppel club. Since my friend was driving, i opted for the latter, as it wasn't a daily affair that you could go to the ulu Keppel club.
Peony Jade is smacked right at the entrance of the Keppel club main building. The main problem will be getting to Keppel club from the outside, just a few minutes drive from Vivocity, but if you are going by public transport, it's at least 15 minutes walk in from the main road.
Red lanterns adorned the ceiling, with the black traditional walls giving a contemporary look. The whole restaurant was spacious and when we got there around 2pm on a weekday, i was surprised by the small crowd there for lunch.
There was both the steamed prawn & scallop rice roll ($4.50), and coming with an empty stomach, we ordered both. I liked the prawn which was crunchy and fresh, while my friend preferred the scallops which was light. But the rice roll was a tad  thick.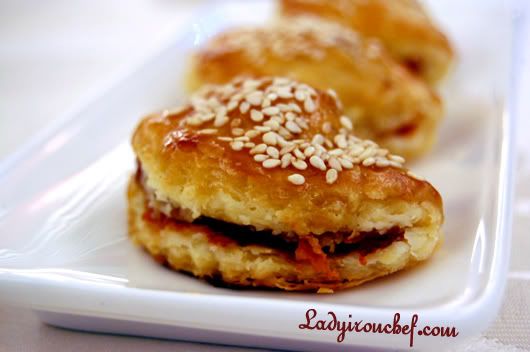 And how can i missed out ordering the Char siew pastry ($3.6 for 3). The very first dim sum i always looked out for. With the main ingredient char siew sticking halfway out, the visual impact was already there. But like they say, after you had the best before, everything else tasted average. How very true.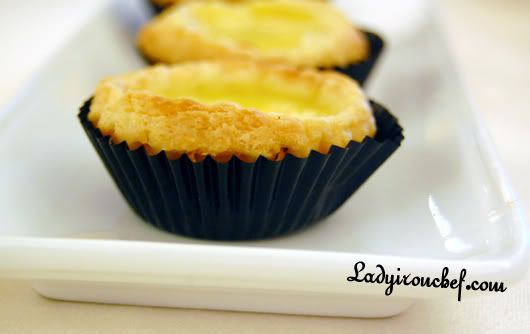 It was already 2pm when we arrived, and i was starving. The mini oven baked egg tart ($3 for 3) was helpless as i wolfed down 2 easily. The dainty portion was sufficient for my friend, but the petite size was never enough for me.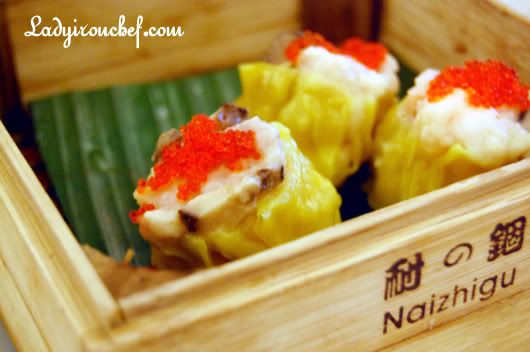 The squarish basket box caught my attention instead of the steamed pork and crystal shrimp dumpling ($3 for 3). That's not to say that the siew mai wasn't attractive. Bright red fish roe, mushroom bits, pork and shrimp, how can anybody resisted the temptation? A pretty decent take, but light's the word to describe the flavour. Beware of it's relative, cousin, the steamed butterfly prawns, which was really, just a more expensive rendition of siew mai, with slightly bigger shrimps.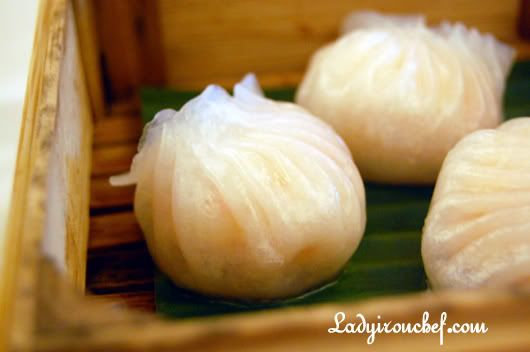 If anyone were to ask me how should a good Har kau be like? In my humble opinion, the shrimp would be the key of course, fresh and crunchy, but you couldn't miss out the skin too. Most places either do their skin too thin or too thick, which is the fine line between a good and average har kau. The steamed peony jade crystal shrimps dumpling ($4.5 for 3) here unfortunately, fell into the latter category, with the skin coming as a tad thick.
Eating on my own, i'll never order the Steamed spare ribs black bean sauce ($3.50). I've no luck with this dish in all my escapade thus far. So i'll avoided them far far away with a arm and feet. Give me another basket of siew mai or har gau instead of this.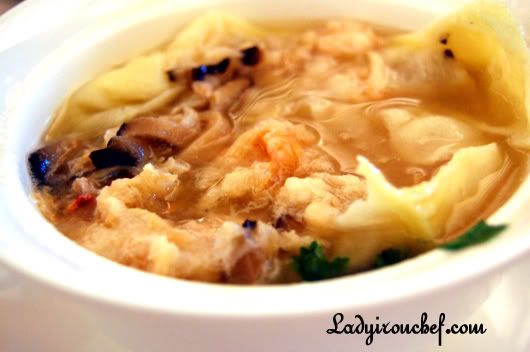 I'm gonna get into trouble with save-the-sharks organisation after I'm done with this post. My friend wanted the double boiled shark's fin broth with dumplings ($6), and how can i say no? There was just a few tiny strand of shark's fin anyway. What? Are you really expecting a whole shark's fin at this price? Nonetheless, there was plenty of other friends accompanying the lonely fins. Mushroom, prawn, pork, all wrapped within the ginormous dumpling. And oh, the soup base was rather salty for my average MSG indictator.
Just like how I always must have my desserts and dim sum regularly, the chef's signature deep-fried filo crusted seafood roll ($5 for 6) is surely the must-try gourmet dim sum at Peony jade. There wasn't any warning to inform us there was going to be 6 seafood roll coming our way. It came as one of the last few dim sum, and by that time we were full. But it didn't stop me from finishing all of them. As always. And not to mentioned the seafood roll's about 80 cents each, surely one of the cheapest in town. I'm lovin' it!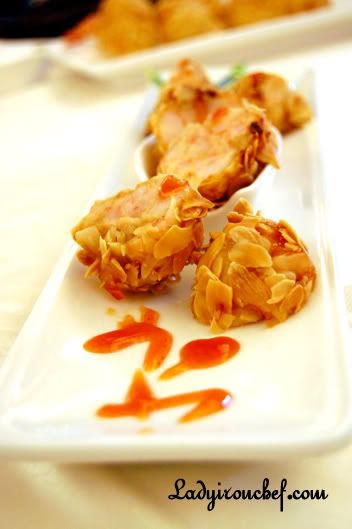 Similarly, the Deep-fried goose liver and prawn ball with almond flakes ($7.50) also gave us a pleasant surprise when it came in 6 instead of their standard 3 piece. Speaking of exotic, how does some goose liver in your dim sum sounds? I didn't discover any goose liver, or maybe my taste buds wasn't sensitive enough. It did however, reminded me of the prawn balls that i had before, i wasn't impress then, and definitely not now too.
When a Japanese asked you to play roulette with her, i wouldn't bet on the Deep-fried beancurd roulette with shrimps and Japanese seaweed ($4). While the shrimp was fresh, and wrapped inside the deep-fried beancurd, everything's prefectly fine, it wasn't my type. You know, some things couldn't be force. But then maybe i was too full, to find out her true beauty.
I lamented the fact that the pan-fried radish cake ($3) came too late. The very same carrot cake you can find in your market, this one was pan-fried slightly char on the outside, and the radish taste was just right. A pity our stomach finally gave in, and refused to budge.
Total Bill was $70.85 for 2 person, which was much more than what i usually ordered as i always thought that eating 70% full is enough. Its better to eat a bit of here and there, to appreciate the beauty of the dim sum, than to gorge yourself silly. But we couldn't help ourselves ordering more, the rather cheap prices played a huge role in it of course.
Peony Jade restaurant prided itself in Szechuan and Cantonese cuisine, but surprisely the Szechuan factor seems to be lacking out. I'll say that the dim sums here are one of the lighest in flavour i ever had before, not that they are not good, just that sometimes you'll think it should be something more. However, for people who like light flavours, this's the place for you then.
Prices are absolutely cheap given the restaurant standards and ambience. I'll be hard-pressed to find another such restaurant which served dim sum at such prices, even Kam boat is more expensive without the 30% discount. And although the quality of the dim sum isn't comparable to Royal China, and Yan Ting, but the pricing factor certainly win hands-down. I'll go to their branch at Clark quay when my cravings come again.
Peony Jade restaurant
Keppel Club
Bukit Chermin road
Tel: 6276 9138