Why is it that Starbucks is able to open a few outlets at a single location, and yet every cafe is still packed fully with customers? They must have some secrets that we don't know? Anyway, Marutama ra-men seems to get the idea, with their one week old new restaurant at Liang court, it's only a stone throw away from their original branch at The Central.
Ramen lovers have been raving about Marutama, and with some even proclaiming it as the best in Singapore, the new location, like their first outlet, also has a small interior which at best can seat 30 thereabouts. You can choose to seat at their counter area where you can have the bird's eye view of the chef at work.
When we chanced upon it during a weekday afternoon, they are closed in between 3.30pm to 4.30pm, we came back just on time for their dinner operation hours, and within ten minutes of opening, the petite restaurant was almost full filled with customers craving for their ramen.
I asked the person-in-charge why didn't they expand their new outlet since their original one is already a hit with its customers, and she explained that their stove could only cook that many bowl of ramen at one time, so it isn't feasible to have more seats. And besides, some queue outside does make the restaurant look more popular isn't it?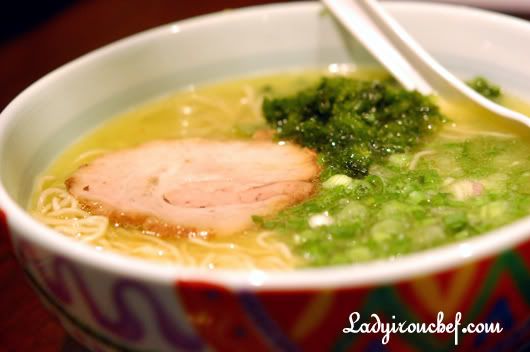 The spicy chicken soup ra-men with toppings, or Nama karashi ra-men ($12) is one of the three choices available at Marutama. A lone slice of char siu, seaweed, spring onions with the noodles, that's it. The char siu was really excellent, thinly sliced, with the fats being just adequate. The meat was tasty and with the fatty portions, it did seem perfect, except for the fact there's only a single slice of it. You can add the sliced roast pork for an additional $4 though.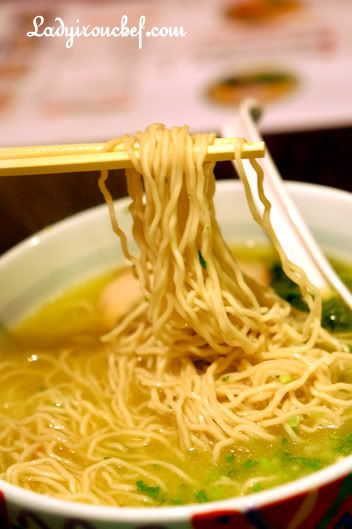 The noodles were springy, but the chicken soup base was really salty. A tad heavy on the MSG, we needed to drink lots of water to drench our thirst.
Total bill was $14.04 for a bowl of ramen, a rather hefty price to pay when you consider the fact that the ramen only had a slice of char siu and noodles.The char siu was definitely good, but i'm not really a big fan of Japanese food, so it should take some time before i'm back for another bowl of ramen.
There are obviously fans and critics of Marutama ra-men. Fans whom rave about the authetic noodles, and critics who cite the salty soup and expensive bowl of ra-men. Nonetheless, Marutama must be doing something right with its long queue at the restaurants everyday. So who's a fan and who's not? Let me know with your comments!
Marutama ra-men
177 River Valley road
#02-01 Liang court
Tel: 6837 2480