Cuisines like European, French, Italian food are always popular choices when we dine out. But have you heard of Aussie cuisine? And how exactly do you classified that? There's a great influence by traditional British cooking brought to Australia by the first settlers. Consisting of pies, roasted cut of meats, grilled steaks and chops, and other form of meat generally accompanied by vegetables.
Mad Jack restaurant started back in 2005, with their original branch at Jalan Kayu a familiar sight with patrons to the area. Within a short span of 2-3 years, they have expanded with another 3 branches, with the newest located right in town, Paradiz centre.
The restaurant owner, Jack who have stayed in Australia for some years, decided to bring the Aussie cuisine back to Singapore. But if you make it into a fine-dining setting, not many people will have be able to try the food, therefore he came up with a causal dining cafe, serving his definition of good Aussie food at affordable prices. The steaks and chops are all air-flown from Australia/NZ, and it is their style of cooking that made the term, Aussie cuisine.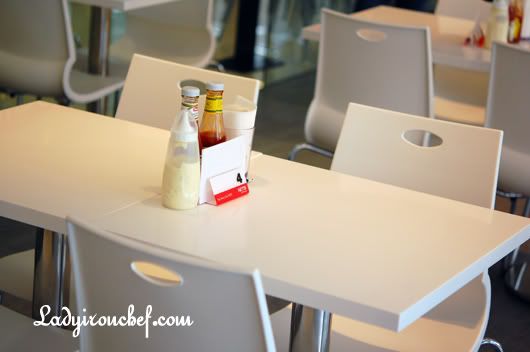 I was invited for a food tasting session at their new outlet, Paradiz centre. A 5 minutes walk from Dhoby Ghaut mrt station, the restaurant is right within distance in town, so who says there isn't cheap and good food in Orchard?
Mad Jack's interior consisted mainly of white furnitures, which gave a sleek and clean look to the whole restaurant. Coupled with the transparent glass which invited the sunlight in, the whole area was brightly lit up.
We started with their doctor juices. Therapeutic juices made of 100% fruits and vegetables with "healing powers". Mad Jack actually did their research, and experimented with different combinations of fruits and vegetables to produce different effects. There's cholesterol buster (in green), complexion enhancer, blood pressure reducer, sports energy booster (in yellow), just to name a few.
I had the cholesterol buster ($4), which like the name implied, was meant to bust cholesterol. Green apple, celery, capsicum and cucumber. The taste was very "healthy", and although I didn't really like celery, but well for the sake of busting some cholesterol.
The other drink we had was the sports energy booster ($4). The ingredients were much less exotic, and pretty much the fruits you eat everytime, lemon, organge. pineapple and apple.
There was crispy butter, fresh juicy & chunky fish fillet which made the taste so good. Crispy on the outside, fluffy and soft on the inside. And the apple peach salad also gave the fish & chips ($8.90) a healthier tune. I had this before at PK xpress which is also under the Mad Jack group.
Mad Jack's menu is very comprehensive, with so many variety that we actually didn't know what to order. In the end, we decided to settle for the common and simple chicken chop, like they say, food taste good when they are simple.
But to be frank, other than the generous portion of the chicken and the sides, i thought there was nothing special about the grilled chicken in black pepper sauce ($7.90). Nonetheless at $8, there's nothing like a safer option if you want some familiar food in town.
And how can you say that you have eaten Aussie food when you haven't try their steaks? Air-flown from Australia, the Rib eye steak ($13.90) was big in size, tender in meat and juicy on the inside. One meat, three vegetables, like the usual way.
If you are going in a large group, the cheesy mix fries ($6.90) is definitely a good option to order for sharing. Mixture of spicy and plain fries topped with cheese sauce and mayo, it reminded me of the cheese fries at KFC, with a bigger serving.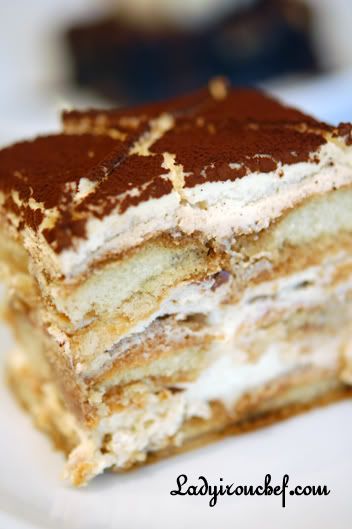 Now, get ready for the highlight of the show. The desserts column was the one that i was looking forward to, since they had quite a variety of choices available. Triple shots of espresso sponge sandwiched between freshly whipped cream, sponge, and chocolate flakes, i give you the tiraMADsu ($4.50).
All the desserts creation came from Jack's wife, you could get them at slices, or as a whole cake (reservation one day in advance). While some preferred their tiramisu to have a strong liquor and espresso taste, i like Mad Jack's rendition for their light, and not-so-overwhelming flavour. The big slice was also an bonus.
Another dessert which would give you the sugar-rush, the OZ brown ($4.90). Like most brownies, when eaten alone they might come across as overly-sweet, but when you had an scoop of ice cream to go along, it's a completely different story. The chocolate walnut brownie had bits of walnuts to give the crunchy bite. Warm sweet brownie & cold ice cream, a prefect blend.
Overall, Mad Jack served their take on Aussie cuisines at real affordable prices. Being in town, it further provided an additional incentive. Otherwise, if you dare to jump around like a Kangaroo at the counter (just for laughs), they will be more than willing to give you a free dessert on the house.
To be honest, their food didn't exactly "wow" me, but given their reasonable pricing and accessible location, i'll probably revisit them again. And not to mention there's quite a few other desserts worth noting too!
Mad Jack
1 Selegie road
Paradiz centre #01-04
Tel: 6338 9771
Open: 11.30am-12 Midnight daily
Disclaimer: This was an invited review