* * * Now closed, the other outlet is at Shaw * * *
After the last dim sum at Zhou's kitchen, it took some time before i regained my craving for our "Chinese tapas". And this time round, i chose Kam Boat since my friends wanted a convenient location. Marina Square it is, how accessible. I must admit, when i first heard that Kam boat dim sum kitchen was in Marina Square, i was thinking where it was, since i never saw it everytime i went MS. Right, Kam boat location is very easy to find, if you are coming from the underground citylink. Upon coming up the escalator, they are at the entrance of MS, breeks cafe is also there.
The restaurant interior was smaller that what i expected from the outside, still it could seat about 50 thereabouts. Simple furnishings ooze a cosy feel, and we were quite surprise that the restaurant was barely filled on a Saturday afternoon. The lightning was very good, in fact one of the few places where i only took a few snaps and i'm happy with the photos.
Note that they have discount of 30% for dim sum on weekends 230-530pm. The prices i stated are all their original price before discount. Most of their dim sum are around 4 bucks, and after 30% discount, its around $2.80, which is rather cheap.
Steamed prawn dumpling ($4.20)
I loved the jade-colour basket, which exuded a feel to enhance the flavour of the dim sum. The steamed prawn dumpling didn't allow us to have the best of both worlds. The prawn within was crunchy and whole, but the skin was a tad thick, and sticked to the teeth. But with the discount, the har gau was barely a dollar each.
Steamed Xiao Long Bao ($4.20)
I was never a big fan of Xiao Long Bao (XLB), this one here was all right, the soup stock gashed out of the skin when we took a bite, but having had one of the best and most expensive XLB before, this one paled in comparison.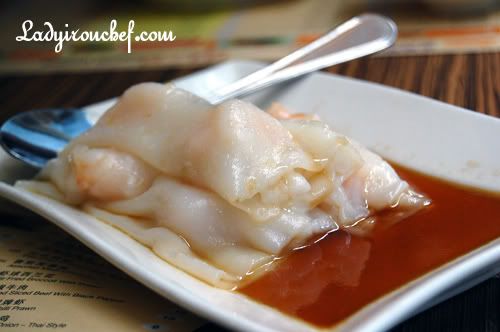 Rice noodle roll with shrimp ($5.60)
If it wasn't for the 30% discount, i would feel that the shrimp cheong fun was too expensive. The shrimp, like the one in the har gau, was crunchy, rolled within the cheong fun, and together with the light sauce, made a good start for our meal.
Steamed siew mai with mushroom ($4.20)
The notable difference between Kam Boat's rendition and the norm was the addition of mushroom. Like the one i had at Zhou's Kitchen, the mushroom didn't really enhanced the flavour of the siew mai, since the porky and prawn taste was so strong. But it's a nice change.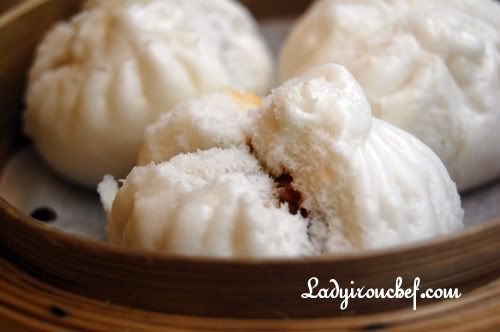 Steamed barbecued pork bun ($3.50)
I think most kids don't like char siew bun since they always had it for breakfast. But i always couldn't resist ordering char siew bun from restaurants since theirs were always so good!
Steamed chives dumpling ($4)
This was one of the more unpleasant choice, since nobody liked chives, i've no idea who went and ordered this.
Deep fried prawn dumpling with salad ($4.20)
You know, deep fried prawn dumpling is always good, especially so when you dipped in the slightly sour salad sauce. Shiok!
Deep fried prawn with mango roll ($4.20)
Besides salad, mango's another good combination with fried prawn. The deep fried prawn with mango roll was crispy outside, crunchy with the prawns, and fruity with the mango.
Pan fried meat dumpling ($4)
Meat dumpling or "wo tie" is often eaten together with ginger and vinegar. But since i didn't like eating ginger and vinegar, i ate it on its own, and it was not bad.
Pan-fried carrot cake ($3.50)
The pan fried carrot cake was nice, charred on the exterior, and soft inside. Personally, i felt that pan fried carrot cakes must show some char, if not the whole taste wouldn't be there.
Deep fried seafood roll with mustard ($4.50)
The bee hoon or whatever you called that, which wrapped around the deep fried seafood roll, provided the crisp crunchy bite. Although deep fried, the seafood roll didn't lose its freshness. The usual scenario for deep fried stuff would be overly oily, but this one was not so.
Baked mini egg tart ($4.20)
For some reason or the other, dim sum restaurants never seem to serve their egg tarts big. All came in mini size, how did they suppose we would be satisfied with the tiny, petite egg tart? Nonetheless, the mini egg tart was done exactly what i liked, the egg custard filling was soft, slightly "wet", and the skin was crispy.
Steamed chicken feet ($3.50)
I never ate chicken feet, so you need to try this one out yourself.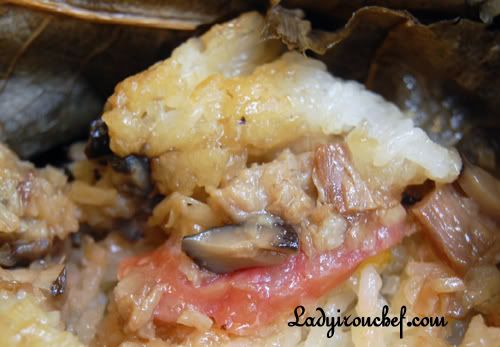 Steamed Glutinous rice ($3.50)
The Chinese sausage or "la chang" injected the salty taste and enhanced the fragance of the glutinous rice. A vital ingredient for all glutinous rice. The mushroom, meat and rice portion was generous. Defintitely worth a try.
Total bill was $64.05 after a 30% discount for 4 person. There was some items like the steamed prawn dumpling and siew mai which we had two basket. We didn't really order a lot since a friend was late and the last order was around 515pm. Still, Kam Boat was surprisingly good, much better than what i expected. The location is very accessible, the dim sum is cheap after the discount. And i think i'll go back again.
Kam Boat dim sum kitchen
6 Raffles Bouleverd
#02-05 Marina Square
Tel: 6336 6696
Featured in