Lamburghini ($8)
Meet lamburghini. She's the new kid on the block. Replaced the 'O' with a 'U', this is one immense Aries babe. With her 2/3 pound framework, grilling her up on the hot-engine, the lamb patty was good to go! Gel with creamy mint sauce, lettuce, and onions, on a soft warm bun. The mint sauce was a fine addition, and not to mention the patty was ginormous, creating a "shiok" sensation that the ordinary didn't possess. For the driven few!
Crispy Burger melt ($5)
Another worthy competitor to lamburghini. The crispy burger melt has been around since the start, and indisputably one of the stars. Despite the new challenge in the vie for number one, he had hold his ground with the help of his reliable team, mushroom and bacon bits. They supported him in heating up the taste (race), and with his skills practised till prefect, the patty was grilled till char, with some hints of black.
Nachos ($6.50)
The new addition to the family. He is the nachos wannabe, but in reality, French fries hiding in nachos skin. Isn't nachos tortilla chips? But our new friend here tasted more like fries actually. His melted cheese companion was good, together with his loyal sidekick the beef and tomato bits. Think French fries, and he's quite the deal. However, impersonating as nachos wannabe isn't really the way to go. He does reminds me of another friend, the evergreen KFC cheesefries.
Twister fries ($3)
She's the pretty woman, walking down the street. With her sexy, cury hair flowing against the wind. There isn't much like her, the twister fries left, ever since our A&W left us. Go for her while she's still there. Definitely better than that straight hair lady whom i met during my precious encounter, she's with a twist!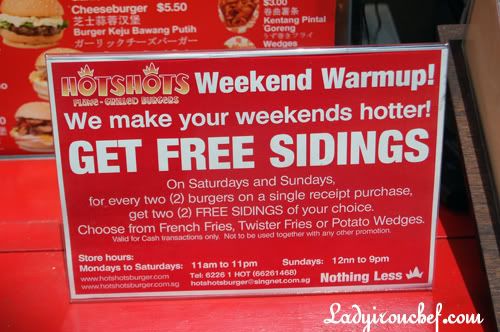 To spice up the weekends, a virtual ghost-town on Saturdays and Sundays, you can get your free sidings with every two luxury cars purchase. Ignore the straight hair lady, go for the one with the twisty curly hair instead. Or if you are feeling adventurous, there's always Miss potato wedges to test out.
After my first try of the hotshots flame grill burger, the hotshots management invited me back for a food tasting session their new Lamburghini. And i accepted, I'm after all, the driven few.
19 Raffles Quay
Stall 76 Lau Pa Sat festival market
Disclaimer: This was an invited review