What makes Japanese snacks and biscuit so good, that actually can cause people to go gaga over them? The imprint of Japanese words on the packaging is enough to charge a premium over the normal snacks. The rise of many shops selling Japanese-related products are a phenomenon, yet it isn't something that just come about and poof!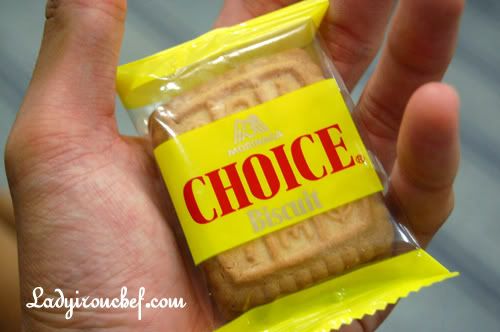 My partner and i went to Meidi-ya, the Japanese supermarket at the basement of Liang court. She recommended the Choice biscuit by the reputable Morinaga. I was sceptical about how good it can be, since i don't like munching on just butter biscuit without any cream or fillings in between.
My impression of butter biscuits is dry, distasteful, and hard. But boy i was proved wrong and need to take back my words. Choice biscuit was very fragant, with strong butter taste, and there was no hint of dryness at all. It reminded me of the Languly cookies which i had, the delicate and tantalising biscuit which was so good! My Choice of biscuit!
This is a series of posts on Japanese snack, stay tune for the
Japanese snacks part 2!