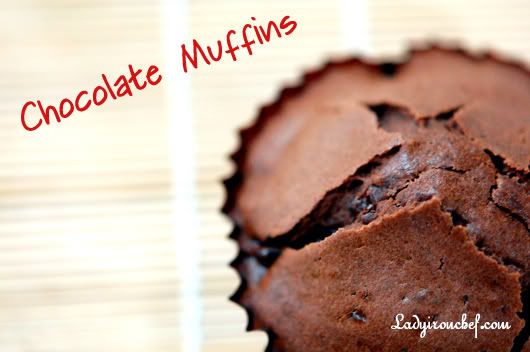 This was my first time baking, and i finally did it after thinking about it for so long. There was the problem of oven since i didn't have one at home. Had been pestering information about baking from Evan, Sihan & Vicki, who are all excellent bakers and was deciding between getting Rowenta or Delonghi oven. But in the end i decided to borrow a Tefal one from my aunt first, its better to try out before splurging on an expensive oven. I was looking at Nigella Lawson cooking video, and boy she made baking seems so easy!
Right, considering the fact that i didn't know how to bake, i guess the muffin tasted all right, there was some mistakes made though. As it was my very first time, i took quite a while, adjusting between reading from the recipe and preparing the ingredients. There was one particular moment when i was pouring the flour, 300g needed, so i was looking at the weighing scale and thinking i need to stop after the 3rd needle. So i poured slowly until i realised 3 needles was only 30g, not 300g! tsk tsk.
Other than that, i didn't mix the batter fully, because the recipe asked to mix lightly so that the muffins won't be too heavy. This resulted in the bottom of the batter not mixed properly, and when the muffins were baked, there were a few tiny white spots of unmixed flour. The recipe called for 300ml of milk, but it turned out to be a mistake as i ended up making 17 muffins instead of the stated 12. After finish baking, the end product muffins were rather sticky, i just realised it was because i ate it immediately when it came out of the oven last night. When i ate it today, it wasn't sticky anymore.
Ingredients (Makes 16)
80g unsalted butter
2 eggs, lightly beaten
300ml (use half will do) whole milk
300g (2 1/2 cups) plain flour, sifted
2 tsp baking powder
150g (3/4 cup) caster sugar
40g unsweetened cocoa powder
120g dark chocolate chips
Directions
1. Melt butter in pan, remove from heat and pour into bowl.
2. Add the eggs, milk, followed by flour, baking powder, sugar and cocoa powder, and mixed lightly. Fold in the chocolate chips.
3. Place 16 muffin cases in a muffin tray, fill each case three quarters full with mixture. Bake in a preheat oven of 180C for 20-25 min.
4. Leave the muffin for a minute, and turn out onto a wire rack to cool before serving.
Baking is really tiring, but fun! I'm going to try baking other stuff tonight, so watch out for them soon! And wasn't too pleased with the photos of the muffins, looks like i need to re-learn how to take photographs at home, since the lighting and setting is different from the places i take outside.
ps: I brought the book Small cakes by Roger Pizey from a site, Opentrolley