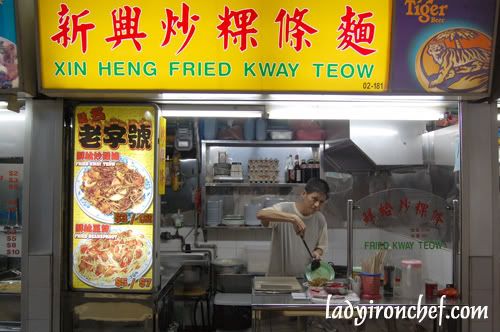 Yesterday we mentioned that oyster omelete's a crowd favourite in hawker centres, how can we missed our fried kway teow? Imagine this, you went abroad for a period of time, which local food will you missed the most? For me, it's a no-brainer, i'll definitely missed char kway teow the most. No matter how much i like chicken rice, duck rice, laksa, or the other local favourites, my heart remains with char kway teow.
Char kuay teow ($2.50)
A plate of greasy-looking kway teow and thick noodles fried in dark sauce, is always a good reason to put on some calories. High blood pressure, high cholestrol, I don't care what you say, but i must have my fix of char kway teow! I will definitely order a plate of char kway teow from Xin Heng when i visit Bukit Timah food centre. Their rendition might not be the best out there, but it's good enough for me to make perennial visits.
Xin Heng fried kway teow
116 Upper Bukit Timah road
#02-161 Bukit timah food centre