There are so many different types of desserts out there, so what's your favourite? Chocolate cakes? Gourmet cheesecakes? Everybody has their own preference, i'll say i love any types of desserts, and will willingly try all of them. The thing that i enjoyed about the pastry is that they ain't just pretty to look at, they are also delightfully good.
So does that means that you can't have a good chocolate cake if you want a similarity excellent cheesecake? Fortunately at Obolo, you can have the best of both worlds without any compromise.
From what was then an online patisserie to the boutique patisserie you see today at Joo Chiat, Obolo has gone a long way serving its gourmet cheesecakes and chocolate cakes. The flagship store opened in June 2007, almost a year plus already, provided a retail avenue for Obolo to showcase its repertoire of desserts.
The boutique de pâtisserie had a sleek and clean look, with the clever use of mirrors to create a bigger impression of the place. Nonetheless the small pastry restaurant can hardly sit more than 10, and it's quite a squeeze in there.
Obolo's famous for their signature New York cheesecake, which looked stunning with three ginormous strawberries. But we couldn't possibly missed out on Noisette, and since we favoured chocolate over cheese, we decided to pick the latter. My friend and I decided to opt for an all-out chocolate feast, with all our selections chocolaty to prevent a clash of flavours over the chocolate and cheese.
Noisette ($6.70)
Dark chocolate mousse, caramelised toasted hazulnuts, crunchy praline feullitine, chocolate genoise. Noisette was the cake that put Obolo among the Sunday Times top 50 cakes. It got a smooth texture, not overly sweet. The Noisette was rich with chocolate and hazelnut flavours.
I particularly enjoyed the crunchy praline feullitine base, but the layer was too thin! It would definitely be better if there's another layer in between the mousse.
Le Cassis ($6.70)
Dark Chocolate ganache mousse, cassis ivoire mousse, praline feulletine base and moist dark chocolate-almond biscuit layers. Le Cassis certainly looked pleasing to the eyes with its bright colour combination. The sour blackcurrent actually helped to smooth out the sweetness of the cake, which created a nice balance between sweet and sour.
With the cassis (blackcurrent) ivorie mousse on top, and the dark chocolate mousse enveloped in between the two layers of chocolate-almond biscuit, it provided a good blend of different taste. The cassis sour, the dark chocolate slightly bitter-sweet, the chocolate biscuit layer and the praline feulletine base added the crunchy sweet component.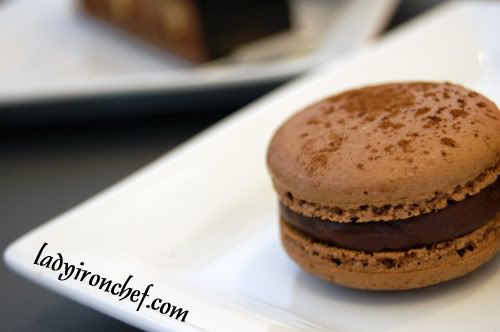 Bittersweet Macaron ($1.80)
To continue with the chocolate-feast, we had the bittersweet macarons. Dark chocolate, not too sweet nor too bitter, just nice for the taste bud. It could be a double-edge thing though, in the shoe of those who didn't fancy bitter chocolates, this would do nicely. But for the dark chocolate purist, the bittersweet macarons could be a tad sweet.
Hazelnut Macaron ($1.80)
The hazelnut taste was definitely there, the texture of the hazelnut macarons shells were chewy and the fillings in between was velvety and fulsome. Being a hazelnut fan, I immediately went for this one when i saw the lists of flavours available, with the others being cassis, rose, pistache, mango passion, raspberry, ruby, chocolate passion, vanille, and pabana.
Total bill was $17 for 2 cakes and 2 macarons, which made a nice treat for after-meal desserts. Obolo definitely got prospect with its gourmet cheesecake and range of desserts, which made me wondered why didn't they set up a branch in town. Obolo's owner June explained that they are looking into expanding, so we can be looking forward to another branch probably next year.
With around 11 different type of cakes to choose from, Obolo is constantly coming up with new flavours, having said that, you should be able to find one that suits your taste bud. Prices can be considered slightly high given their inaccessible location, and that Canele's charging similar prices. But i think for the Easterners, Obolo's definitely a place for your treats of desserts.
Obolo
452 Joo Chiat Road
Tel: 6348 9791