* * * Now Closed * * *
While we have the restaurant setting a stall in the coffee shop (think Cilantro), and there's also the restaurants invading the heartlands, and we can't possibly forget about Angmohs, or Caucasians setting up a stall in the coffee shops selling western food. Botak Jones was the benchmark, and now we have our latest entrée, Crazy Angmo!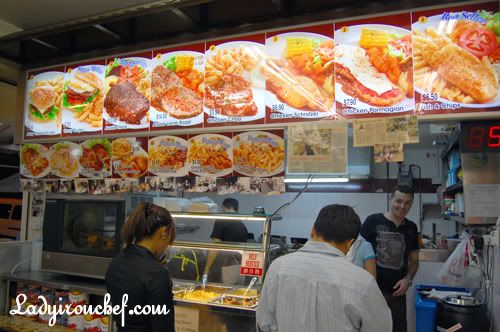 Crazy Angmo was featured in the papers, with the trend of more Angmohs selling western food in the local heartlands. Having their first stall in Bishan, the owner, Paul, had opened his second stall at Bukit Batok. Whether it's coincidently or not, Botak Jones happened to just set up an outlet in Bukit Batok too, just one bus stop away.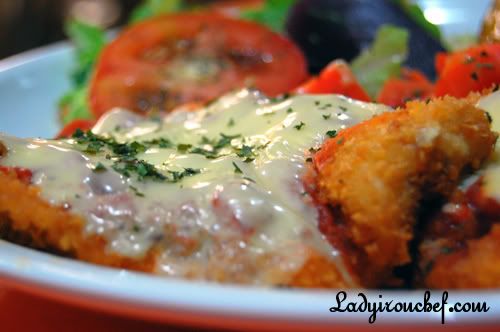 Chicken Parmagian ($7.90)
The chicken paramagian was one of the more expensive item on the menu, other than the steak and the lambchop. There's cheaper options like the express meal chicken cutlet, chicken chop at $4.80. But for "higher-end" options, the rest are priced at $6.90-$7.90.
Coated with a thick layer of melty cheese and tomatos, the chicken paramagian was quite good, i especially like the melted cheese which tasted great with the crispy chicken. But i did find the layer of tomato sauce, which was in between the cheese and the chicken, a tad sour. You needed to eat the chicken fast as it became soggy after a while. Nonetheless, the generous sides like the mashed potatos, and salad provided a hearty meal.
Crazy Burger ($7.90)
The crazy burger, being one of Crazy Angmo speciality, deserved a try. I think it's better value for money than the Botak Jones burger, since this came with cheese and egg, while the latter at $8 only had the burger plus one additional topping of either cheese or egg. The Botak Jones burger was $7 at a set, and to add egg and cheese, it'll be $9 already.
I particularly enjoyed the inclusion of pineapples within the burger, and the melty cheese together with the runny egg was excellent. However, i did find the beef patty being over marinated with pepper. The bun was rather hard and toasted to char. And the fries were simply ordinary and forgettable.
But overall, i did think that the crazy burger at $7.90 was not too bad, and definitely better than Botak burger. The owner Paul was very confident of his burger, "This is the best burger mate!"
Total bill was $15.80 for two western meal sets. Prices are a tad higher than your usual hawker centre western food, but like what i mentioned before, if you compared Botak Jones, Crazy Angmo with the normal western stalls, prices certainly will be more expensive. On the other hand, thinking it as a cafe western food, these stalls will be much cheaper than the cafes and restaurants.
Crazy Angmo
271 Bukit Batok East Avenue 4
Hawkerway coffee shop