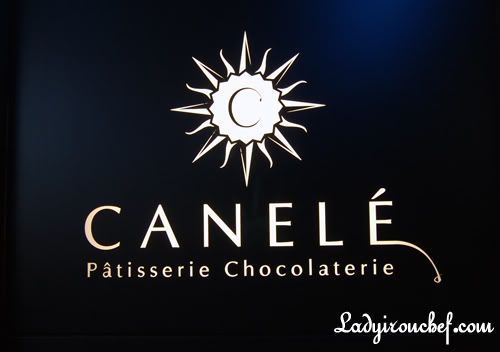 Canelé Patisserie Chocolaterie, the fame dessert restaurant that had been making waves with its delicate and dainty small bites. With the mention of patisserie, the immediate reaction would be Canelé, which tells you something about the reputation that they had built up in a short period of time. Besides cakes and other desserts, Canelé also offered a variety of chocolates.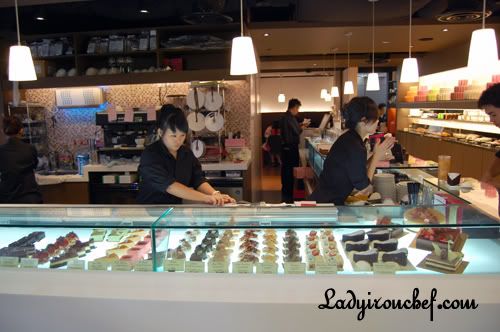 Canelé Patisserie has done a very good job with its marketing and branding strategy. The chic sounding name, the cool sun-shape logo, coupled with its stylish interior, and of course their "designer" cakes and desserts. Not to mention Canelé is under the Les Amis group, which has strong capital funding to make all these possible.
The miniuscule interior had few seats available. When we went around 3pm, the place was packed fully, and had to be put on the waiting list.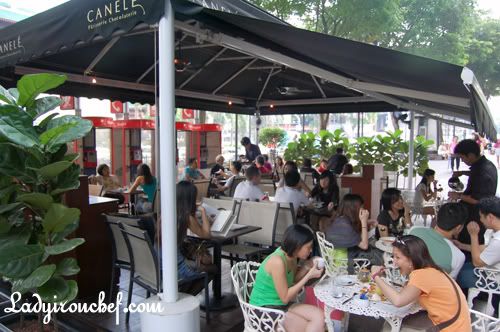 Seating are largely from the Al fresco area, built in mind to create the Parisian road-side cafe ambience, albeit it wasn't prefect with the busy orchard road, and McDonald located just a stone throw away.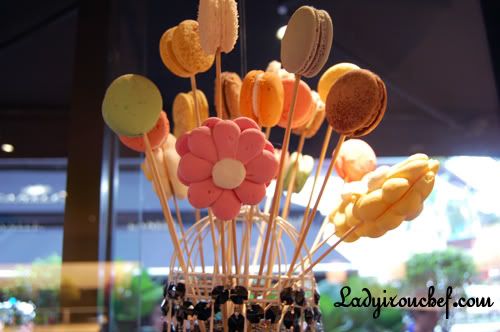 With the inauguration of their latest branch at Shaw centre, this brings the tally to four with the others located at Paragon, Raffles city, and Robertson quay. Like Starbucks, the opening of each outlet almost guaranteed full-house customers. This really makes me wonder why is there no other worthy competitor to come out and vie a share of the market.
Cafe caramel ($8.50)
Milk chocolate coffee mousse, chocolate genoise with expresso, salty caramel and hazelnut feuilitine. Canele's signature cake with the usage of the salted caramel, which gave an unique taste to it. However, there was only a single layer of salted caramel right in the middle of the cake, which my companion and I felt was a tad too little.
The strong chocolate, with the subtle coffee flavour, overwhelmed the salted caramel taste. But i love the hazelnut feuilitine which added crunchy bites to the cake. Having heard rave reviews for Cafe caramel, it fell short of our expectations. And we felt that the caramel didn't really compliment the chocolate sponge cake.
Strawberry shortcake ($6.50)
Japanese shortcake sponge, kirsch creme chantitlly, and fresh strawberries. Another famous cake, the strawberry was not very sweet, but it'll be better if it's those sweet tasting Japanese imported ones instead. We felt the cake was too tame,  there wasn't much flavour.
However, it could work either way, as it's good for light tasting, the cream wasn't overly heavy, the sponge was light, but not for me because i would prefer more intense flavour. Overall I felt it was mediocre as it lacked the kick and "wow" factor. But then again, its strawberry shortcake, what else could you expect?
And how can we forget Macarons? Canele's ones are divided into two different type, with the classic and the signature flavours. With a total of 12 variety to choose from, I'll definitely come back to try the rest.
The pricing however, remained a mystery to me. If you would do some simple maths, buying 6 pieces of macarons at $2.3 will be only $13.8 instead of $14.50 per box. So is Canelé charging extra for the cost of the box? I'll thought that buying more will cost less, since it can encourage sales.
Hazelnut Praline with roasted hazelnut ($2.30)
I told you, i loved my hazelnut! It was an obvious choice when my companion wanted 4 macarons. Hazelnut was supposed to be a safe and full-proof flavour for desserts, not lest macarons. But the one here was rather weak in flavour. The hazelnut taste was mild, and i'll prefer it to be stronger. Obolo had a stronger case for its hazelnut macarons. Nonetheless, the hazelnut was still detectable, and there's after taste of it.
Milk Chocolate feullitine ($2.30)
How can anybody resisted the temptation of milk chocolate? Not me, that's for sure! The silky milk chocolate, with crunchy bites of feullitine, was one of Canele's signature flavours. There was nothing intriguing about it, just a reliable and safe option to taste the chocolate while munching on the chewy shells.
Rose ($2.30)
We also picked the rose classic flavour for one of our macarons. The first taste of the lovely pinkish delight was subtle, the rose wasn't very strong. But we did questioned whether real rose was used, as it tasted like rose syrup. Nonetheless, the rose should be a crowd favourite with the ladies.
Saltey caramel ($2.30)
Introducing the saltey caramel once again! Even though we chose the cafe caramel, but we couldn't miss out having the saltey caramel macarons. Like mentioned above, the salted caramel had a very unique taste, and compared to the Cafe caramel cake, this one was much better as you could taste the saltey caramel, whereby the former was overshadowed by the stronger chocolate companion.
Total bill was $28.45 for 2 cakes and 4 macarons. I've to confess, amidst all the high anticipation of Canelé, my first visit fell short of expectations. I think maybe it's a case of ordering the wrong desserts. Or because i had high hopes, which resulted in the not-as-good outcome. Such is the magic of Canele, that i'll definitely visit them again to try out the other cakes, even though the first escapade wasn't really what i want.
There's plenty of others which i'll love to try, the le royale, canele pastry, jupitar, and many more. I think the next time round, i'll probably go to the raffles city branch, since the "in-thing" is to be seen hanging around at their Shaw centre branch, seats are hard to get here. And one thing i noted, if the area behind that is housing The Canteen (another Les Amis restaurant), is used to expand Canelé instead, i'm pretty sure it will also fill up pretty easily.
Canelé Patisserie chocolaterie
1 Scotts road
#01-01A Shaw Centre
Tel: 6738 9020
Featured in