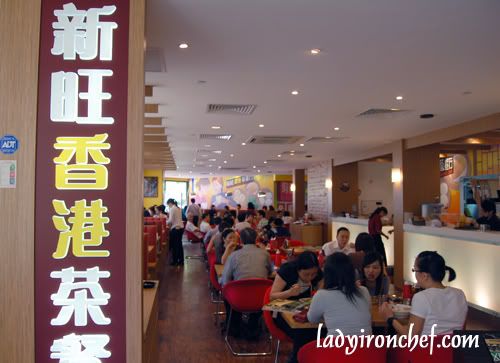 I'm sceptical about Hong Kong cafes in Singapore. A bowl of instant noodles, with sunny side-up and luncheon meat for $6-8? Or how about the so-called "authentic dim sum" which was supposed to be Hong Kong's speciality. Even though I didn't go to Hong Kong before, much less tried the authentic Hong Kong cuisine, but the rumours about the quality of the food at such cafes couldn't be that far-fetch. After all, they say there can't be no smoke without any wind.
Xin Wang Hong Kong cafe's one of the many Hong Kong cafe that have spring up in Singapore in recent years. With the others being Hong Kong cafe @ East coast, Wan Chai Hong Kong tea room, wong kok char chan teng, and with Crystal Jade Hong Kong cafe recently joining in the foil.
Kaya bread ($1.80)
I made a mistake with the order. On the menu, there's kaya bread, and kaya butter bread. So I just ordered kary bread, which meant no butter. And kaya bread without any butter ain't nicer than kaya butter bread. This smudged the judgement for a good piece of toasted kaya bread.
Special shrimp Har Gau ($2.80 for 3)
If the har gau was used to gauge the standards of Xin Wang cafe's dim sum, then there's no need to try the rest. The skin was too thick, and when we picked up the har gau with chopsticks, there's an opening at the bottom of the skin, which resulted in the shrimp dropping out. The deconstruction of the har gau continued, with the skin and shrimp eaten separately, and this was not a good thing.
Siew Mai ($2.80 for 3)
The same could be mention for Xin Wang's siew mai. The skin was equally thick, and sticked to the teeth. The overall taste was very porky and oily. Only the use of chili sauce could cover the taste, and made us swallow the dim sum.
Baked BBQ pork pastries ($2.80 for 2)
I always had an soft-spot for pork pastries, the buttery flaky pastry exterior, with juicy char siew hidden within. However, the standard guide for good char siew sau, was not applicable to the ones here. There's a weird taste about the char siew, and at $1.40, i felt totally ripped-off, the one at Royal China was cheaper, and ten times better than this, and even Yan Ting's rendition at $1.60 seemed to be cheap when compared to this.
Pork chop with French fries ($8.50)
The saving grace was suprisingly, the pork chop. Well not exactly fantastic, but at $8.50 it did provided a hearty meal with a generous size of pork chop, french fries, beans, and sunny side up. The pork chop was just nice, not too hard to cause damages to your teeth, and not too soft that it's literally soggy.
Total bill was $22.05 for 2 person.The food wasn't very expensive, which explained for the busy crowd in the cafe when I went for lunch at the branch at Anchorpoint. It was a case of being sweaty and smelly eating in hawker centre, or sitting in cooling environment.
I think the lure of air-con, with reasonable pricing, and a comprehensive selection of food will just be the thing that continue to draw the crowd in. I'm not sure whether I'm too fussy, or the patrons don't really mind eating less-quality food. But i guess maybe I'm being too difficult here, the food if you closed one eyes, was still acceptable given the price.
My scepticisms proved to be right, and I won't be visiting Hong Kong cafe anytime soon. I did heard that the Hong Kong cafe @ East coast is a better one compared with its peers. But until then, i'm steering clear of the rest of them.
Xin Wang Hong Kong Cafe
370 Alexander road
#01-07 Anchorpoint
Featured in