Located within the Arena country club at Upper Jurong Road, opposite the Singapore Discovery Centre, Tung Lok Seafood is the mainstay of the Tung Lok group (TLG). This dinner took place actually very long ago, five months to be precise. I was hesitant in writing the post since the food was unremarkable, typical at best, and there were too many photos to handle.
We chose to have their dinner a la carte buffet priced at $33.80++ for adult. The buffet had a wide range of food like Japanese cuisines, cold cut appetizer, soup, seafood, meat, vegetables, rice & noodles selections, and desserts. With a total of 50 items to choose from, we managed to eat close to 30 variety.
I would say that most of the food was average, and we tried quite a lot of variety, so i won't go into details for each and everyone of them. I'll highlight the ones that stood out, and the rest are really up to your own judgement if you ever go to Tung Lok to try their dinner buffet.
The pictures were taken with my old canon ixus before i got my present DSLR, so do pardon the poor photos.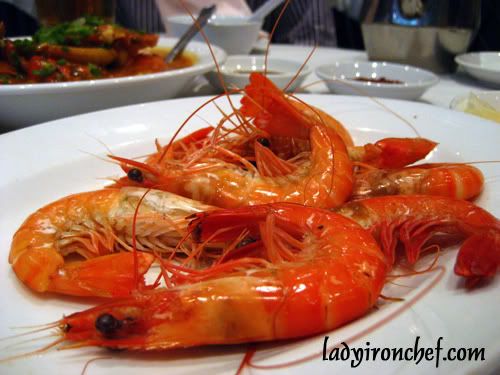 Poached prawns (limited to 100g per person)
The poached prawns were one of the few dishes that had limits, which meant that they were not available for re-ordering. Not that the poached prawns were that fantastic anyway.
California Maki
The California maki was actually the saving grace for the dinner. I wouldn't say that the sushi was exceptionally fresh, but they were acceptable and we had two servings of them.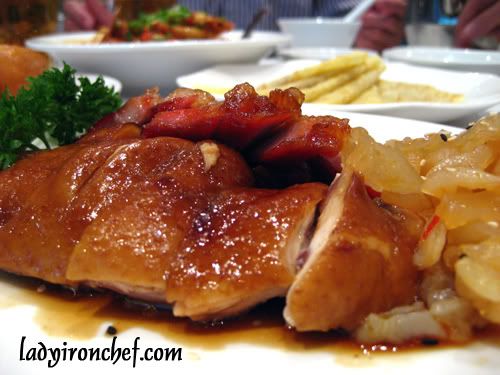 Barbeque roast meat platter
The barbeque roast meat platter was also one of the few that stood out. The char siew was not bad, but the roast chicken was better. We were in half-mind whether to have second servings but later decided not as we were too full.
Beijing roast duck (limited to two slice per person)
The Beijing roast duck was no doubt one of the more pricer dishes, hence the limitation of two slice per person. The waiteress brought the whole roast duck in front of our table to slice it on the spot and served with spring onion, cucumber and sweet sauce. One of the better dish, but pity the limitation of the serving.
Chili crab A La Tung Lok (limited to one per table)
Tung Lok's renown for their Chili crab, they are after all a seafood restaurant. Without a doubt, the best dish among the 50 selections, the chili crab was spicy and there was a sweet hint in the thick and wonderful gravy. Served with man tou (soft white bun), i'll say that their chili crab is on par with Jumbo, NoSignBoard and Mellben. But again, there's the limit of one per table. Nevertheless, if you are ordering a la carte, this definitely is a must order dish.
Sichuan style dumpling with spicy sauce
Pan grilled miso marinated beef tenderloin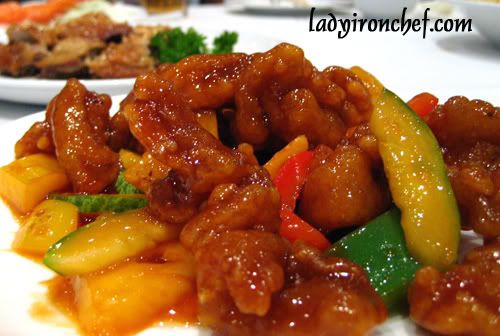 Old cantonese style sweet and sour pork
I'm a huge fan of sweet and sour pork, but Tung Lok's rendition didn't have the "wow" factor to entice me for second helpings.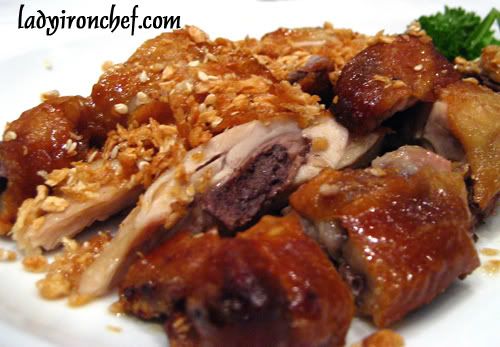 Roast Spring chicken (half)
Another typical dish, nothing exceptional but still acceptable.
Deep fried "soon hock" fish
We were not a fan of rear fish like soon hock, so we were not really expecting much from this dish. And it turned out to be what we thought, the fish wasn't fresh.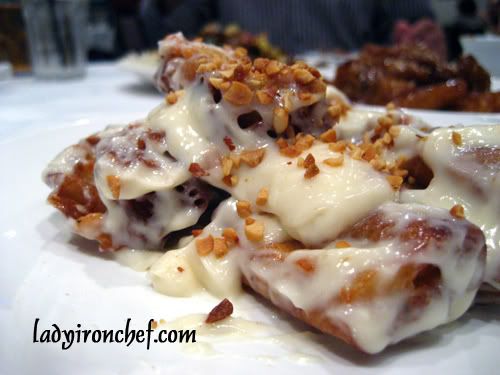 Deep fried fritters with salad sauce
Pork ribs with fruit sauce
Crisp fried baby squids
You would thought that seafood dishes were be better at Tung Lok, but the baby squids were over-fried, too charred and dried.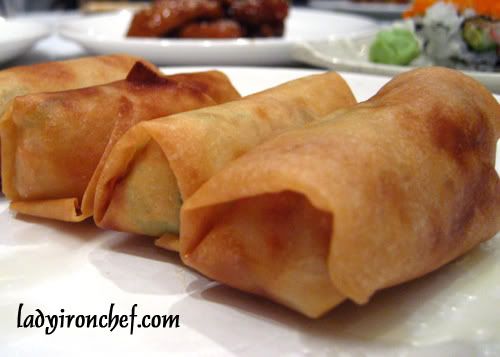 Vegetarian Spring rolls
Fried hor fun with sliced fish in egg gravy
I was undecided whether to order the hor fun and mee goreng, and the hor fun proved to be a disappoint choice.
Poached Chinese spinach with fresh bean stick and garlic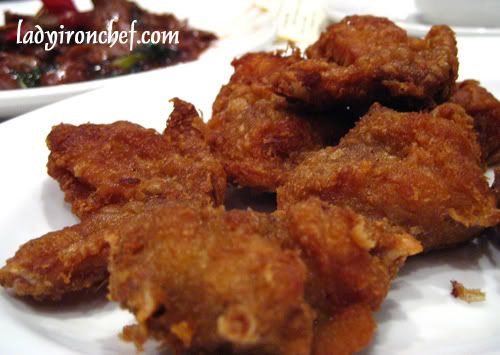 Deep fried prawn paste chicken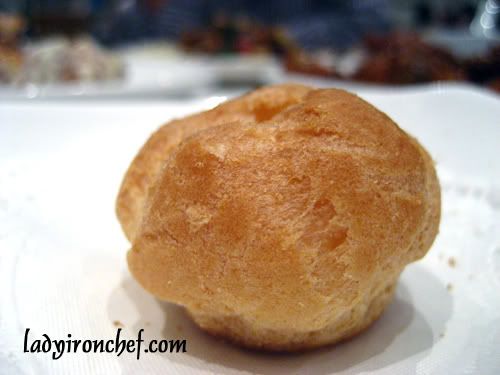 Ice cream puff
The ice cream puff was your normal ones found in the neighbourhood deli, but i was actually quite hooked with it. Well this actually show how desirable the other dishes were.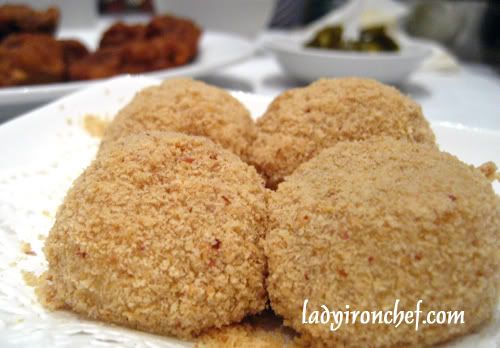 Glutinous rice balls with peanut crumbs
Chilled herbal jelly with honey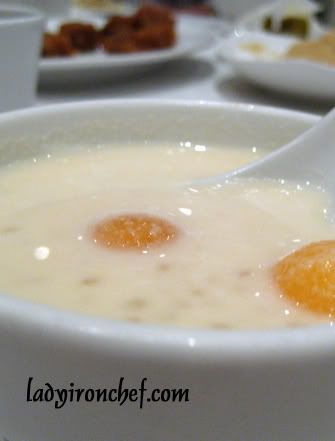 Chilled honeydew with sago cream
Chocolate ice cream
Dessert of the day
Total bill was $142.65 for 4 person dinner buffet. Although it came with a huge selections of 50 dishes, but most of them were mediocre and not worth trying. If you don't really mind the quality of the food, the dinner buffet does makes a rather value option since you get to try so many dishes. But if you are the type who cares about the quality, I say skip the buffet and go for their a la carte menu instead.
Tung Lok Seafood
511 Upper Jurong Road
The Arena Country Club
Tel: 6262 6996