Royal China @ Raffles exudes the prestige and grandeur as the famous colonial Raffles Hotel. Housed in the 3rd level of the hotel, Royal China definitely strikes out to be a cut-above-the-rest with its impressive name, and location. Having heard rave reviews about Royal China's dim sum, it was about time that I patronised the restaurant, and boy I was charmed.
I decided to go against the norm this time round, usually i'll write out my conclusion at the end, but Royal China isn't any normal restaurant serving run-of-the-mill dim sum. I'll rate them in the same league as Yan Ting, but definitely cheaper. Given the varsity in prices, I say Royal China certainly serves the best dim sum among the places i tried so far.
You can be forgiven if you think that Royal China comes with some Chinese background since the name China indirectly implied the meaning. In fact, The Royal China group is eminent in London, and the foray into Shanghai was just a recent event. Royal China @ Raffles remains the exclusive restaurant in the whole of South-east Asia.
Stepping into Royal China, the contemporary interior which comes in wave of ocean blue makes it a swanky restaurant. No doubt you wouldn't believe this was actually a Chinese restaurant, and i must say I enjoyed the ambience as it's very different from the traditional red and gold setting which you find in Chinese restaurants. The blue and white backdrop ooze a certain calm and tranquil, which made you feel right at home.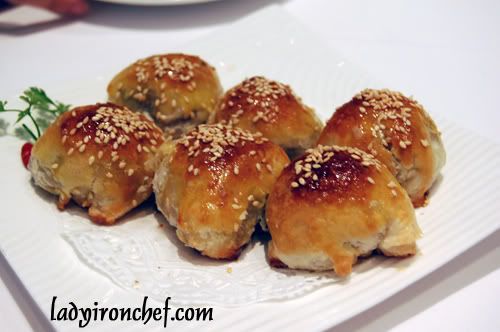 Baked Barbecued pork puff ($4 for 3)
The baked barbecued pork puff or char siew sou, was definitely the must-order dim sum at Royal China. Within the flaky, crispy pastry skin was the most delicious, sweet and juicy char siew that you could find. I regretted not having second serving of this, the next time round, i'll have one basket for myself!
The best char siew sou that i tried so far was at Yan Ting, and Royal China's rendition is certainly on-par with that. The thought of the excellent BBQ pork puff is enough for me to make a perennial return.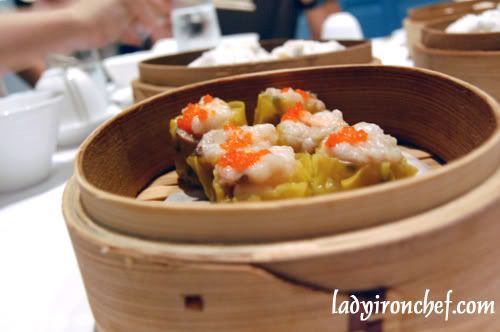 Steamed pork dumpling ($4.80 for 4)
Making a strong case for Royal China, the steamed pork dumpling, or siew mai was also another staple in the menu. Like most siew mai, the beautiful red roe adorns the top, and how can you not order this when you are having dim sum!
Steamed prawn dumpling ($4.80 for 4)
As with most, if not all good steamed prawn dumplings, a whole fresh and luscious prawn shroud within the thin and light skin had the right amount of bite. And at $1.20 each, they are really worth the money, compared with the ones at Peach Garden which are higher in price.
Steamed BBQ pork buns ($3.60 for 3)
Like i mentioned before, I love to eat char siew buns from Chinese restaurants because they are usually in three parts which have gaps to tease you with the char siew fillings. And at $1.20 each, I'll rather have one of these any time over the sub-standard buns elsewhere.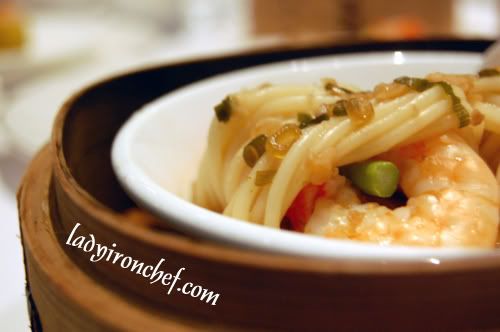 Steamed seafood roll with minced garlic ($4.80 for 2)
Coming on the recommendation of the staff, the steamed seafood roll with minced garlic was one of the more expensive dim sum at Royal China. Each basket only serves two person, nevertheless, each serving came in the form of a huge crunchy prawn wrapped around wisp of noodles. An interesting and novelty take.
Carrot cake with preserved meat ($4 for 1)
There wasn't anything fantastic with the carrot cake here, No complications of XO sauce, no carrot cake wannabe cheong fun just a good and reliable portion of the dish which we are all familiar with.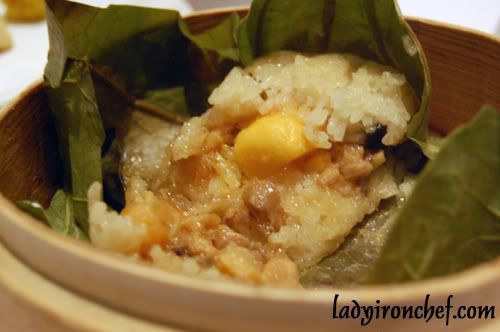 Glutinous rice in lotus leaf ($4.80 for 2)
We decided to have just one basket of the Glutinous rice not because it wasn't good, but rice makes you full easily, and we wanted to keep our stomach for the other delectable dim sum. The rice was enhanced with the fragrant emitted by the lotus leaf.
Royal China Cheong fun ($4.80 for 3 rolls)
We had the Royal China Cheong fun, which was a combination of the three different ingredients, namely, prawn, char siew and scallop. You can also get just one of the ingredient in a serving, but since we wanted to try all three, this was a good choice.
The cheong fun rice rolls were silky-smooth, and encompassing within were fresh scallops, crunchy prawns and juicy char siew. I couldn't quite decide which ingredient was better, but i'm leaning towards the crunchy prawns.
String beans crystal dumpling in chilli oil ($3.6 for 1)
This was the only upset from the otherwise perfect meal at Royal China. Coming as a last minute before the last order at 2.45pm (lunch's from 12-3pm), the staff told us this was special because not many places uses string beans in dim sum. And i agreed, only with the part that you seldom see string beans.
The string bean crystal dumplings had fillings of string beans, and soaked in chilli oil. We did not like the combination, the chilli oil was too spicy and oily. But being the nice people, we didn't want to waste food, so we took one each and gulped it down.
Deep fried prawn dumpling served with Mayo ($4.80 for 3)
Another of the last minute order, the deep fried prawn dumpling fared better than the string bean crystal dumpling. Covered with almonds, the inside was minced prawn. My friend was looking out for the big prawn which was evident in the prawn dumpling, and the seafood roll. But the prawn here was minced nicely and filled in the dumpling instead.
Baked duck meat roll in Portuguese sauce ($4.80 for 3)
The baked duck meat roll was also on the recommendations of the staff, it came as a surprise to us when it arrived, looking like meat roll dipped in curry-like colour sauce. In fact, it was Portuguese sauce, now i'm not too sure what exactly was Portuguese sauce, but the flavour was too strong, and overwhelmed the duck meat roll.
But eaten without the Portuguese sauce, the duck meat roll on its roll was actually quite good. The fillings were generous within the roll, pity the Portuguese sauce though.
Total Bill was $95.10 for 5 people. Most of the earlier dim sum that we ordered came in 6 portions because another friend didn't come in the eleventh minute. I listed out the normal pricing for the standard pieces of dim sum available so as not to confuse you. You could also do it like us, say you have 5 people order 5 pieces instead of getting two basket of 3 each.
Prices are reasonable given the quality of the dim sum. We paid about $19 per person, definitely not expensive, but we didn't exactly eat a lot, one of each dim sum. I preferred to appreciate each piece of quality dim sum than to gorge myself silly with a lot of sub-standards one.
Dim sum at Royal China was an excellent one, standards are comparable to Yan Ting, yet prices are cheaper than the latter. There are some other dim sum which i haven't try, and a perennial return looks to be a certainty, and I'll definitely recommend Royal China if you are looking for good dim sum. The restaurant's also famous for their lobster noodles, but unless you got deep pockets, i suggest you stick to the dim sum. See you there!
Royal China
1 Beach Road
#03-09 Raffles Hotel
Tel: 6338 3363
Royal China is listed as one of ladyironchef's favorite restaurants in Singapore
Featured in