Life's simple pleasures. I liked Mr bean's tagline, it's easy enough, and i thought it conveyed the message quite well. I never really noticed it before since i didn't try them. Have you felt the beauty of a smile, the warmth of a touch or the bliss of simply watching the world go by, the goodness of Mr bean soya milk's a life simple pleasure.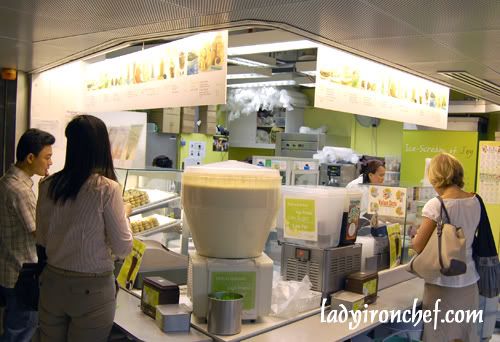 The branch at Raffles Place MRT is always packed with the office crowd, a light breakfast before starting a new day at work, some beverage for after-lunch, or also a quick bite before going home. My partner thinks that Mr Bean's definitely better than Jollibean, well it won't be fair to comment on that since i haven't try both Mr bean and jolli bean soya milk.
Bandung soya milk
My partner's a fan of their bandung soya milk. I had a sip of it, and although i didn't really like bandung, the taste was quite all right, not as sweet as i thought it'll be. In fact it's quite light, and there's a subtle hint of soya milk combined with the bandung, certainly a healthier drink compared to having bandung alone.
Taking a quick glance at Mr bean's menu, they have a wider variety of soya milk, 14 if you included the icy versions, and i am quite intrigued by their honeydew soya milk. Given the wide-spread locations of Mr bean islandwide, it won't be a problem picking up one of them next time!
Mr bean
5 Raffles place #B1-42
Raffles Place MRT station