Lau Pa Sat or Telok Ayer Market, holds a very special meaning for most Singaporeans. The distinctive clock tower on top, the unique, octagonal and intricate roof structure of the building. Not to mention the many mouth-watering food which showcase a wide variety of our Singapore culture.
Having said all that, i'm didn't frequent Lau Pa Sat often, why you asked, since i praised the place to the sky. Well, i felt that it's more like a tourist attraction kind of place rather than a food centre to me. And because of the tourist crowd and the over-hype in the place, prices are obviously much higher than other places. Therefore even i was working in the vicinity last time, but i rather go to other places for lunch.
Nonetheless, having heard some good reviews about a particular burger stall from Philippines setting up shop in the midst of Lau Pa Sat, and I was meeting a friend who was working in the CDB area, so we decided to go to Lau Pa Sat for lunch!
Hotshots does have a rather impressive menu of burgers considering that their's a small store in Lau Pa Sat. I was in a dilemma over which burger to get, so i just randomly picked the Cheeseburger deluxe.
They took quite some time in preparing the burger on the spot, around 5-10 minutes or so.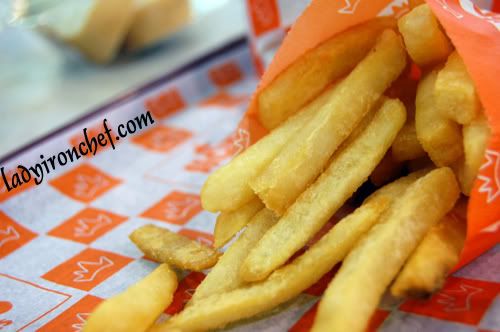 French Fries ($3)
I also ordered french fries for side since Hotshots didn't have any set meals and just came with a lone burger. For fries that cost 3 bucks, I definitely expected better. Their fries was average, there's no "wow" factor, which failed to justify the high price for a small miserable packet of fries.
Cheeseburger Deluxe ($5.50)
On first sight, the Cheeseburger deluxe was kind of smaller than what i imagined, since the word deluxe implied another meaning. The sesame seed bun was kind of too soft, i'll preferred those that are slightly toasted which gave a firmer characteristic to the burger. Presentation-wise also didn't quite make the cut, the ingredients were hasty organised, and everything dropped out easily. A Messy affair!
The beef patty was not bad, rather juicy although it might look a tad dry on the outside. But still, i lamanted the fact their patty's kind of too thin, which didn't provide the "kick"when you took a bite in the burger. Nonetheless, you can't compare this with Relish's gourmet burger, given the disparity in prices.But i think it edged out Seah Street Deli's rendition.
Total Bill was $8.50 for a burger and fries. I think i made the wrong choice in burger, maybe i'll go back again to try their Real Bleu cheeseburger, or the crispy burgermelt. But for now, i still favoured the one that i had at Epicurious.