Media Invite
LIC had the opportunity to attend Cool Rhino product launch at Eski bar last week. Despite never visiting Eski bar before, i had friends who went before, so i roughly figured out it'll be cold, like the name implied anyway. The place was intended at Eski bar, since it's the "coolest" bar around, which fitted in rightly with the theme of the event, Cool Rhino!
The invitations were sent out to several friends of the media, there's several reporters and writers from magazines and some other media.
The sub-zero room at the entrance of eski bar was freezing cold. We stood there for a while and couldn't withstand the coldness. Freezing!
Now, let me give you some information of the drink Cool Rhino. Made of de-ionized water and natural functional minerals such as Gypsum Fibrosum (calcium sulphate) and Calcitum, which is "cooling in nature", Cool Rhino's a coolant formulated to provide relief of body 'heatiness'
It works by increasing membrance and capillary permeability, thus increasing the flow of body fluids into the body tissues. It will also expel body heat more efficiently to relieve symptoms of heatiness like restlessness, loss of concentration and so forth.
I'm sure by now most of you will be quite confuse by the terminologies, and in short, Cool Rhino's good for you! The recommended intake for adults is four bottles of Cool Rhino per day.
Before the event started, they had an award winning magician to perform some tricks to entertain the crowd. There's some real cool tricks, and to literally break the ice.
Rhino Jaz
A perfect example of Cool Rhino isn't what you thought, it's not just a healthy drink! Cool Rhino can be mixed together with liquor, cocktails, and other beverages as well. We had the lovely cocktail named Rhino Jaz, which included apple cocktail, and cool rhino.
We were even discussing the usage of Cool Rhino in cooking, so maybe you will see a Cool Rhino home-made soup featured here in the near future.
The first taste of Cool Rhino, isn't this water? Yeah, but after carefully drinking it on the second account, there's a slight after-taste of the drink. And for those who worry about whether Cool Rhino has a weird taste,  it wasn't even evident if you didn't notice it properly. So hows that? A drink that taste like your normal water, but has the cooling benefits all together.
Cool Rhino is actually the new version of the "old" Three leg cooling water. I believed many people should be familiar and grew up with the drink. But Wen Ken group decided to come up with a brand new image for the cooling water, and thus the born of Cool Rhino. A sleeker, nicer look, with a cooler name.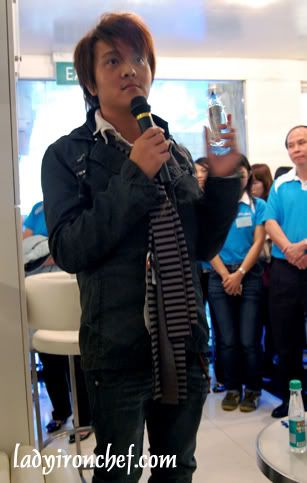 Cool Rhino endores Mr. Daniel Goh to be their spokesperson, as he had a very complete lifestyle filled with sports and work. Does Cool Rhino wants to appoint ladyironchef as their ambassador as well? Since LIC has a very busy lifestyle, and eats so many spicy and "heaty" food, Cool Rhino should be an excellent fit for me!
The official launch of Cool Rhino with the senior managment of the Wen Ken Group. The director, Mr. Fu Siang Jeen had a chat with us, and shared the details about Cool Rhino, which was particularly informative. I also interact and got to know quite a lot of people at the event as well.
After the presentation, we had some light refreshments, which are deliberately spicy and fried food, to go along and emphasise the importance of Cool Rhino. I also met my fellow food blogger, the hungry cow at the event. Both of us were the only food bloggers there.
I'll like to thank Sean, Ling ling, Joan from Bang public relations for the invite. And also the Wen Ken group for sharing the information about Cool Rhino. A 350ml bottle of Cool Rhino retails now at $1.60 and can be found at all major supermarkets, and leading convenience stores.
" Cool Rhino – Cools my system "