The cravings for dim sum meant that i am always on the lookout for places be it restaurants or eateries which can answer to my stomach's calling. Victor's Kitchen has been around for quite a while now, and has been labeled with the "good dim sum at affordable price" tag.
Located at Sunshine Plaza off the corner at Bencoolen street, it is a no-frills, grab-your-seats kind of place. Victor's is divided into two seating area, with both holding a maximum of maybe fifteen people each. Seats are limited, you must be prepared to queue up for them, and squeeze in the small seating area. Well, more like a small eatery than a cafe or restaurant kind of environment.
Chicken & Sausage in Glutinous rice ($4)
I always like glutinous rice, dim sum style. Opening the leave that wrapped the rice, the aroma of the glutinous rice flowed out, and it was just so good. The chicken was tender and the chinese sausage palatable, the fragrant and soft rice, all the combinations made the glutinous rice a praiseworthy dish.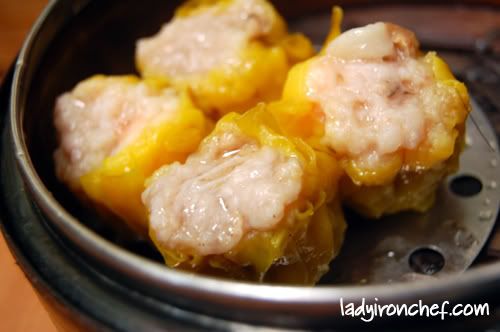 Tasty Queen size Siew Mai ($3)
You don't say you eat dim sum if you did not order siew mai and har gau. Nicknamed the queen size siew mai, its actually the normal size i guess that's why they didn't named it as King size siew mai instead.
The pork meat in the siew mai is very lean, not those fatty type. The portion of prawn to pork is actually very low, so not much of prawn taste, its the more porky kind.
Victor's King prawn dumpling ($3.80)
Prawn dumpling or har gau, another mainstay in the dim sum menu. The skin of the Victor's King prawn dumpling is rather thin, and the prawns inside looked like its going to burst out anytime. The fresh prawns go easy on the palates and always welcome with second helpings.
Carrot cake with XO sauce ($3.80)
I was rather amazed when i saw the Carrot cake with XO sauce served. For one i wasn't expecting the carrot cake to be literally soaked in xo sauce, i thought it will be something like the one i had at Peach Garden, or Yan Ting, but i guess again, there isn't any "fried" or "pan-seared" attached with the name here.
The name's scallop, sausage carrot cake with xo sauce, but i hardly had any hint of the presence of scallop and sausage in it, and i think i still preferred my carrot cake to be fried than soup. Nonetheless, the amount of XO sauce given was rather generous, and i guess its more of a personal issue, some might just fancy this over the normal fried carrot cake.
Oyster sauce Char Siew Bun ($2.80)
I preferred my char siew bun to be those restaurants-type where there is three parts one. There's no trace of oyster sauce in the char siew bun, or maybe i happened to miss the flavor.
Nevertheless, the char siew bun is still quite soft and fluffy, the juicy char siew captured within is also enjoyable. Not the best char siew bun i had, but it will suffice.
Milky Custard Bun ($2.80)
I am getting warm up to Custard bun nowadays since i used to only flavor char siew bun when i had dim sum. You know a good custard bun when you see one, hot milky custard oozing out of the bun, tempting you with both visual and taste.
However, the case is not to be with Victor's Milky custard bun. Touted as their signature dish, i was totally disappointed with the one i had here. Maybe the ones at Victor's don't ooze out, but for the custard buns to come cold is another complete matter all together.
Having heard many wonderful things about their signature custard bun, i must said i was shocked by the revelation in the quality of the buns. Maybe its a case of a bad hair day, but i'll give it a chance and re-visit to try it again the next time.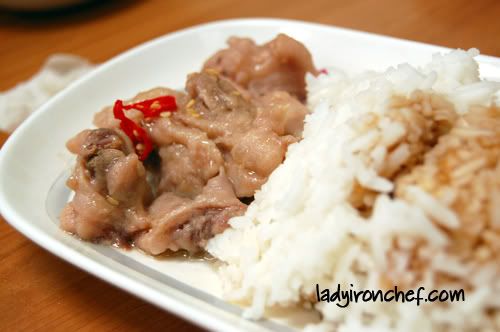 Spare Ribs rice ($3)
I'm not even sure if i want to elaborate on the spare ribs rice. First thing first, the rice is hard, too hard. I do understand that ribs being ribs do not have much meat, but this one, the pork ribs were not even tasteful. A waste of 3 bucks, kindly ignore this if you ever go to Victor's.
Phoenix Porridge ($3.50)
The century egg porridge or pi dan chow is transform in the name of Phoenix porridge. However the majestic name did itself no favors with a run of the mill watery porridge. There are bits of century egg and chicken chunks, but i don't see the point in paying $3.50 for an average small bowl porridge.
Deep fried spring roll ($3)
The deep fried spring roll is pretty decent, with the usual mix of turnips inside. The vinger dip was a commendable mention, with the slightly sourish sauce going well together with the deep fried stuff. The spring roll was crispy and you could hear the "crisp" sound with every bite you took.
Char siew cheong fun ($3)
The trails of a good char siew cheong fun are smooth and silky skin, which comes with juicy char siew. However the skin of the cheong fun or rice roll is rather thick, i'll prefer it to be slightly thinner. The char siew within the cheong fun is still acceptable.
King prawn cheong fun ($3.50)
I think we over ordered, which results in having another one, the King prawn cheong fun. I presumed the prawns are the same as the ones in the har gau, and they are fresh and good, pity the skin of the cheong fun though.
Total Bill is $51.1 for 3 person. Victor's kitchen is definitely affordable and rather cheap with its array of dim sum served. The maths work out to be around less than a dollar per piece for most of the items, which can be a good place for your dim sum fix if you want something cheap and not bad.
Victor's Kitchen is a case of hits and misses. However the misses hit me more because i had high expectations of the place since there are much rave about the dim sum here. With the silky custard bun as the biggest upset in this visit, it is likely i will visit the place again in the future, to prove whether its a fluke or one-off thing.
The place is small, and they don't take any reservations, do go at earlier timings or be prepared to queue a while for the seats. Its also advisable to go in small groups since there aren't much space and table to accommodate a large crowd.
Victor's Kitchen
91 Bencoolen Street
#01-21 Sunshine Plaza
Tel: 9838 2851