There are so many stalls in one hawker centre alone, so how do you make your choice which one to order from? This is especially a problem when you want to order a particular food, say for example char kuay teow but found yourself staring at a few similar stalls. Which one do you order from? Being Singaporeans the first thought will be to see which stall has the longest Q, well if so many others like their food, it can't be that bad right?
So usually i'll go and look around the tables, to see which plates dominate the area, and its a good gauge how popular a stall is. Of course, you can't judge a stall by its queue, or you ain't the type that will bother to queue a good fifteen to twenty minutes just for food. So what's next? Through word-of-mouth recommendations, "stall B at that hawker centre is very good, must-try!" Alternatively, continue your blog-reading at ladyironchef to find out more!
Anyway, one of the common methods will be to look at the stall for any media recognition, there are so many TV food programs which recommend on food, and very often they will issue their own "certificate" to acknowledge that hawker stall is good. Again, this method can also be flaw as the stalls that they recommended might not be that good sometimes, but usually the sales at that particular stall will go up after featured on TV, Singaporeans are Singaporeans after all.
Nevertheless, this is one method that i use quite often when i don't have no idea which stall to order from. And i decided to order from Teng Yu chee cheong fun porridge stall after i saw their "media recognition", coming in the form of a video recording showing on the TV no less.
Char siew cheong fun ($2.30)
Teng Yu stall offers four different types of cheong fun, prawn, turnip, char siew and one more. All of them come with the option of having your cheong fun with porridge. And they have quite a few selections if you just want porridge alone, century egg, sliced fish, fish head, and seafood porridge.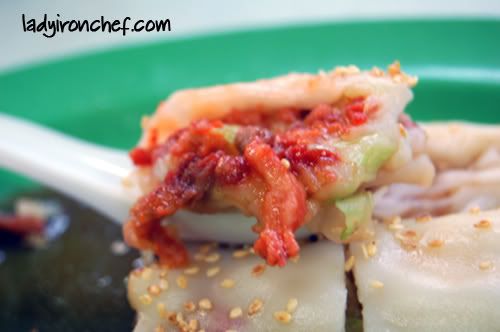 The skin of the char siew cheong fun was smooth and easy on the palate, topped with plenty of sesame seeds, it came with light sauce. However, the char siew meat were all in very small bits and pieces, and i would prefer them to come in bigger pieces even if there were less of them in that way.
The char siew bites were rather soft, in fact too soft for my liking, and it did not have the sweet and juicy taste that's in good char siew. Furthermore, they added in some vegetables in it which i did not like. Don't get me wrong, I love to eat greens, but cheong fun with greens simply did not work out.
The overall taste is quite weak, as in not much flavour in the chee cheong fun, maybe its lighter in flavour because it's suppose to go together with the porridge, or maybe it's just me. So you have to try out for yourself to try out. I missed out on the previous post for Mr Avocado, the Alexandra Village hawker centre is opposite the Queensway shopping centre, don't mistake it with ABC food centre which is nearby.
Teng Yu chee cheong fun porridge
Blk 120 Bukit Merah lane 1
Stall #01-77 Alexandra Village