You remember when you were a kid, you told your mother "Ma, ma, i dreamt of a pig which was black in colour!", and your mother chided you for telling ties, since pig is always pinkish in colour, and you shouldn't spot the colour wrong since pigs in fairy tales and cartoons are always pink. Well, it won't be a problem next time when you visit Tampopo and tell your mother that the pig there is really black!
Tampopo's famous for their black pig, or Kurobuta, which is known to rear in Kagoshima prefecture. Kurobuta is to the pig, like what wagyu is to the beef. They are supposed to be stress-free, making the meat more tender and superior to the other form of pork.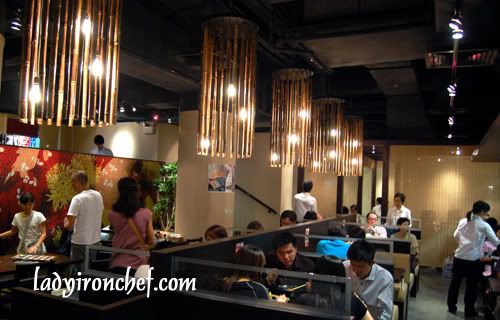 Tampopo recently shifted to its new premise on the ground floor on Liang court, a far cry from the old one at the basement within Mei-di-ya supermarket. The new restaurant boost seating capacity of more than 80 (my rough estimates). The use of wooden bamboo forms a good contrast to the contemporary decorations, and the conveyor belt completes the interior.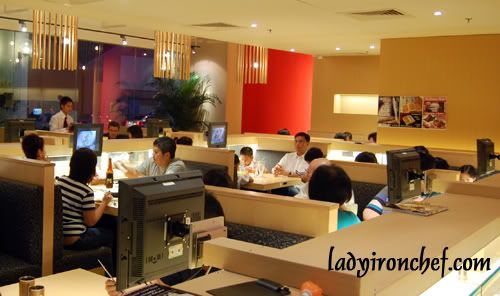 I had made a reservation for 4 people after doing some research online as people mentioned that they always got a long queue, especially so during meal times. True to the comments, there was a surging line outside Tampopo when we got there at 7.30pm.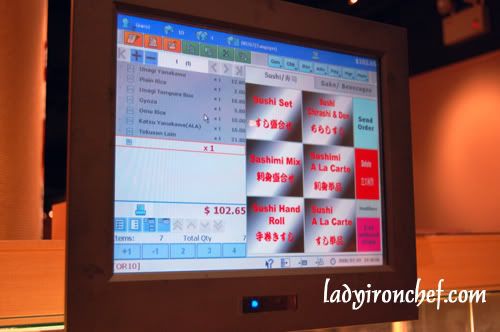 The conveyor belt within Tampop isn't what you see in Japanese chains like Sakae sushi, the one here is special because it can automatically deliver food from the kitchen to your table. And you can't "pick up" the food on the conveyer belt since the plates are programmed by magnetic fields, which are designated to deliver to the particular tables.
But from what i understands, the conveyor belt is still a experiment in progress, and not all of the dishes can be delivered using the belt, only particular items like sushi and some other smaller dishes can go through the belt for now.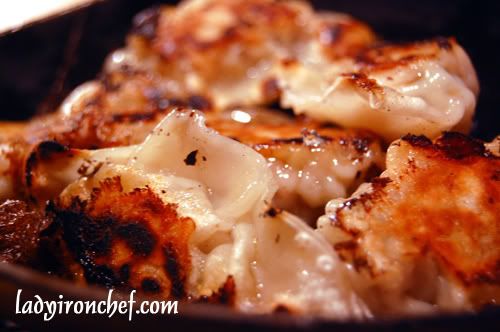 Gyoza ($5.80)
We started off with Gyoza, the Japanese version of our Chinese dumplings or "jiaozi". The notable difference between the Japanese style Gyoza and the Chinese style "jiaozi" are the rich garlic flavors in the Japanese rendition, and Gyoza is served with soy-based dipping sauce. I'm not too sure whether its just me, but I found that the Japanese version had a thicker skin compared to the chinese style.
The gyoza here was slightly "charred" on the outside, but below the skin, the mixture of minced pork and garlic was very balanced. A good appetizer to share around and start your meal.
Normal grade loin cutlet ($21.80)
I had the normal grade loin cutlet with rice set only because their top grade loin was sold out! I was actually quite frustrated because i had came with the sole purpose of trying their signature top grade loin, and how could a restaurant sold out so quickly by 7.30pm on a Saturday dinner!
Nevertheless, i must say that their normal grade was already very good. Pork cutlet in the hands of less skillful chef would be ruin by over-fried and too oily and dry, but the one here was done just right, the breaded crust was light and had a melt-in-your-mouth effect, and under the crispy exterior was juicy, tender meat.
I'll say Tampopo's pork loin is on par with the one that i had at Tetsu, although the one here was smaller and leaner. Tetsu definitely had a more generous cut of the pork loin. But the one that i had here was only the normal grade and i hate to think what will Tampopo's top grade pork loin be like.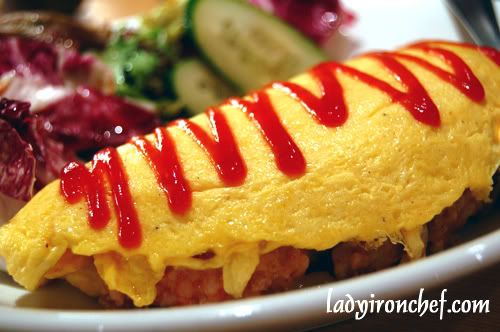 Omelette rice ($10)
The omelette rice was done very nicely, with Japanese pearl rice wrapped within the soft and thick layer of omelette to good effect. As you all know, Japanese pearl rice is very different from the Thai rice very commonly used in Singapore. The pearl rice has a soft and moist texture, which is very light on the palate. Although there's nothing spectacular with the omelette rice, it's a simple dish which you couldn't find fault with.
Pork loin Yanagawa ($16)
We also had the pork loin Yanagawa a la carte, add $4.80 to get a set with rice, miso soup and fruits. I think i'll prefer my pork loin cutlet to this. The pork loin Yanagawa was literally wet with the egg mixtures, i thought pork cutlet would be nicer dry and crispy than wet and soggy.
Unagi Yanakawa ($12.80)
The reason why my friend chose the Unagi Yanakawa was because she wanted unagi, and within budget. This was the cheapest option for Unagi in the menu. I didn't mind unagi, but i'm not really a fan of Yanakawa-style.
Unagi and tempura box ($18.80)
The set came with unagi, prawn tempura, tamago, fruits, and miso soup. Nonetheless, I must say it's rather value given there's unagi and tempura. Serving size is certainly not comparable to the one we had at Kyomomoyama, but this one was part of a set, and cheaper too.
The tempura was lightly battered and the prawn was decent in size. However my friend found it to be too oily for her liking, and i nearly fainted when she mentioned that Waraku got better ones. Not that i disliked Waraku, but i just don't think Waraku is that good, price is reasonable, but food-wise average.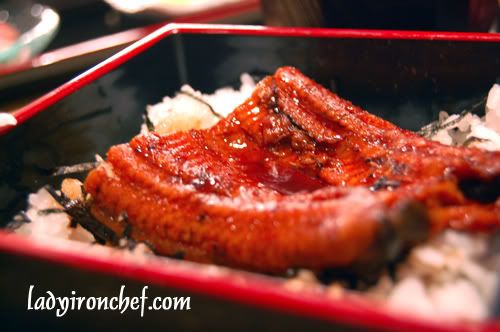 Unagi was decent, i didn't always had unagi so i ain't too sure how best to describe them.
Tamago, let's put it this way, i still preferred my eggs to be hot, rather than cold.
Total bill was $102.65 for 4 people. I do not think that prices at Tampopo are expensive, in fact they are actually quite reasonable, in the range of high tens, to twenty for per person. If you visit Tampopo, their Kurobuta pork loin is certainly one dish you must try.
I wanted dessert but the rest were too full, within Tampopo there was limited choice for desserts, but if you would just head to the basement to Tampopo Deli, a standalone shop for their chiffon cakes and other desserts. Tampopo is actually famous for their ramen, while their sister restaurant Tomton at Central focus on kurobuta pork. I'll definitely go Tampopo Deli for their chiffon cakes, and Tomton for the top-grade pork loin next time!
Tampopo
117 River Valley Road
#01-23 Liang Court
Tel: 6338 3186