SLII Muffin is quite prominent in the Marina Square food loft, since its the only shop that looks rather empty and selling muffin in a food court certainly draws attention. Curiosity kills the cat, and i can't help myself in buying a muffin and tart.
Prices are reasonable, with $1.50 being the highest. There's the promotion of buy 5 get 1 free, however i wasn't feeling very adventurous that day, and my friend ain't a fan of muffin and tart, so there's no way i can finish all 6.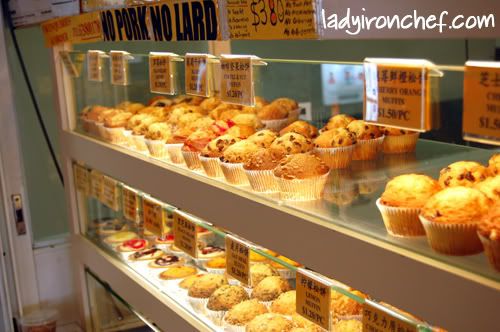 There are quite many variety to choose from, and i find myself looking at strawberry, raisin, lemon, cranberry, even black sesame muffin! In the end LIC decided to go for the safe choice, chocolate chip muffin and chocolate cheese tart.
Chocolate Cheese tart ($1.50)
I didn't make a wrong choice on the chocolate cheese tart. The fillings were cheesy and coupled with chocolate, wins the thumbs up from me. The tart is cris, and not those soft type, the chocolate swirl does makes a pretty scene. And at $1.50 for quite a big tart, i think its rather worth the price.
Chocolate chip muffin ($1.20)
The chocolate chips on the muffins are big and chocolaty, and the muffin body is soft and fluffy. Always a safe option if you are not feeling too adventurous. While not exactly a fan of muffins, i thought this one is rather all right, given i did not set high hopes since this is found in a food court.
SLII Muffin
Marina Square Food Loft
6 Raffles Boulevard
Level 4 Marina Square