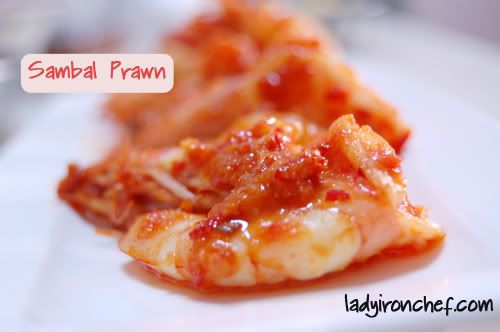 I always have weakness for crustacean, with the exception of crab. Think lobster, crayfish, and of course prawn. I am a lazy person, so eating crab do seems a hassle for me, but lobsters, ah they are easy to eat and simply out-of-this-world. Crayfish is good too as it provides a cheaper alternative to lobsters, yet they got rather similar taste to their more expensive cousin.
Prawn has always been a personal favourite since young, be it steamed, deep-fried, cereal, stir-fried, there are so many different ways which can bring out the flavor of the prawn. Actually the cooking method can be anything, but the key will be the freshness of the prawn.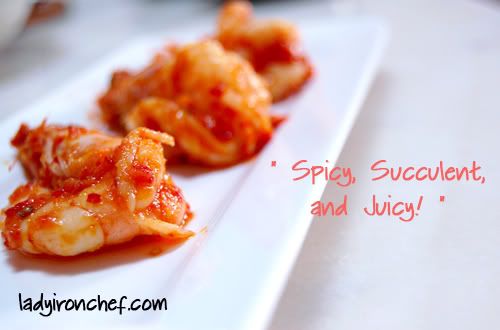 Sambal chili prawn
300g prawn
3 tbps sambal chili
2 tbps cooking oil
1/4 tps salt & sugar
Remove the prawns from the refrigerator to de-freeze. Shell the prawn body, leaving the head intact. Rinse clean with water and let the prawn dry.
To start cooking, heat oil in pan. Fry the sambal chili until you can smell the fragrance of the chili. Add the prawn in to stir fry until the body of the prawn becomes red. Note that you do not need to stir fry it for too long, otherwise the prawn will become over-cooked, and the freshness will escape. Squeeze a lime to complete the taste, and the sambal chili prawn is ready to serve!
" I got my inspiration for this post after reading the yummylicious food from didally, credits to her! "