Competition is very tough in the Food & Beverage industry. Comparison is thus inevitable among the different competitors. In the cut-throat environment, we have to give credits to entrepreneurs who dare to be different, who dare to venture out, experiment with different food and put their creativity to use.
And this can only be good news to consumers like you and me, with competition will there then be improvements and innovations, and this can only mean there will be more variety and choices for us to choose from. Applause to the food entrepreneurs who make all these happen, and to do that, we need to support them by trying their food.
P.Osh is the brainchild between the two owners, Paul and Josh who both have a passion for brownies and cookies. Well they find most of the brownies to be fairly similar, and boring. Then through experimental, they came up with their own version of how a good brownie should be like, and hence the born of P.Osh.
P.Osh is located at the shopping belt of Dhoby Ghaut Mrt, where it is ideal in serving the shopping and the working crowd. It is the name P.Osh which stands out though. Remembering i seen the name before, i follow the trait to the little outlet and this leads to the brownie discovery!
The owners explained that there are currently about 11 types of brownies available, and you can get 5 in a box for $13, and 10 mini ones for $20. Like i said, comparison is inevitable in this line, and having tried brownies from the Brownie Factory recently, it's no surprise really that i'll compare both to give a big picture.
The folks at P.Osh says that each brownie tastes different, smells different, looks different, and feels different. Excitingly unique, and full of character. Some bake brownies, we give brownies life. Find a brownie that is so you, then fall in love with it. Some say, 'you are what you eat'. We say, 'you eat what you are'
Triple Earle C. ($3)
"He has switched lines many times, and they simply love him wherever he goes. Jack of all trades, yet master of all. No surprise, he is everybody's favourite dude"
The Triple Earle C. like the name implies, is make up of three different type of chocolates, namely dark, milk and white chocolate. However, it is not as sweet as the the name suggests, compare with the other few, i certainly don't find the triple chocolate sweet, i guess the dark chocolate helps to balance the sweetness, which is quite similar to the triple choc which i had at Brownie Factory.
Mint E. Choc ($3.30)
Mint mousse and dark chocolate constitutes the Mint E. Choc brownie. I like the refreshing mint mousse which coupled with the dark chocolate makes a good balance between the mint and chocolate taste.
The Mint E. Choc brownie is the newest creation of P.Osh, so if you brought their brownie before, it is likely you haven't seen this one unless you been there recently.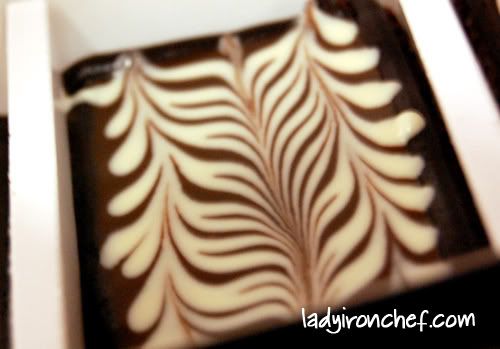 Coff E. Choc ($2.90)
"He always starts the day early and keeps it intense throughout. Driven and dashing, he never fails to keep everyone on the edge of their seats"
The coffee caramel brownie or Coff E. Choc is also one of the favourites at P.Osh. The strong hint of caramel is evident, but there isn't much coffee taste. I guess it's good news to non-coffee lovers like me, but a disaster if you would want the best of both worlds, your coffee and caramel.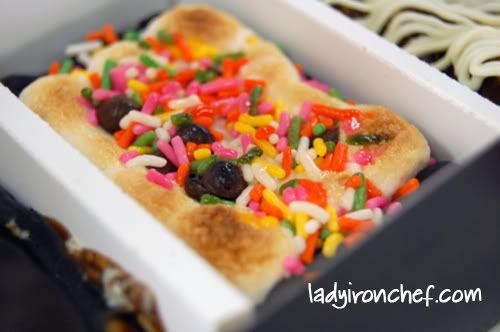 Marsh E. Mellow ($2.80)
"With such a colourful character, no one thought he would be so soft inside. Sensitive to everyone in need, he will put a smile on your face."
Now, the Marsh E. Mellow is what we are looking for, this without a doubt, is my favourite brownie among the 5. The marsh mellow is slightly toasted to bring out the sweet flavor. And the staff actually designed this brownie on the spot, so you need to wait a while as they helped to make it pretty.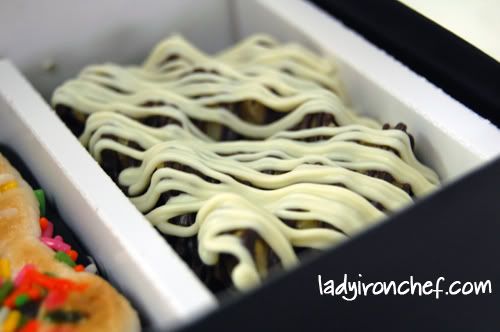 Wal Nutt B. ($3)
"To some, he opens up and cracks nutty jokes. To others, it is hard to get past the wall to really know him. He likes to think those are the little light and dark sides he chooses to show them."
This is actually the same as the Triple Earle C just that Wal Nutt B is triple chocolate on walnut. I preferred the triple earle c maybe because i don't really fancy walnut. But i have to admit the walnut does help to reduce the sweetness level, that is if you don't want your brownie to be that sweet.
Total bill for a box of 5 brownie is $13 with choice from 11 brownie selections. The brownies at P.Osh is creative and pretty to look at, but i have to point out one fact, the base of all the brownie here are actually the same, with the difference mainly in the toppings.
Whereas for Brownie Factory, the brownies there have brownie bases which differs in taste and looks with some being more chewy, some being softer and harder. But for the brownies at P.Osh, all of the brownie bases are the same, and i become a little sick after i try all the brownies, because all of the bases taste the same except for the exceptions of the toppings above.
The owners explained that their competitors actually add different fillings into the base, but for P.Osh they decided not to because they felt that by using toppings they will be able to match tastes which would not go well if infused. And infused tastes would go almost as well if done as a topping. And most importantly, the looks of the brownies are much better in terms of colour and design.
I do agree appearance wise, the brownies at P.Osh certainly are up a notch with their bright and vibrant colours as toppings. But i guess its really up to the individual, personally i'll prefer to have more variety in the base, but if you are all right with it, the pretty brownies here certainly makes a good box of gift.
I'll like to once again applause all the food entrepreneurs out there, for you all make our world of food more interesting. And to the folks at P.Osh, continue your brownie revolution!
Buy flowers as gift? That is so passe. A box of chocolate as present? That is so last season. Buy a box of brownies, from P.Osh!
P.Osh
11 Orchard Road
#B1-40 Dhoby Ghout MRT station
Tel: 9007 0014
"ps: If you are going to buy brownie from P.Osh, do tell the folks there you know them from ladyironchef alright? cheers!"